Legendary physicist Isaac Newton is best known for his third law of motion, which inspired his famous quotation — "what goes up, must come down."
When Newton first said this in the late 1600s, he obviously wasn't talking about the stock market (which didn't even exist yet)…
But nearly 400 years later, Newton's concept applies perfectly to stocks. In fact, my entire put-trading strategy is based on his idea.
You see, when momentum stocks start raging to the upside … it's only a matter of time before they come crashing back down.
This isn't a possibility, but rather a guarantee. The question isn't if a jacked-up momentum chart will crash, only when it'll happen.
WARNING: Timing is everything! Momentum stocks always crash, but there's no guarantee on the timing of the move. Be careful when shorting strong runners!
There aren't many sure things in the stock market, so I spend much of my time searching for overextended charts to short.
And right now, as the major indexes are surging, I think it's time to start thinking like Isaac Newton and look for some names to short.
Keep reading and I'll break down a few overextended charts I'm watching this week…
Tesla Inc. (NASDAQ: TSLA)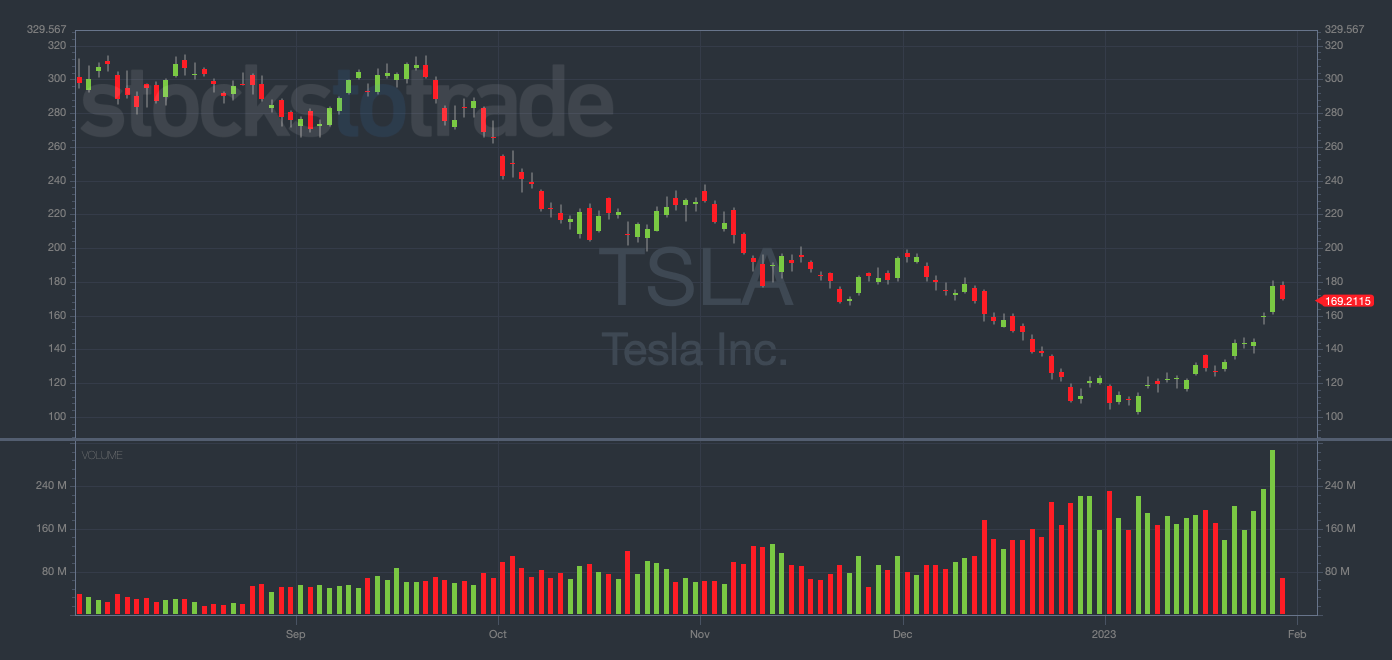 TSLA 6-month daily chart — courtesy of StocksToTrade.com
At the top of my watchlist this week is TSLA…
TSLA has been getting destroyed in recent times…
Ever since CEO Elon Musk purchased Twitter, shareholders have punished TSLA stock.
But we know that when stocks hit hard bottoms, it's time to watch out for a face-ripping rally 
(This is Newton's third law in reverse … what goes down, must come up.)
After hitting a hard bottom at $108 on January 3, TSLA started absolutely soaring to the upside. 
Now, TSLA is looking incredibly overextended as the stock is up nearly 40% in the past month and butting up against resistance at $180.
Once I saw the first red day yesterday, I knew what I had to do…
So, what am I doing? You guessed it … shorting TSLA.
I bought TSLA 2/3/2023 $170 Puts for $5.55. My price target is a fade down to the $160-$163 area.
Nvidia Corporation (NASDAQ: NVDA)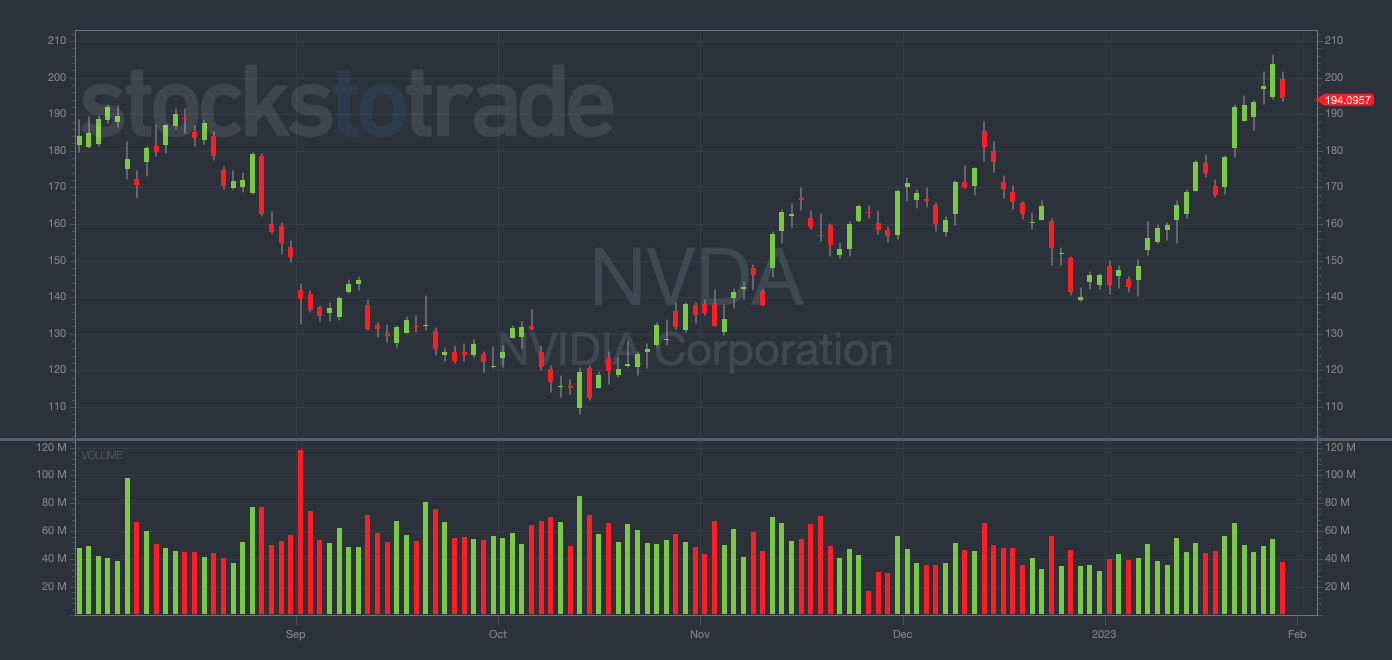 NVDA 6-month daily chart — courtesy of StocksToTrade.com
Tech stocks have been red-hot over the past few weeks and chip giant NVDA has joined the party…
I have a long history of trading NVDA, usually on the short side…
Last March, I nailed a big crash in NVDA … turning $86,175 into $111,956.99 for a profit of $25,780. 
So, whenever I see this chart nearing the top of its range, I'm on high alert. And I'm seeing that again right now…
With TSLA's first red day yesterday, NVDA followed, leading me to believe there could be further downside in both of these names in the coming days.
I think both of these stocks are primed for big pullbacks, but I'll likely wait until after this week's FOMC meeting to trade either.
Keep NVDA on your radar as a potential puts play, but be patient and wait for the perfect time to strike.
Apple Inc. (NASDAQ: AAPL)
and
Amazon.com, Inc. (NASDAQ: AMZN)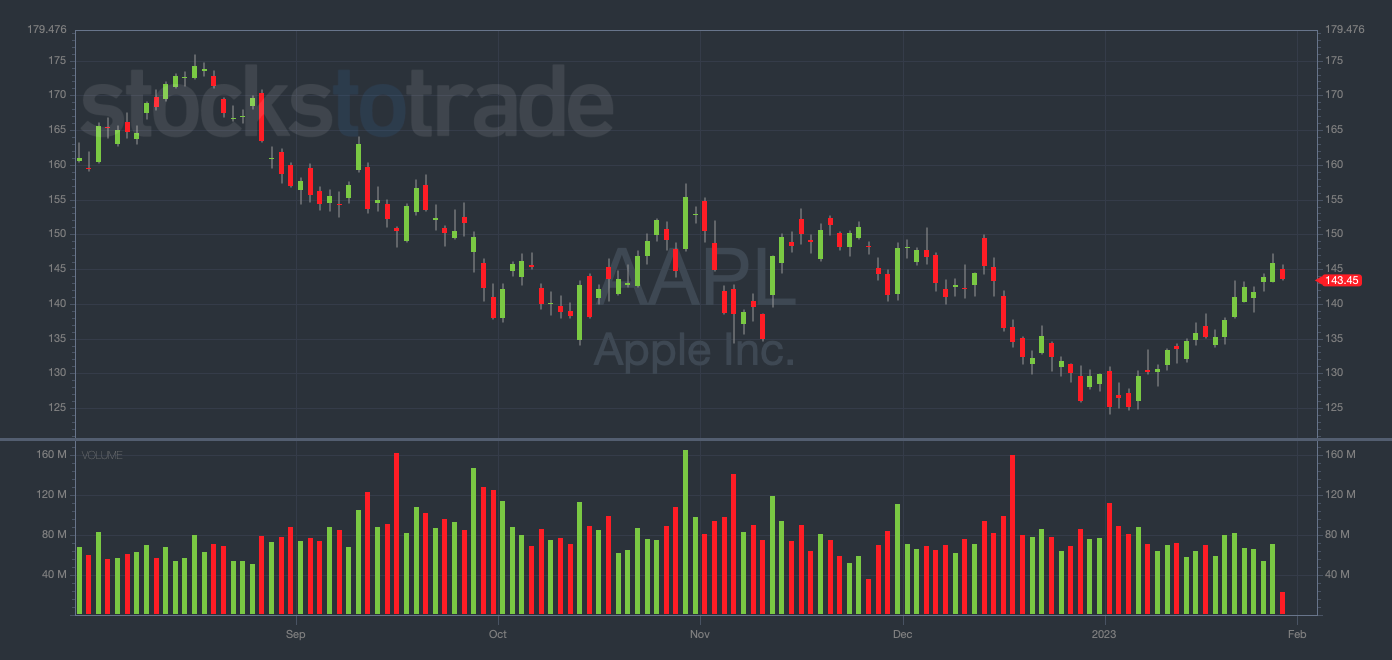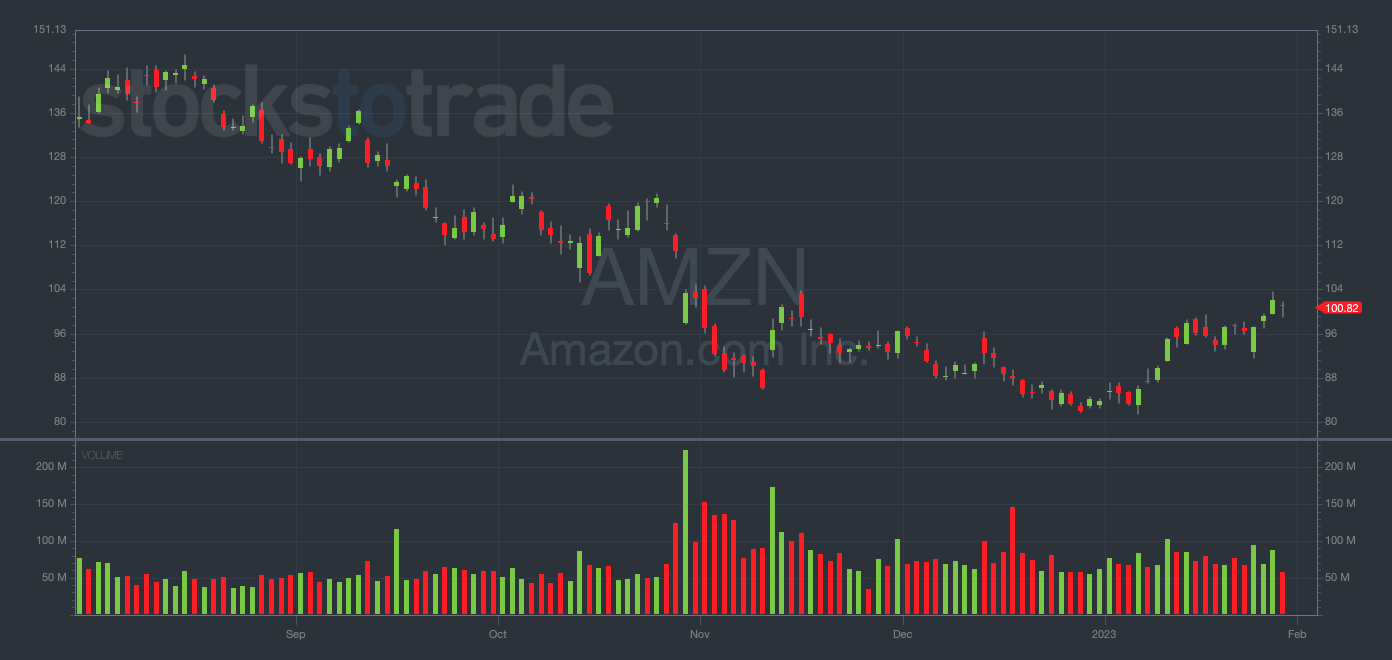 I'm watching this big-tech duo closely, but I don't think there's great odds on playing either name until later in the week.
Let me explain…
Both companies are set to report fourth-quarter earnings this Thursday after the close. 
And that's the same day that the Federal Reserve's FOMC meeting will be taking place.
If you were looking for some fireworks in the stock market, you're likely to get the in the second half of this week.
The world's two biggest companies reporting earnings and an FOMC meeting? Buckle your seatbelts!
Honorable Mentions:
Coinbase Global Inc. (NASDAQ: COIN), Marathon Digital Holdings Inc. (NASDAQ: MARA),
and the
ProShares Bitcoin Strategy ETF (NYSEARCA: BITO)
You probably know my position on crypto by now, but let's touch on it for anyone who missed my previous coverage.
I'm expecting a big crash in crypto stocks like MARA, COIN, and BITO…
These speculative tickers rally based on hope, exuberance, and FOMO. 
Then, they crater back to earth in predictable cycles. Sound familiar?
Are you familiar with this trading "loophole?"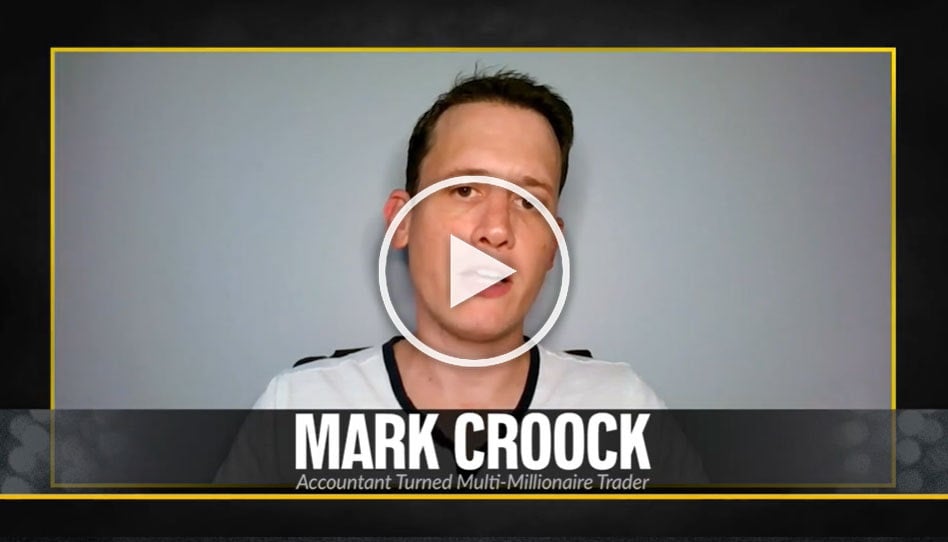 Are you familiar with the "loophole" that helps small accounts grow exponentially?
No, it doesn't have anything to do with penny stocks or crypto…
And this strategy works regardless of whether the markets are up OR down…
This little-known options "loophole" is something you can use to grow your trading account right now…
We're in the middle of one of these predictable pump cycles as we speak…
So far, 2023 has been unbelievably bullish for crypto stocks. 
But these near-term momentum rallies almost always end in a huge crash.
Keep your eyes on the crypto sector. If big tech stocks start dumping, look for these names to nosedive with them.
Final Thoughts
We have a truly monumental week ahead of us in the stock market, Evolvers. Strap in!
Pay close attention to big tech earnings and the FOMC meeting.
And remember … "what goes up, must come down!"