Throughout this week, I've been honest with Evolvers about how I'm feeling the pain following my recent string of disappointing trades…
This bad run culminated on Wednesday when I took a $60,000 loss on AMC Entertainment Holdings Inc. (NYSE: AMC) puts. 
This isn't my first big loss. I've been in this game for over a decade and made a variety of regrettable trades along the way. 
But that doesn't make the pain sting any less…
Bottom line: A single week of poor trading won't distract me from my goal — to be the best trader I can be.
I need to remind myself of my goals during periods like this one where I'm trading less than perfectly. 
I don't strive toward dollar amounts or percent gains … I work toward trading mastery.
Why? Because I LOVE to trade, and I live to trade. 
After all, if I didn't enjoy trading so much, I probably would have packed up my $3.5 million+ in profits long ago and opened a bar in Aruba or something.
But my brain doesn't work like that. I have no interest in retiring or doing anything else for a living. 
That said, weeks like this can make it hard to remember why I love the stock market so much. 
As I'm flying to Israel with my family, it's the perfect time to remind myself — and Evolvers — about the specifics of why I love to trade in the first place.
Freedom to
Do Whatever I Want
The biggest reason I love to trade is the freedom that it provides in my personal life. 
As I mentioned earlier, I'm on my way to Israel right now for a family vacation… 
If I had a normal job, I would've had to submit a request for time off, budget my expenses, and make sure my work was covered for the week.
[VIDEO] A Rare Live Interview With Two Millionaire Traders...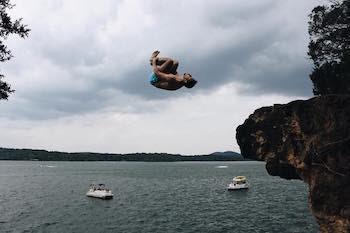 To trade options, you DON'T NEED:

❌  A big account…
❌  To stare at your computer all day every day…
❌  A stockbroker…
Because there's a way to trade stocks (from home) without struggling through the unnecessary risk and hassle most newbies go through… 
To get started…
Click here to watch a rare interview between these two millionaire stock traders
But as a self-sufficient trader, I'm the boss of my own small business.
In other words, I can do whatever I want — whenever I want. 
What other careers allow you this sort of flexibility? 
I can't think of many, which is the primary reason I'm proud to be a professional trader. 
Freedom to
Run My Business How I Want
In addition to providing freedom in your personal life, trading gives you leeway when it comes to deciding the costs you want to take on in your business. 
Trading is one of the only small businesses you can be the CEO of without worrying about brick-and-mortar real estate costs, payroll, and marketing.
You're the only employee — and you're your own boss. To me, this is priceless.
Take it from me. When I first got out of college, I took a job as a general accountant … and I HATED it!
Living the grind of a normal 9-to-5 helped motivate me to become a consistently winning trader and start my own business.
No boss, no schedule, no one to answer to. Just me and my charts. That's how I like it. 
Freedom to
Work from
Anywhere
Finally, trading gives you the freedom to work from anywhere. 
My mentor Tim Sykes is infamous for trading with his laptop on a crystal-clear beach or in front of a gorgeous foreign vista…
But he doesn't do this to look cool — he does it to prove a valuable point.
Sykes showed me that I could make money from nearly anywhere in the world. All I need is a solid internet connection and a laptop.
When I realized how true this was, it was a HUGE mental breakthrough for me. It opened my eyes to the possibilities around me. 
I stopped limiting myself to the 9-to-5 mindset I'd gotten accustomed to and started to imagine the heights I could reach if I truly applied myself to trading full-time.
Spoiler alert: I took the plunge into trading and it was the best decision I've ever made. (I'm now a millionaire because of it…)
Final Thoughts
If you have a long and fruitful trading career (like I have), I promise it'll be littered with brutal losses along the way.
And as much as you won't wanna hear this … Sometimes, these losses will occur in a row (like mine have recently). 
When this happens, it's critical to remind yourself about why you love to trade in the first place — and your goals for the immediate future. 
If you don't step back and look at the big picture — soaking in the overwhelming positives of being a professional trader — you risk your negative emotions spinning out of control.
Remember the freedoms that trading can provide. Then study your butt off until you have the confidence to succeed.