I've been trading for a long time … 12 years to be exact.
And I'm not lying when I say this is the most difficult market I've traded in my long and challenging career.
Over the years, I've come to believe that starting your trading week on a positive note is of utmost importance.
This is true now more than ever as we're all trying to make sense of this unpredictably historic price action. 
My longtime buddy Tim Bohen agrees. That's why he's working hard to find five-star setups with his SteadyTrade Team Insight … and it could pay off BIG TIME. 
Members of the team are finding trades with gains of 97%, 156% … even 268% EVERY DAY. And right now, you have a chance to gain exclusive access to the mentorship program for one week! Click here to reserve your spot NOW.
So I've come up with a simple system — two simple steps you can take every Monday morning to set yourself up for success in the markets.
These steps haven't failed me after over a decade of ups and downs as a trader. Keep reading and I'll show you what I'm talking about…
Prepare Your Weekly Watchlist
As Evolvers know, I send out a weekly watchlist every Monday morning. But I don't only do this to benefit my students (although that's always a plus).
Building this list is an essential part of my trading strategy.
Growing A Small Trading Account? Check this Out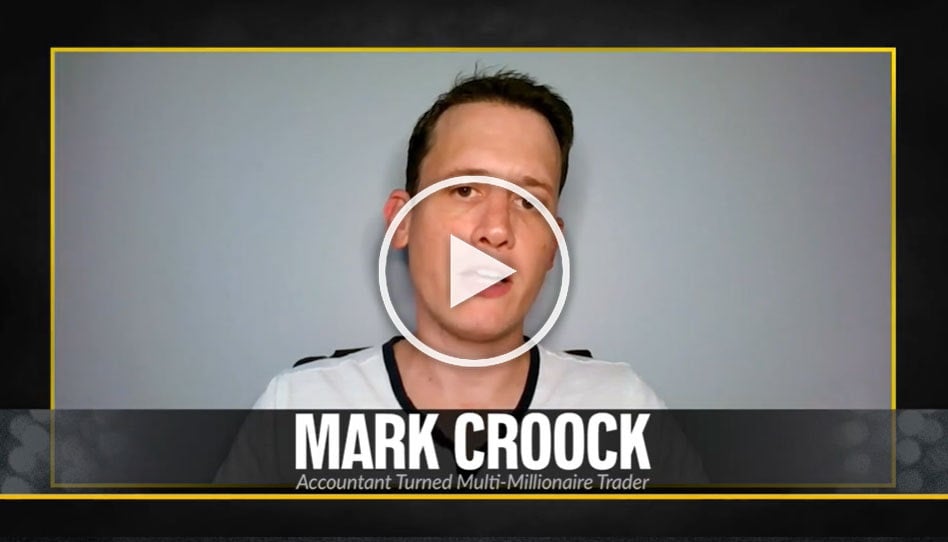 When multi-millionaire trader Mark Croock first started trading, he was an overworked and underpaid accountant…
So he knows what it's like to start small while wanting to massively grow your wealth as quickly as possible.
That's why he just recorded a step-by-step training that reveals what he believes is the best options trading method for someone trading with a small account.
You see, I'm not a long-term investor or a hold-and-hoper. I don't even own any stocks. 
I'm an options trader. My opportunities to profit exist week-to-week, hour-to-hour … sometimes even minute-to-minute.
So it should almost go without saying that I need to have a clear and concise list of potentially tradeable stocks at the top of every week. 
You should as well.
Additionally, don't be afraid to adjust your watchlist throughout the week. 
Remember, the markets are dynamic and fluid … always changing with the news and the sentiments of millions of traders around the world. 
Honestly, you never know what random stock could become this week's five-star setup. 
Bottom line: Make sure your watchlist is up-to-date every single day.
Lay Out Your Game Plan
Every great trader should start the week with a solid game plan. 
What stocks are you watching? What key price levels are important? What major news events are taking place?
These are questions you should be asking yourself every Monday morning to prepare yourself for the trading week ahead.
In a volatile bear market (like this one), you've gotta be ready for anything the price action throws at you. 
I can't tell you how to make your game plan, or which stocks are right for you to add to your watchlist. Only you can do that.
Are You Missing Out On Epic Trades?
StocksToTrade's Breaking News Chat could be what's missing in your trader toolbox…
You get two financial analysts feeding you stock news and alerts often before anywhere else while joining a community of traders like yourself.
Tim Sykes encourages his students to use Breaking News Chat every day: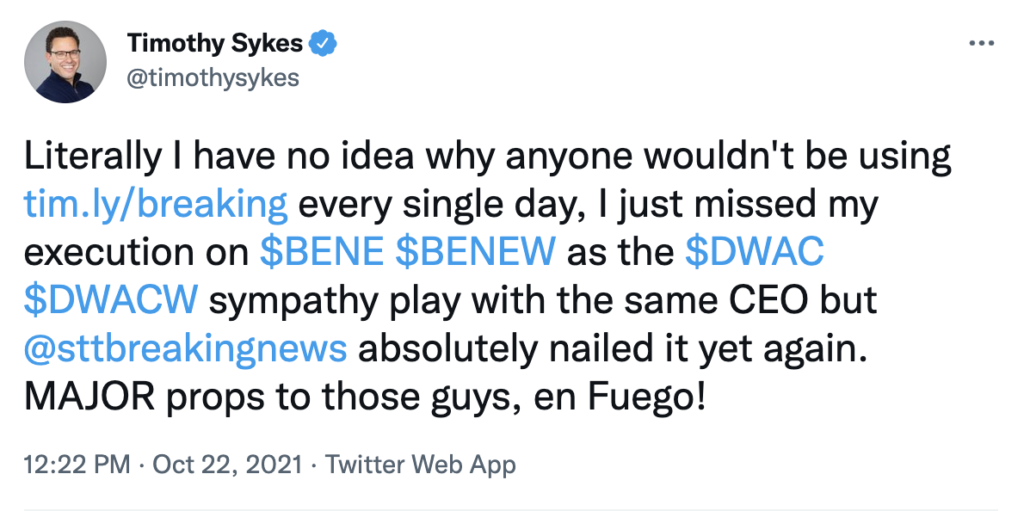 But think about this…
I love watching basketball, and my favorite team is the San Antonio Spurs. 
Why do I love the Spurs? Well, aside from being born and raised in Texas…
I think they have a great organized system, a game plan if you will. And that's why they've won so many championships. 
When their players stick to the game plan, it sparks their chemistry, making them borderline unstoppable. 
Think about how you can find that kind of spark in your trading. If you ignite it, you'll be hard to beat as well. 
Final Thought: Keep Your Mindset Sharp
Trading is ultimately a mental game.
Your mindset at the beginning of the week is incredibly important in determining how you'll react, think, and trade over the following days. 
So take a deep breath, forget about last week's successes or failures and focus on the week ahead.