Ever since my early days in the markets, I've noticed a certain negative stigma surrounding options trading.
Some traders take an elitist stance against buyers of options contracts (like you and me). 
They think buying options contracts is a fool's errand with little to no chance of long-term success. 
But this is false. Just look at me. I've made millions in the options market. And I NEVER sell contracts or trade credit spreads.
I know the current market is brutal. But that's why I want to ease your fears about options trading — because it can be an incredible way to play bear-market trading opportunities. 
Let me show you the three main reasons why some people fear options trading (and why you shouldn't pay attention to any of them)…
1. Options Contracts are Depreciating Assets
The first point I usually hear from skeptics is that options contracts are depreciating assets that often expire worthless, whereas shares are good forever. 
While true, this is no reason to avoid trading options altogether. 
Consider this…
Most traders fail. Most companies fail. Most athletes fail. 
But you don't hear these points made in criticism of regular traders who trade common shares on any given company.
And you also never hear from the naysayers again once the massive success has come after years of hard work. 
The difference is this — with the high risk that comes with buying options, the possibility of HUGE REWARDS comes as well. 
In my opinion, this is a pretty even trade-off. 
I'll gladly continue to bet small and conservatively with the potential of hitting massive home runs in the options market. 
Sure, my contracts can theoretically go to zero. But only if I mismanage the trade. 
I now have the experience to avoid that outcome entirely.
Remember Tim Sykes' #1 rule — always cut losses quickly!
2. You Can Lose Money Faster with Options
This criticism of options trading is arguable in many ways…
Yes, if you're reckless and undisciplined, you can lose money a lot faster on short-dated options contracts than you can trading shares.
This is because the potential single-day % moves are much greater for weekly options than any stocks in the market.
But there's a flip side to this coin…
You can also potentially make 500%-1000% gains on weekly contracts. Again, it's a trade-off…
Are You Missing Out On Epic Trades?
StocksToTrade's Breaking News Chat could be what's missing in your trader toolbox…
You get two financial analysts feeding you stock news and alerts often before anywhere else while joining a community of traders like yourself.
Tim Sykes encourages his students to use Breaking News Chat every day: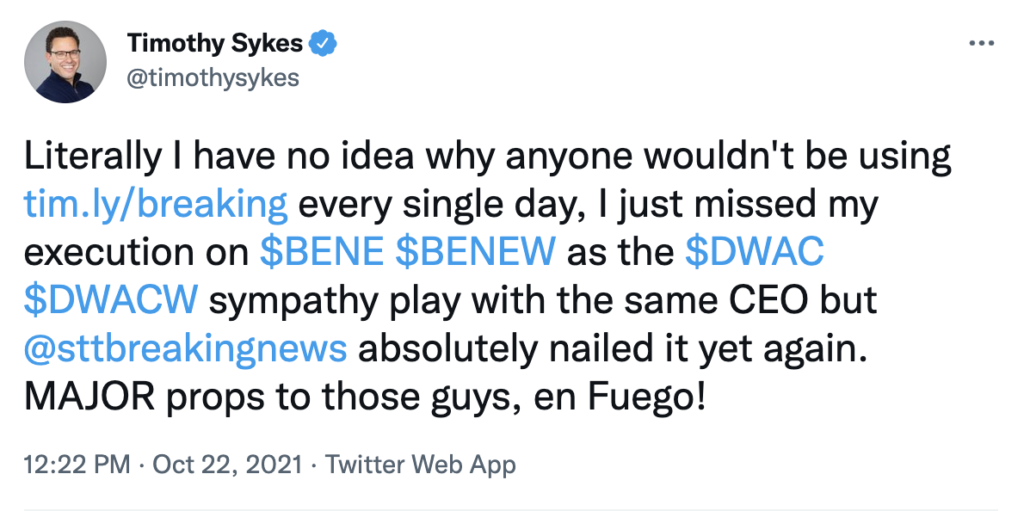 What stocks go 5x or 10x in a week? Only equally risky penny stocks. It all evens out in the end.
The bottom line is this…
If you want to open your trading up to these kinds of UNBELIEVABLE gains, you also have to expose yourself to an elevated level of risk.
REMINDER: This is why I'm always stressing the importance of only trading the best setups!
As an options trader, you need to be more selective than common-share scalpers. 
The setups need to be perfect — then it's up to you to trade them to their maximal potential.
3. Options Trading is Complex
At the end of the day, I find that most of the fear surrounding options trading comes down to a lack of understanding.
You only have to worry about volume and price if you're trading stocks.
Comparatively, the options market is complex.
A variety of different factors influence the overall value of a given contract…
Volume, open interest, implied volatility, and 'the greeks' all factor into the eventual fate of your calls or puts. 
I think some people are just too overwhelmed by the complexity of these numbers to confidently trade options. 
But for those who are willing to learn how options trading works, the rewards can be incredible.
Final Thoughts
Trading isn't for everyone — and options trading is reserved for even less.
WARNING: If you aren't willing to study hard, you're GUARANTEED TO FAIL as a trader. 
But if you're ready to work harder than the 90% of traders who FAIL, you could be one of the courageous few who succeeds as an options trader. 
Which camp do you choose?