Every day, traders across the world ask themselves the same question…
"How can I increase my profits while decreasing my risk?"
The answer lies in one word … edge.
As a trader, you must create a distinct edge — an aspect of your trading strategy so unique that it gives you a clear advantage over others. 
If you don't have an edge, you won't win. It's that simple.
That's why I've worked for 10+ years to create a clear advantage for myself in the stock market. 
And a few years ago, in early 2020, I had a major breakthrough…
I made a certain "switch" to my trading strategy that carved out a brand-new edge, causing my profits to skyrocket…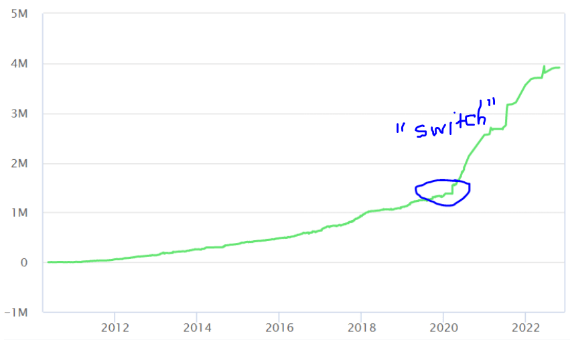 If you're wondering how you can potentially make a similar change to your trading, it's time to pay attention!
Next Wednesday, January 18 at 8 p.m. Eastern … Tim Sykes and I are co-hosting the Accelerated Cashflow Summit, where we'll break down everything you need to know about my brand-new trading system. Click here to reserve your spot NOW!
Now that you're signed up, keep reading and I'll show you how this "switch" has earned me millions in trading profits…
Finding My Edge
First, let's talk about what "edge" really means in trading…
You can think of edge as an advantage, but ultimately it's about employing a strategy that others are sleeping on.
Think about it…
Most people enter the stock market with no clear advantage.
They're using the same tools, software, and information as every other retail trader.
If you're being presented with the same information, how do you plan to separate yourself from the pack?
You've gotta create an edge in the way you trade…
Whether that's a specific technical indicator you see (that others don't), or a particular setup that works consistently … you need to find a unique aspect of your trading that's nearly impossible to replicate.
This is what every great trader I've ever met has done (and why I've worked to do the same)…
For example, a big part of my edge is my ability to identify blow-off tops on overcrowded momentum stocks.
While others are chasing the upside near the top, I've made a fortune shorting the downside. 
But it wasn't until I made one particular "switch" that my edge truly started to click…
Perfecting My System
For the first ten years of my trading career, my profit chart was a slow and steady grind.
But once I perfected my Accelerated Cashflow System, my gains started increasing exponentially.
This is because of what the system allows me to do…
Essentially, I'm able to "modify" the price of expensive stocks, and trade them for pennies on the dollar.
By doing so, I can trade stocks in my small accounts that I wouldn't be able to afford otherwise.
For example…
Last year, I was able to take my Small-Account Challenge from $10,000 to $130,000+ in a little over a month.
Pretty incredible, right?
Well, this NEVER would've been possible without my Accelerated Cashflow System!
It gives me an edge in small-account trading that no one else has. And that's priceless.
The Accelerated Cashflow Summit
I can't keep my edge a secret any longer … it's time for all to be revealed!
With that in mind, I'm meeting up with Tim Sykes next Wednesday, January 18 at 8 p.m. Eastern to co-host the Accelerated Cashflow Summit…
Together, we'll break down how I perfected my trading system and why it works.
We'll also show you examples of trades where I used the system and explain how I approached the setups…
You'll see how I'm able to leverage this system during ANY market environment … without touching crypto, forex, or even penny stocks.
Then, we'll show YOU how to find your edge and start trading like a pro.
Don't miss this once-in-a-lifetime opportunity … click here to reserve your spot BEFORE it's too late!
Final Thoughts
More than anything, traders need a clear edge to have long-term success in the markets.
That's why I'm so excited to finally reveal how I found mine and show you the system I've built from it.
I'll see you all next Wednesday. Until then, stay disciplined and study hard!