If I don't turn my trading around soon … I could risk spinning out of control. And everything I've worked hard to achieve over the last 10 years could be wiped out. 
While it might sound somewhat dramatic, I've seen plenty of traders turn a small loss into something bigger … that they can't come back from. 
And now, I've taken a tough string of losses due to bad timing and mismanaged emotions. 
I'm feeling the pain — but this isn't necessarily a bad thing (more on that later)…
My poor judgment came to a head yesterday when I lost $60,000 on AMC Entertainment Holdings Inc. (NYSE: AMC) puts. 
Even before this trade, I knew I needed to change my trading mindset. 
But now … It's do or die.  
I've seen other traders meet the fate I'm trying to avoid. They let their bad trades snowball into one another and eventually blow their accounts up. 
Bottom line: I won't allow this to happen to me. 
But to keep that promise — I've gotta be honest with myself about the specific areas I need to work on.
This market is tough. If you're feeling the pain like I am, it's time to get your pencils out and pay attention.
I'm letting you in on a secret: My five simple steps to weaponize the pain of losing.
Step #1: Feel the Pain
I've been trading for a long time … 10+ years. The journey has been long and challenging. 
This isn't my first disappointing week. I've taken tough losses before — but I always bounce back.
I think one key to my longevity in the markets is my willingness to feel the pain of losing. 
Instead of numbing myself to the sting, I wallow in it. 
Are You Missing Out On Epic Trades?
StocksToTrade's Breaking News Chat could be what's missing in your trader toolbox…
You get two financial analysts feeding you stock news and alerts often before anywhere else while joining a community of traders like yourself.
Tim Sykes encourages his students to use Breaking News Chat every day: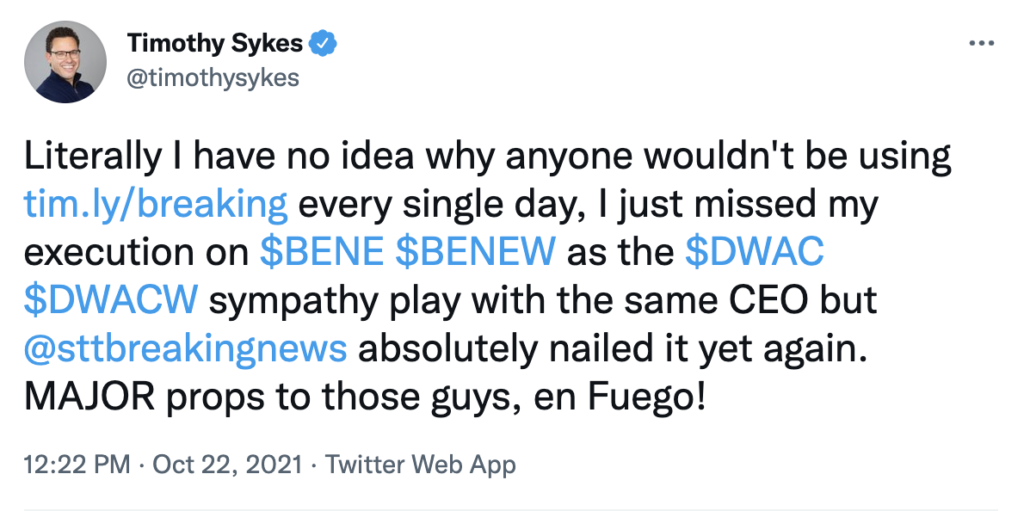 I don't fear losses — I face them head-on and learn valuable lessons from them.
After all, when you're winning, it can seem counterintuitive to examine your trading and pick out the weak points.
'What weak points? I'm making money!'
Sure … but one day, you'll lose money. 
What's critical is how you react to that loss — and a huge part of that comes down to one specific aspect of your trading mindset… 
Step #2: Protect Your Confidence
If you want to find any consistency with your trading, you have to have the right mindset. And the most important part of a good mindset is confidence.
Confidence helps you stay focused on what matters. It also helps you make appropriate decisions in the moment. 
Confidence gives you a firm footing in your trade ideas and enables you to act swiftly when a setup presents itself. 
It also helps you get back on the horse after a demoralizing loss. 
All that's great … but confidence can be fragile. A string of losses (like the one I just had) can pick away at it. 
And if you don't nurture it, your confidence can vanish.
So what do you do when that happens? Here are some steps that have helped me on my own journey. Hopefully, they help you, too.
Step #3: Focus on the Big Picture
Besides resting your mind when you step away, also remember why you started your trading journey. 
What's your ultimate goal? There has to be a reason why you go through the pain.
This broader perspective is important. It should remind you that you have a destination. 
A few mistakes — even big ones — shouldn't (and won't) change your long-term trajectory.
Remember the big picture on your path and accept that your path won't be straight. 
You'll have many ups and downs … You'll make mistakes along the way. 
The key is to find several ways to remind you of what's important — your goals.
Step #4: Remember What Got You Here
What do you do when you're confused and don't know what to do?
Go back to what you know.
There's a reason you made it this far, and you need to focus on what will keep you moving forward to your ultimate goal.
Whether that's focusing on supernovas, buying basic breakouts, or shorting reversals … Find out what's worked in the past for you.
Once you determine what has been working, stick with that.
When you lose confidence, it's not the time to get fancy and experiment. 
You want to go back to rebuilding on a tried-and-true foundation. 
To do that, cut out all the excess and go bare bones.
You'll always be tempted to veer away from your bread-and-butter setups … but keeping your process simple can help prevent you from going astray.
Step #5: Take a Break
If all else fails — take a break from trading!
Sometimes you may need to step away from your trading for a short period. 
Don't forget what you've learned or fall behind. Just give your mind a short vacation from the markets. 
Your brain is vital for trading, right? So respect its functions and needs. Part of what it needs is rest.
That's why I'm taking a trip to Israel with my family. I need to get away from the screens and charts for a few weeks.
That way, I'll return with a fresh mindset — ready to bounce back in style. 
Final Thoughts
I've made $3.5 million+ trading stocks and options, but I lost $60,000 on a single trade yesterday! 
Yes, I made some mistakes. But it can happen to anyone.
One day, it'll happen to you. 
My advice? Feel the pain. 
Don't shy away from how terrible the loss makes you feel. Instead, embrace the sting. 
Address the reasons you lost in the first place. Then, work tirelessly to make sure it never happens again.