Power Hours: How (and Why) I've Made Millions Trading Them
Anyone who's been trading for more than five minutes knows that some times of the day are more exciting to trade than others.
I love trading the market open and close — the two most volatile periods of the trading day — because the price action during these times tends to fit my style perfectly. 
A large chunk of my nearly $4 million in career trading profits has come from trading in these short time windows. They're called the 'power hours' for a reason. 
Additionally, my recently-revealed Shadow Trades strategy relies largely on big-money moves occurring during power hours. 
That said, I tend to approach my trading around the two very differently. 
Especially coming out of a long weekend, like the one we just had, you must not only know what to trade … but also when to trade.
Let's talk about why (and how) you can potentially trade 'power hours' more effectively…
How I Trade the Market Open
In the first 30 minutes of trading, I usually have a specific game plan. Let me explain…
As the opening bell approaches each morning, traders are excited. 
The entire market has been anxiously waiting all night — everyone's ready to go.
Learn the secret Tim used to turn a small investment into a fortune
While you may think this exuberance could lead to bullish setups, I often find the opposite true. 
On overextended stocks, the first 30 minutes of trading can bring HUGE opening flushes. And once these flushes begin, they can lead to further capitulation.
This is why the market open is my favorite time to trade puts — specifically, first red day setups. 
Note: Monday mornings can be even more volatile after everyone's been holding their breath all weekend. This can be even more exaggerated after a three-day weekend (like the one we just had). 
So how can you prepare for these incredible opening dumps? 
Have your watchlist prepared and organized the night before

Focus on your most bearish setups near the opening bell

Watch closely for failed morning spikes (or gap and crap price action) to short
If a stock's cracking a key support level, the opening flush can be an ideal time to nail bearish patterns. 
How I Trade the Market Close
The end of the trading day is often crazy as well — but in a different way. 
If you've been reading my letters for a while, you know I have a negative bias. I rarely go long or buy calls. 
But when I do go long, I often buy calls into the closing bell. 
Are You Missing Out On Epic Trades?
StocksToTrade's Breaking News Chat could be what's missing in your trader toolbox…
You get two financial analysts feeding you stock news and alerts often before anywhere else while joining a community of traders like yourself.
Tim Sykes encourages his students to use Breaking News Chat every day: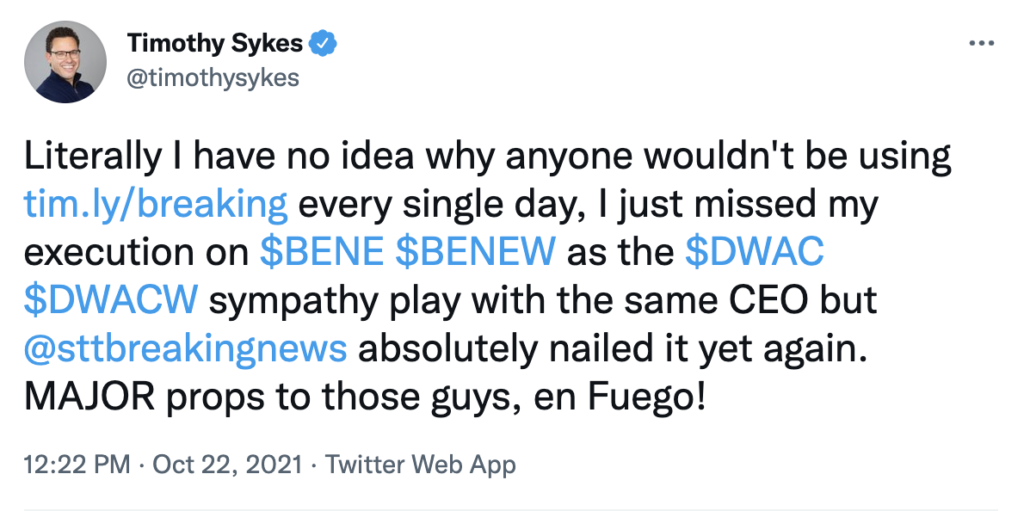 You may be wondering why I like to go long into the close…
Again, let me explain… 
After the morning craziness settles, and most of the trading day has passed, the energy around the close feels different…
As the closing bell draws near, traders rush to get all their orders in. They're all positioning themselves for the following day. 
This gives momentum charts and big % gainers time to prove themselves before I pull the trigger on the long side. 
This is why I often execute my long trades in the last 30 minutes of the trading day. And most of the time, I don't like to hold these contracts overnight. I'm in and out quickly. 
That said, I still prefer to trade puts. For me, the leg down has always been easier to nail than the leg up. 
My recent trade on the ProShares Bitcoin Strategy ETF (NYSEARCA: BITO) — where I turned $50,000 into $280,000+ — is a perfect example of this. 
Of course, there are exceptions to every rule. But generally, if you're tracking a bullish setup, try to open the position toward the end of the day.
Final Thoughts
The open and the close are the two most volatile periods of the trading day. This makes them the best times to trade for day traders like us. 
Look for bearish patterns first thing in the morning. Big opening flushes on the first red day are some of my favorite setups out there…
Look for bullish patterns into the close. When momentum runners are gearing up for another big green day, they often ramp into the close…
While I'd like you to start approaching 'power hours' this way, remember that there's no golden rule. What works for me may not work for you, and vice versa. 
All you can do is try to make sure you're trading the right setups at the right time. These guidelines have helped me do just that.