As I was going over my charts recently, I found some very interesting setups that you need to hear about…
The market is very strong right now. This is no longer a 'bear market rally' … it feels like we're in a new bull market.
And I think one industry has caused this massive surge in tech stocks … artificial intelligence (AI)!
As you'll see, almost all of the setups I'm looking at are related to AI in one way, shape, or form.
This is a critical catalyst for the markets, causing fascinating moves to take place across a wide variety of stocks.
WARNING: If you aren't paying close attention to how AI is affecting the stock market, you're trading with blinders on!
Keep reading and I'll show you the charts I'm watching this week (and how I might trade them)…
Nvidia Corporation (NASDAQ: NVDA)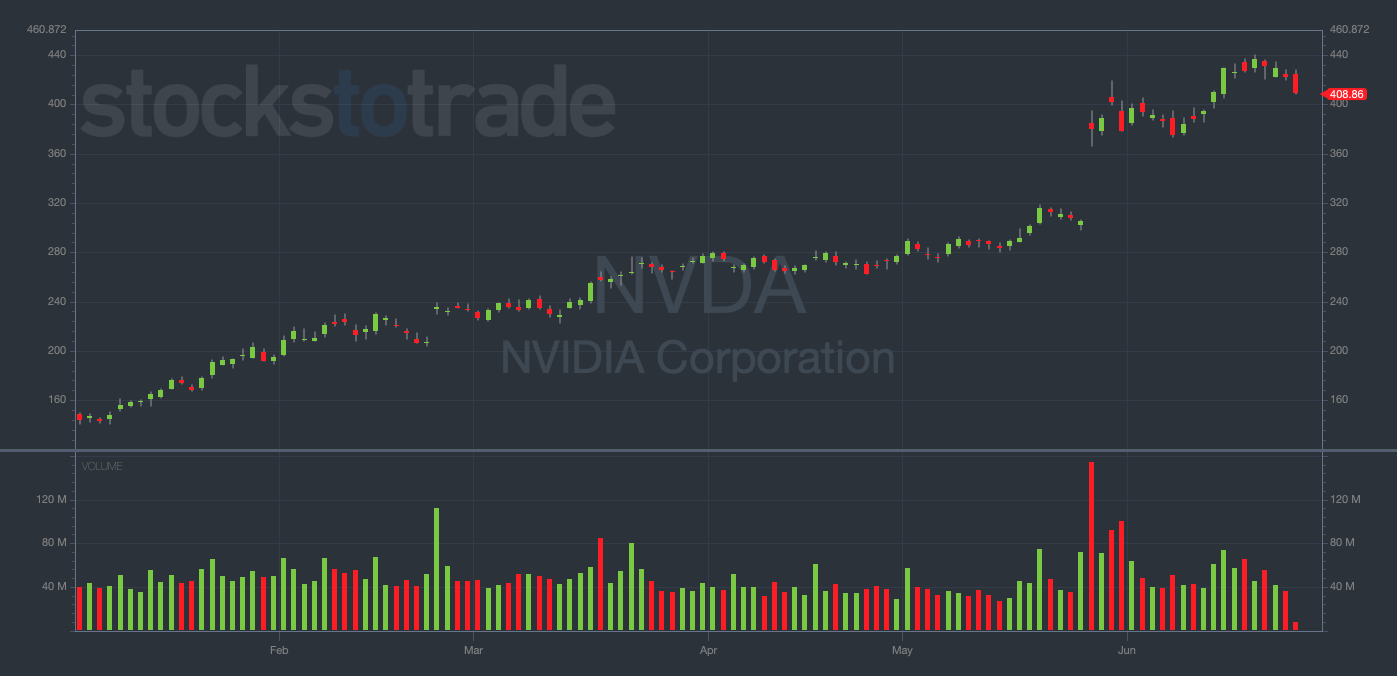 NVDA YTD daily chart — courtesy of StocksToTrade.com
NVDA, one of the hottest stocks on the planet, finally saw a big red day on Monday with the stock down as much as 4% intraday.
Let's put this in perspective…
So far in 2023, NVDA hasn't seen a major pullback. The stock is up an astounding 185% YTD with only brief dips as speed bumps along the way.
Monday was the single biggest red day for NVDA since late May. This is a key event to note in a chart that's seen very few major red days in the past six months. 
That said, NVDA bounced off of $401, keeping the all-important $400 level intact.
So, could this be the beginning of a much bigger correction for NVDA? Or is this just another brief dip in NVDA's unstoppable surge to the upside?!
Of course, I'm short-biased. But it seems like a lot of NASDAQ favorites are starting to lose momentum at the top. 
If this trend continues, NVDA could potentially be the ideal 'poster child' for an upcoming tech correction. 
WARNING: A gap fill down to $235 isn't out of the question…
Then again, Monday's price action could be yet another bear trap…
So, I won't get ahead of myself. I'll keep NVDA high on my watchlist, watch the $400 level as a critical indicator and take things one day at a time.
Applied Digital Corp. (NASDAQ: APLD)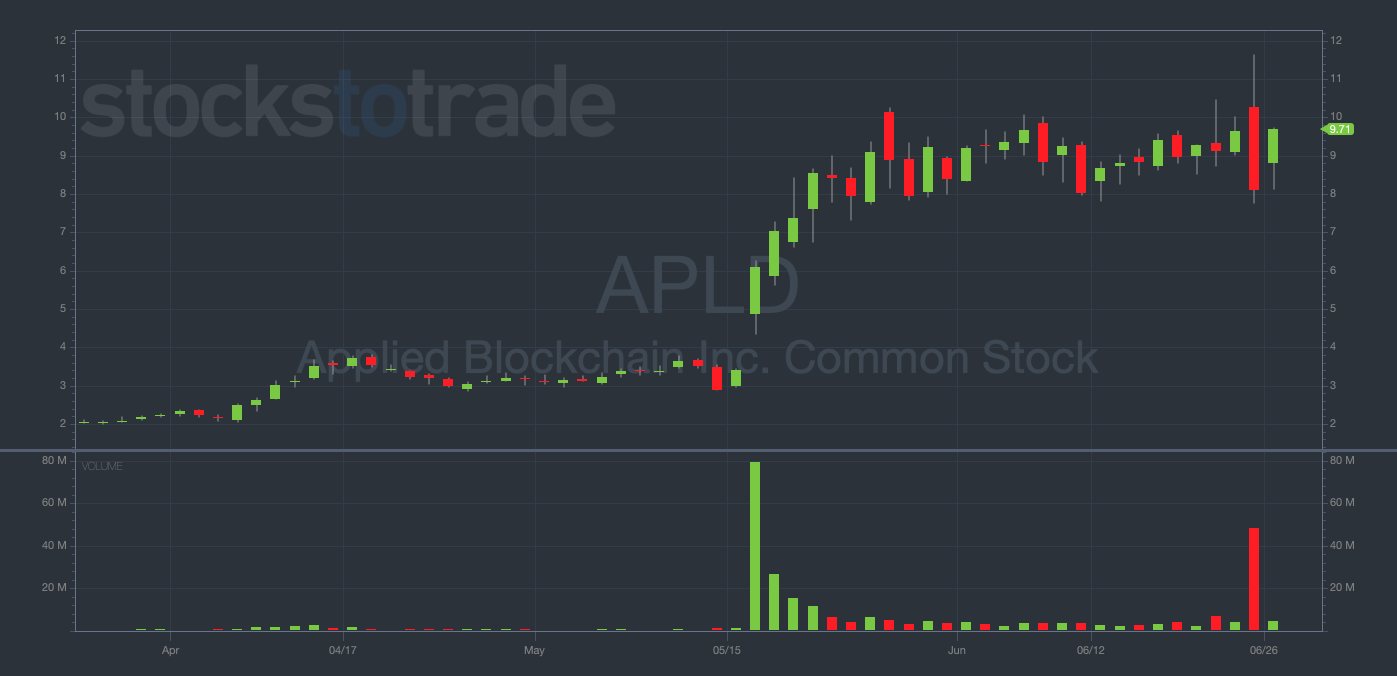 APLD 3-month daily chart — courtesy of StocksToTrade.com
Another major runner I've been watching is a smaller name, APLD…
This stock is up over 400% since May (+17% on Monday alone) following the announcement of some questionable "AI deals…"
In a press release last week, the company said it had secured its second major AI customer with a deal of up to $460 million over 36 months.
However, they don't say who the customer is. Additionally, this company hasn't been involved in AI until very recently. 
It seems to me like APLD may be trying to take advantage of momentum in the AI sector without actually having a serious foothold in the industry.
I could be totally wrong about this, but I'm watching this chart for a potential break of support in the high-$7s.
WARNING: Look how high the volume was on APLD's big red day, two days ago…
I'm also keeping an eye on the $10 level. So far, APLD has struggled to crack double-digits, creating a zone of hard resistance.
Lastly, I'm paying attention to the insider buying and selling. So far, I'm seeing that insiders were buying in April, before the stock ran from $3 to $10.
But if company executives start selling the stock, that could be a leading indicator of an imminent pullback and add considerable gas to the selling pressure.
Crypto Stocks: RIOT, MARA, BITO, and COIN
Crypto stocks have been consolidating for months and are just now starting to show initial signs of strength.
I think we could be looking at a big run in crypto over the next two months or so, purely based on the technical consolidation we've seen.
The volume is increasing across these popular crypto stocks, a major indicator that the share prices could continue following suit.
Keep these crypto stocks on close watch.
Honorable Mentions: META, AAPL, and QQQ
Meta Platforms Inc. (NASDAQ: META), Apple Inc. (NASDAQ: AAPL), and the Invesco QQQ Trust (NASDAQ: QQQ) are all similar big-tech charts … overextended and ready for pullbacks.
Look at these charts next to NASDAQ and APLD. They're in dire need of some consolidation.
Wait for first red days, watch for clear technical breaks at key support levels, and consider other ways to play these names to your advantage. 
Final Thoughts
I can't tell you how to play these setups within your strategy, or whether you should at all…
But I'm seeing some very interesting trading opportunities brewing as the AI momentum begins to dwindle.
Keep these names on your watchlist. If you stay focused and disciplined, one of them might provide you with an excellent play.