On Friday, I briefly discussed the insane short squeeze happening in shares of Bed Bath & Beyond Inc. (NASDAQ: BBBY).
Since then, this stock has taken on a life of its own, surging from a close of $13 on Friday to as high as $28.60 at the time of writing.
To put this in perspective, BBBY has been up as much as 73% today alone. If you had bought 8/19/2022 $6 calls at the beginning of the month for around $0.35 (when the stock was trading for just under $6), you could've sold them today for over $20.00!
That's a potential gain of over 5,600% on $6 calls in three weeks. In the same period, the stock gained 376%. 
The move in the shares is nothing to sneeze at, but the call options have outpaced that move exponentially. 
This is a textbook example of the incredible power of options trading.
Now, most traders look at this meme stock mania and think if they missed the entry on the upside they're too late.
But I'm the opposite. When stocks start to peak near euphoric highs, that's when I start paying very close attention. I start to consider loading up on put contracts.
I root for meme stocks, like BBBY, to go as high as possible. The higher they go, the further they have to drop when the inevitable reversal occurs. And I think the reversal might happen very soon.
So, today I'd like to go into further detail on this crazy move and tell you about my potential plans for trading puts on BBBY…
The BBBY Short Squeeze So Far
The BBBY short squeeze has happened quickly over the past few weeks. If you blinked, you could've missed it.
At the beginning of August, BBBY shares went from $6 to $16 in a little over a week, creating a stir among social media retail traders which led to today's crazy move to $28+.
You're probably wondering, how can you find plays like this before they happen?
Well, one resource to check out is StocksToTrade's Breaking News Chat. Not only is it FAST and RELIABLE … it called the BBBY move this morning before the stock surged 70%+. 
Take a look if you don't believe me…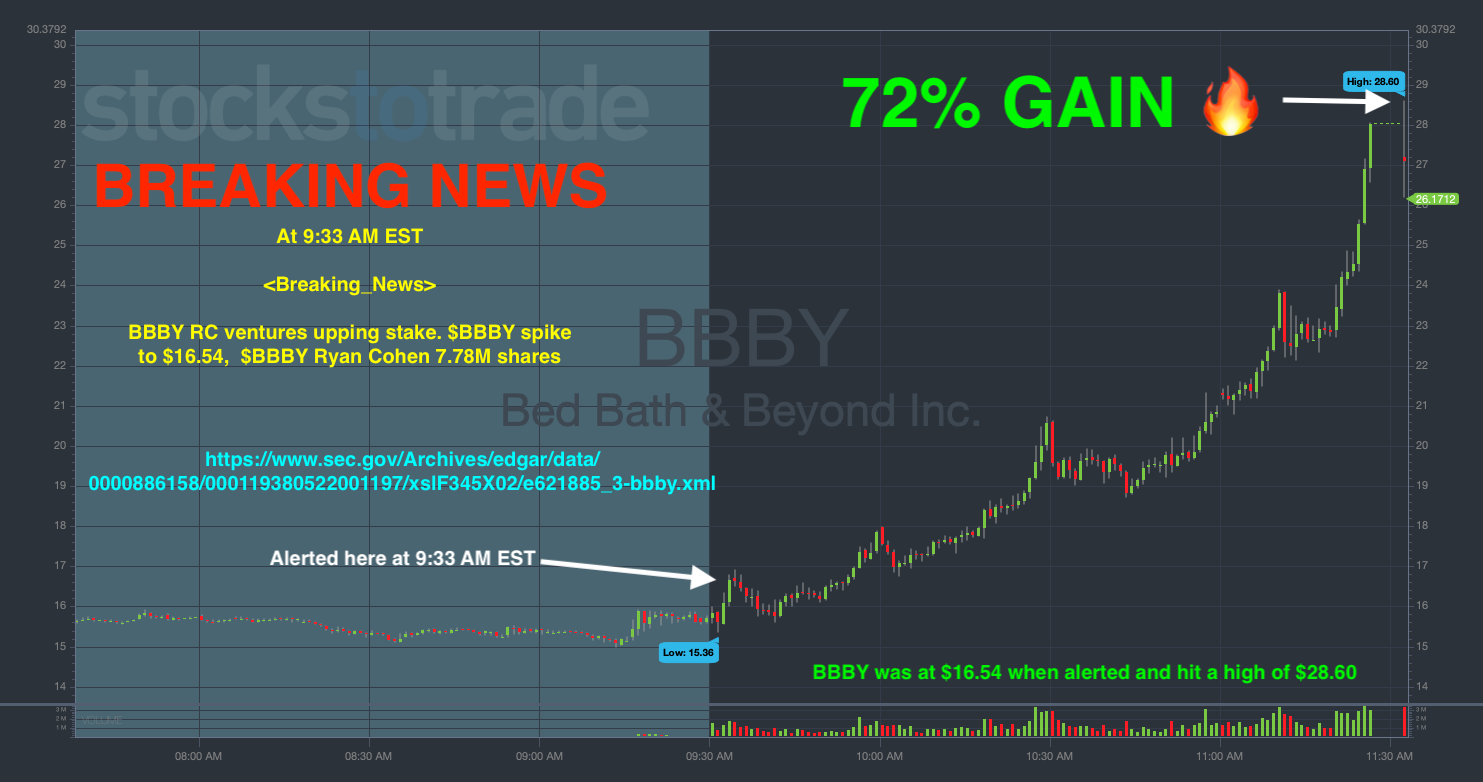 If you'd like to try StocksToTrade's Breaking News Chat, click here to start your trial!
But trust me, if you didn't catch this alert EARLY … you don't wanna be chasing this play on the long side at this point.
I'm seeing a lot of FOMO-driven call buying in the high $20s … but I think that's a foolish move.
Think about it. If you've been riding calls for the past few days, wouldn't you take profits when the stock is up 70% today?
At this point, the risk/reward on buying calls (or going long) is utterly terrible because the implied volatility (IV) is so high.
Could BBBY squeeze higher? Sure, anything can happen in the stock market.
But you've gotta keep in mind that BBBY options contracts are extremely expensive today. If you're wrong, you'll lose more on one contract than you would in a normal environment.
This is why I look at this chart and see only one play … to buy puts.
Want to be alerted to hot trade ideas before anywhere else?
Breaking News Chat is the alert service that traders can't get enough of. Two former financial analysts scour the Stock Market and news for stocks that could potentially spike and alert the room allowing you the chance to get in on the action.
Check out the alert for BBBY on August 16th: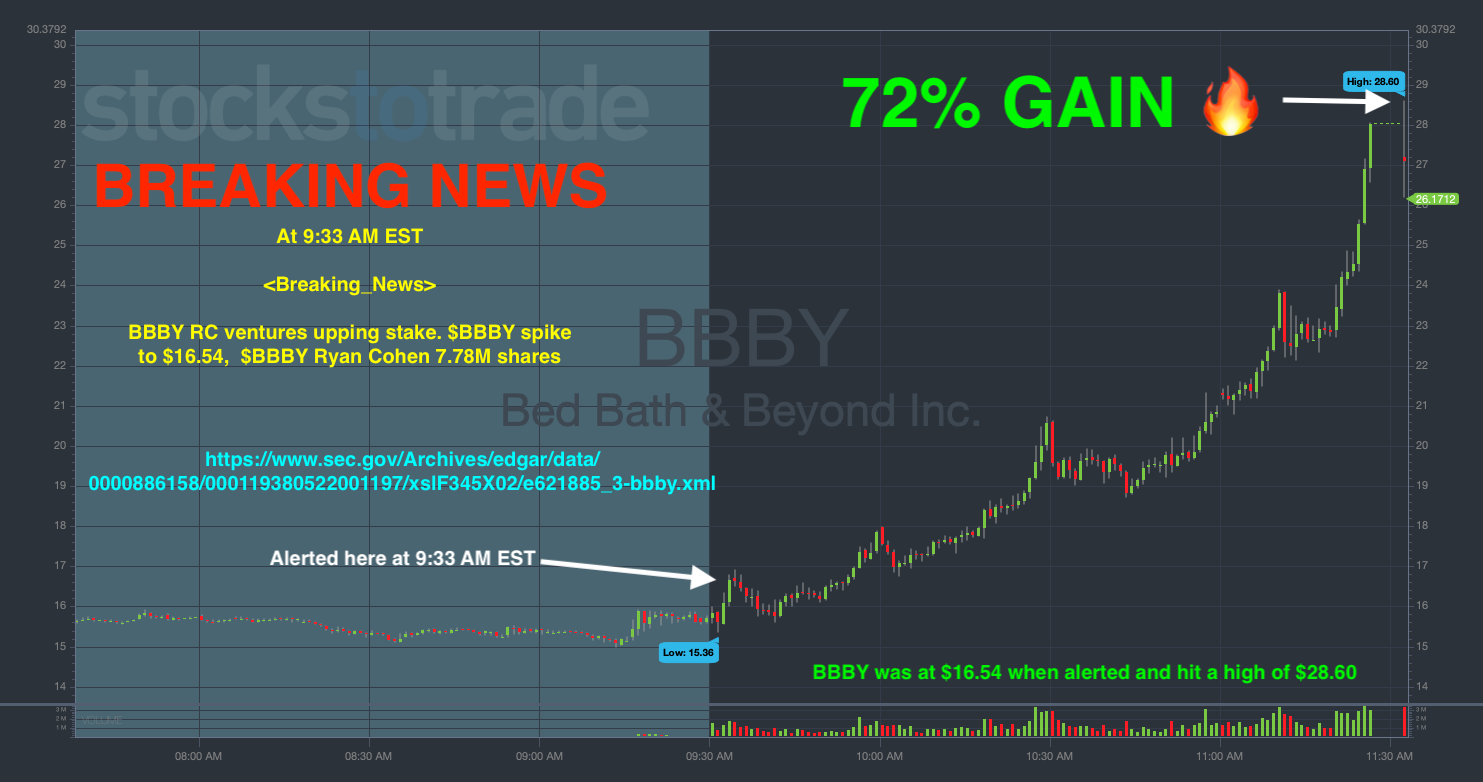 This is a tool you'll want in your trading toolbox. 
Is BBBY in a Blow-off Top Pattern?
Is today the blow-off top day for BBBY? Let's look at the evidence…
Usually, I'm looking for three signs when determining whether a stock is in a blow-off top or not…
The stock is up 30%+ on the day

The average daily trading volume is 2-5x normal levels…

The price action struggles at a big round-number resistance level…
BBBY checks all of these boxes, but I'm still trying to determine whether it could potentially squeeze past $30.
This morning, the stock was halted for a few minutes around 8:30 a.m. Eastern. I was expecting a massive drop after that … but it never came.
After a brief dip, BBBY recovered pretty quickly. And as I'm writing this, the chart is consolidating into a sideways channel.
This isn't exactly what I wanna see for a major breakdown, but it's still early in the day. 
If BBBY can't re-test $28.60 today, that'll be a clear sign of weakness and I'll be much more convinced of a major drop happening tomorrow. 
But if BBBY re-tests (or even cracks) the previous high at $28.60, I'll probably sit on the sidelines and wait for an even higher squeeze to potentially take place later this week.
Final Thoughts
Meme stocks are back. I love seeing these moves and I'm excited about the potential setups they provide.
That said, I can't make a definitive call about where I think BBBY is headed tomorrow.
This stock has the potential to run for several more days, but it could also hit a nasty reversal sooner rather than later.
Bottom line: If I don't time this put-buying perfectly, my contracts will get destroyed. Please join me in being incredibly careful with this one.