Let's talk about this brutal market we're in. 
I've been quiet, sitting on the sidelines, not executing many trades. This is because I'm not seeing a great edge on most setups. 
It's a very bearish environment, but I'm still not finding the five-star plays I look for. A lot of this has to do with implied volatility, market makers, and high option prices. 
And if you tend to buy calls or lean bullish, it's even worse for you out there. You have to understand that in this sort of market, breakouts are gonna be few and far between.
Bottom line: This isn't the bull market we once knew. But that doesn't mean you should get trigger-happy going short!
But I think I'm ready to make a bold call — the major indexes are going lower this year. 
I'm not sure when, but I'm pretty confident that the market's got more downside this year.
Here's why I think that…
Tech Troubles
The pandemic era bull market was driven largely by one sector — technology.
But now we're seeing the constant buying in tech companies slowing, replaced by unstoppable selling.
Recently, some of the biggest companies in the tech sector have been getting absolutely DEMOLISHED following disappointing earnings reports. 
In early February, Meta Platforms Inc. (NASDAQ: META) lost $250 billion in market value — the biggest single-day wipeout in the history of the stock market. 
25% of Meta's entire market cap was gone in a single day, signaling that the market had no more patience for overvalued tech giants.
This trend continued on Wednesday, when Netflix Inc. (NASDAQ: NFLX) reported its first-ever quarter-over-quarter subscriber loss. 
NFLX dumped as much as 35% intraday — the biggest single-day loss in the stock's history. 
Do you notice a trend? 
Some of the world's largest and most prestigious tech companies are getting taken to the woodshed like penny stocks, shedding hundreds of billions of dollars in mere hours. 
Moreover, these historic moves are actually breaking records in the hall of fame of bearish price action.
When I look at all of this, I see an incredibly fragile bear market that's very likely to be headed lower. 
Hellish Headlines
I've talked at length about how the current market is news-driven. 
And frankly, the headlines dominating the world right now don't bode well for the stock market.
Let's break down the 3 stories that could have a major effect on any future market correction…
1. U.S. Inflation at a 40-Year High
The U.S. dollar is experiencing rampant inflation — the worst in four decades.
Expensive goods place a huge strain on consumer purchasing power. And money losing its value makes people less likely to buy stocks.
High inflation also makes it more difficult for a variety of businesses to generate profits, putting further pressure on stocks. 
2. Federal Reserve Interest Rate Hikes
The U.S. Federal Reserve has two jobs — to control inflation and keep unemployment low.
When inflation is completely out of control, the Fed's standard move is to hike interest rates. 
They've already announced one 25 basis point hike. But I think it's nearly a guarantee that more are coming before the end of the year.
Want to be alerted to hot trade ideas before anywhere else?
Breaking News Chat is the alert service that traders can't get enough of. Two former financial analysts scour the Stock Market and news for stocks that could potentially spike and alert the room allowing you the chance to get in on the action.
Check out the alert for DWAC on October 21st: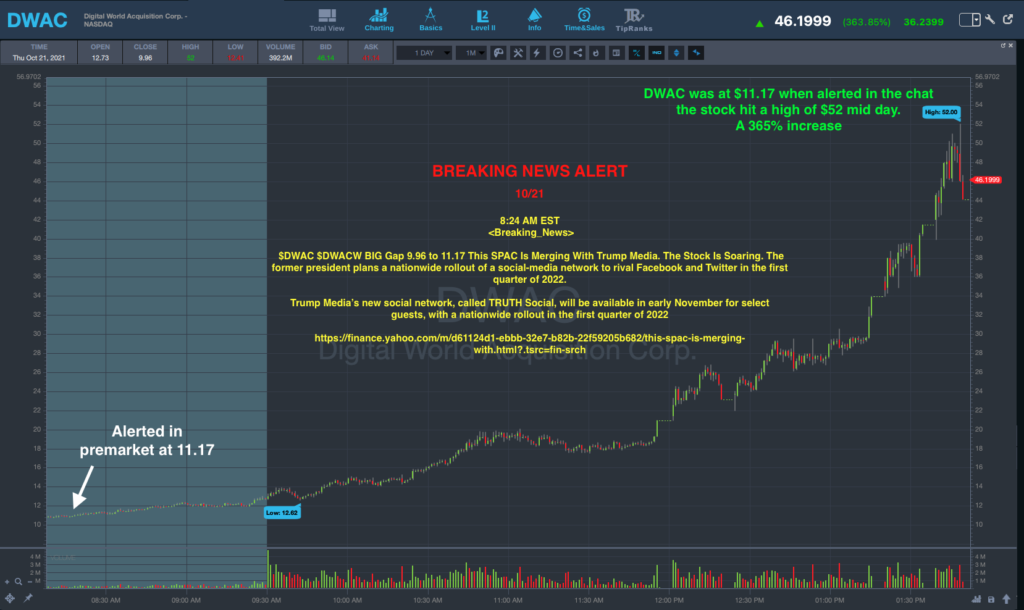 This is a tool you'll want in your trading toolbox. 
And when the fed is on a path to higher rates — the stock market is usually on a path to lower prices.
3. The Russia-Ukraine Conflict
Let's be honest … one story's dominating global headlines right now. 
Headlines about inflation and rate hikes have taken the back seat to the ongoing military conflict in Eastern Europe. 
War leads to uncertainty … And there's nothing the market hates more.
If the Russia and Ukraine can reach a peace deal, the market will probably see a relief rally. 
But I think that bounce, if it happens, will be short-lived. The reality of stories #1 and #2 will quickly set back into traders minds, even if the war has ended.
Final Thoughts
As you can see, there aren't a lot of positive indicators in the markets right now. 
In fact, I can't remember the last time this many negatives lined up all at once.
That's why I'm warning you — I think the major indexes will go considerably lower this year. Trade CAREFULLY.
Meanwhile, I'll be biding my time, staying on the sidelines, and waiting patiently for ideal setups.