Listen…
One of the most famous traders in the world just made one of his biggest bets of all time…
Today, we're taking a break from our normally-scheduled programming to talk about one man — Michael Burry, the CIO of Scion Asset Management.
Burry is most famous for his role in the book-turned-movie "The Big Short," as he was one of the first people to identify the subprime mortgage crisis. He made hundreds of millions — and achieved overnight fame — when the housing market crashed in 2008.
A one-eyed, physician-turned-trader who's obsessed with death metal music and epic fantasy novels — it goes without saying that Burry is a fascinating guy…
And because of his past success, any time he makes a major move in the market, traders pay attention.
I can't tell you how many social media posts I've seen about Burry's most recent play — an enormous puts position betting against the SPDR S&P 500 ETF Trust (NYSEARCA: SPY) and the Invesco QQQ Trust (NASDAQ: QQQ)…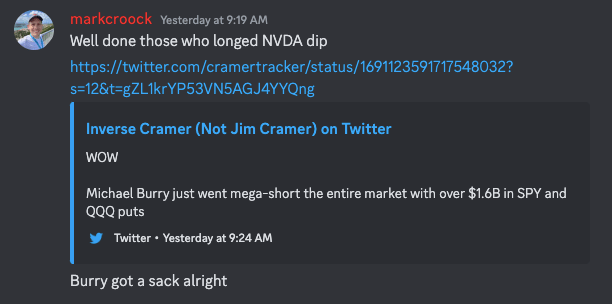 That said, I'm also hearing certain misconceptions and confusion about Burry's trade. Some traders are misreading this play completely.
With that in mind, keep reading to learn more about the wild career of Michael Burry and the hidden details of his most recent trade…
A Brief Timeline of Burry's Career
Without going through an entire boring biography, here's a timeline of the key events in Michael Burry's career.
Scion Capital
In 2000, Burry started his own hedge fund, Scion Capital. He was known for his in-depth research and unique investment strategies. Burry's analytical approach led him to identify the flaws in the housing market, particularly in the subprime mortgage sector…
Predicting the Housing Crisis
Around 2005, Burry conducted extensive research and analysis of the mortgage-backed securities market. He concluded that a significant portion of these securities were based on subprime mortgages that were likely to default. He started shorting these securities through credit default swaps (CDS), effectively betting that they would decline in value.
"The Big Short"
Burry's investment strategy paid off massively when the housing market indeed crashed, leading to devastating losses for many financial institutions. Meanwhile, Scion Capital reportedly made around $720 million in profits for its investors during the crisis.
Post-Crisis 
Following the financial crisis, Burry shifted his focus to other investments and ventures. In addition to his investment work, Burry has been known to engage in activities such as water investments (investing in water-related assets) and advocating for sustainable farming practices.
Return to Public Attention 
Burry has returned to public attention in recent years due to his criticism of market excesses and speculative behavior, particularly the GameStop-fueled 'meme stock' craze in early 2021 (more on that later). He also warned about the potential risks of inflation due to Fed policy.
But now, let's look deeper into Burry's specific moves…
Burry's Trading Track Record
Now that you know a bit more about Burry's history, let's do a deep dive into his trading track record.
While Burry is best known for his 2008 housing market short, he's made dozens of major index bets over the past decade…
And let's just say, most haven't been as stellar as "The Big Short…"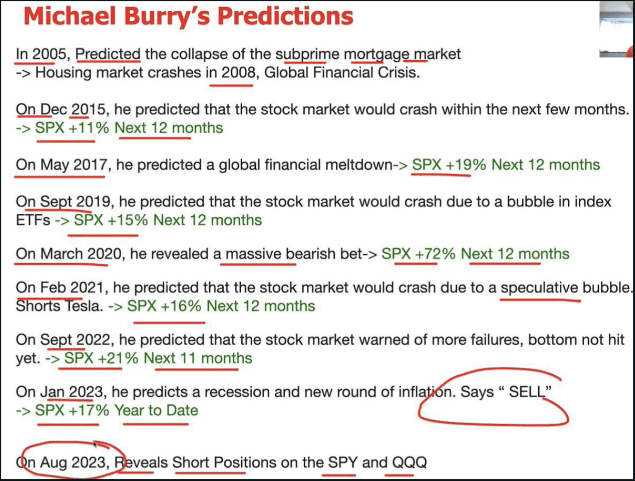 Image courtesy of Reddit (u/Fitness4All26)
Looking at this rundown, I wouldn't be following Burry (or anyone, for that matter) into any swing positions against the market.
However, let's give credit where credit is due … Burry arguably started the famous move in GME.
Burry identified GME as a value play before anyone. He was buying shares when the stock was $5 in 2019, writing letters to the company's executives suggesting changes. 
Keith Gill a.k.a. Roaring Kitty — the guy largely credited for beginning the short squeeze by creating YouTube videos praising the stock — was a disciple of Burry's. 
Burry is how Roaring Kitty first discovered GME as a value play, he says it right here in this now-infamous due diligence video.
Shortly thereafter, Burry was as surprised as anyone to see the stock rally 2,500% in a few weeks. He criticized the craze as excess and exited his position.
Since then, he's been relatively quiet, save for the few moves pictures above since GME.
But, now, this brings us to Burry's most recent trade…
Just this week, Burry disclosed a 13F filing revealing that he's made enormous bets against SPY and QQQ with put options.
The following screenshot of Burry's filing is making the rounds online…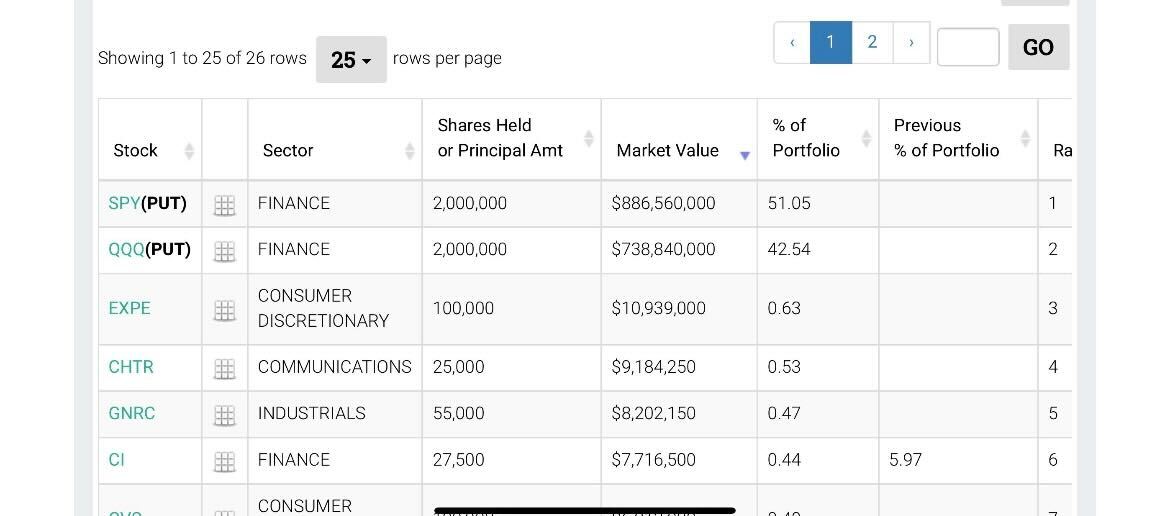 Now, here's where things get interesting…
If you glance at this, it may look as if Burry is betting $1.6 billion (93% of his portfolio) against the U.S. stock market.
However, this isn't correct. And to understand why, we need to go over the concept of notional value in options contracts…
A Note About Notional Value
Notional value refers to the theoretical value of an option contract. 
In other words, notional value isn't showing you exactly what the buyer (in this case, Michael Burry) paid for the contracts. 
Rather, it represents the underlying asset's value that the option controls if the option were to be exercised. 
It's important to note that notional value is different from market value, which is the actual current value of the option.
So, the answer is no … Burry isn't betting 93% of his net worth on a stock market crash.
This is yet another example of the unique quirks of options confusing people. 
You must understand how options are priced if you're gonna attempt to trade them.
What I Really Think About Burry
I'm not showing you all of this to suggest you follow Burry's trades. Quite the contrary.
I don't make trades based on anything other than my own instincts, pattern recognition, and technical analysis. 
I want you to do the same.
That said, it's important to me that my students understand the market. And a lot of traders are either misunderstanding Burry's position sizing or overvaluing his prediction prowess based on one famous trade alone.
Look…
Burry is just like any other trader, he's made plenty of bad bets along with his good ones. 
He may have more money than you or me, but that's no reason to view his words as gospel. They're not. He's wrong more often than he's right. 
Burry is an extremely interesting character in the stock market. He's a renegade of sorts and I appreciate his independent perspective.
But I want you to develop your own views and ideas. Don't worry about what Burry (or anyone else) is doing.
Focus on yourself and you'll be a better trader for it.
And speaking of becoming a better trader…
Are You Ready To Take The Next Step?
I'll let you in on a little secret … I wouldn't be a multi-millionaire if I hadn't joined Tim Sykes' Trading Challenge so many years ago.
And I want you armed with all of the tools necessary for success in the stock market.
So, if you're passionate and dedicated, ready to take on anything the market throws at you, then I've got something for you…
My mentor, Tim Sykes, has helped traders learn to succeed for years. More than 30 of them (including me) are now millionaires.
Are you ready to take your trading game to the next level? Do you have what it takes to face the Trading Challenge?
Let's find out…
CLICK HERE TO SIGN UP TODAY FOR ONE OF OUR FREE, LIVE TRAINING CLASSES!
I'm excited to see you there!