If you're struggling to find a way to trade this head-spinning market — you aren't alone. 
In fact, from what I'm hearing, a lot of traders are getting wrecked in this tape. 
With that in mind, I'm going to share with you how I've been able to avoid getting hurt (and actually profit) during this volatile stretch in the market. 
This type of price action makes it tough to buy breakouts. Even the most experienced traders can lose their cool during a failed bounce or surprise rally.
But I've made millions in the stock market by avoiding these types of situations. There are a couple of steps that traders can take to minimize their risk in this insane market.
If you want to learn how to trade a choppy market with confidence, I suggest you keep reading…
First off, you need to be paying attention to one thing above all else right now…
It's All About the News
This is one of the most news-driven markets I've seen in a long time. 
I guess that's par for the course when part of the world is in the middle of an armed conflict, but it's still important to note…
Bottom line: If you aren't paying VERY CLOSE attention to the news, you're setting yourself up for failure in this market!
[VIDEO] A Rare Live Interview With Two Millionaire Traders...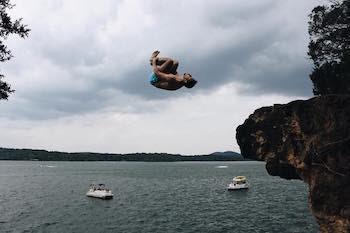 To trade options, you DON'T NEED:

❌  A big account…
❌  To stare at your computer all day every day…
❌  A stockbroker…
Because there's a way to trade stocks (from home) without struggling through the unnecessary risk and hassle most newbies go through… 
To get started…
Click here to watch a rare interview between these two millionaire stock traders
By the way, if you're looking for a reliable and fast source for news, check out StocksToTrade's Breaking News Chat! They've made some amazing calls recently — like CYRN and MULN. If you'd like to take it for a spin, click here to start your trial.
Remember: One contrary headline can send this market spinning in a completely different direction. Be very cautious about the possibility of massive intraday reversals.
We saw evidence of this last Thursday — when the major indexes surprisingly rallied as Russia invaded Ukraine.
And sure enough, we're seeing unbelievable volatility again today.
At the time of writing, the intraday SPDR S&P 500 ETF Trust (NYSE: SPY) chart looks like a rollercoaster. See for yourself…
Beware the Whipsaw Action
That's the thing with this crazy market. A chart you're tracking could be moving in the right direction … But if the overall market's whipsawing back and forth, that can lead you to doubt your plan.
My advice during this time is to keep your position sizes small. Don't get too aggressive on either side of the move.
Overall, I plan on playing it safe this week. Sure, I may miss out on some potential gains … but I'll also avoid brutal losses.
Key Takeaways
The crazy volatility we're seeing offers incredible setups for experienced traders … but it also comes with unique challenges…
Whipsaw price action makes it tough to trade breakouts.
My advice? Keep your positions small to lower your risk in this market.
Don't get too aggressive on either side of the move. Look for breakouts in former runners.
Strong catalysts can provide momentum for your trade. Don't sleep on them.
Don't be afraid to take profits early. A win is a win. Stick to your plan and manage your risk.
Final Thoughts
The wild moves we're seeing aren't all fun and games. They can send mixed signals that will scare you out of your positions — even if the price movement eventually works out as planned.
It's important to trade smart so that you can protect yourself during this volatility. Don't chase alerts or enter trades you haven't prepared for. 
Wait patiently for your perfect setup. Keep your position small. And don't get ahead of yourself in this seesaw stock market.