Right now, the U.S. stock market is trading like a casino.
Red-to-green and green-to-red moves are happening in mere minutes, making massive large-cap names look like penny stocks…
This is no time for swing trading or holding and hoping. 
It is, however, a day trader's paradise. 
Why? One word — volatility.
Great traders don't care if stocks are going up or down, we only care about catching big price swings.
REMEMBER: The bigger the price change … the bigger the potential rewards can be.
That said, trading widespread volatility comes with big risks as well. 
If you're not paying attention to how volatility is affecting the market, your account could get chopped up faster than a slab of Pastrami at my favorite Jewish deli.
And right now, some very unique things are happening that could lead to some welcoming conditions for options day traders.
Keep reading and I'll show you what I'm getting at…
Why This is a Good Time for Day Trading
If you're new to the stock market, basing your views on this year's price action, you may think the major indexes swing by 1%+ every day.
But it's important to understand that isn't true and to grasp how rare of an opportunity this is.
The stock market can be very boring for long periods. 
The fact that it's such a rollercoaster ride right now means that, as traders, we should be looking for the best plays looming within the volatility.
Is it easy to find five-star setups these days? No, it never is. 
With major volatility comes overcrowded trades and confusing counter-moves.
Proprietary Algorithm Forecasts The 20 Hottest Stock Movers … Before The Market Opens!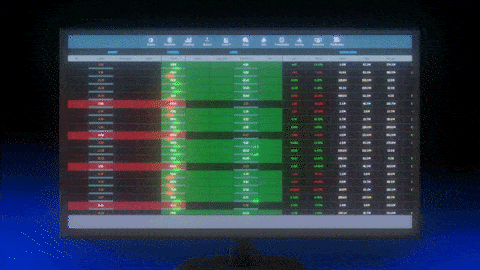 Traders have seen stocks move 35%, 72% and 275%+ within a day, by replacing shady "mainstream" watchlists
And you've gotta be perfect with your timing if you wanna succeed in this crazy market.
Speaking of timing, I wouldn't recommend swing trading in this market.
Prices are moving too quickly. You need to be similarly quick with your trading.
But if you can latch onto a consistent day trading strategy that works for you, this volatile price action is a potential goldmine. 
The VIX Gets Crushed
Volatility is the most important factor in options trading. It rings the register on massive options trades.
To lock in the 100%, 200%, or even 500% gains possible on weekly options, you've gotta find stocks with enough volatility to make it possible.
That's easier than usual these days when the major indexes are trading like penny stocks…
But one chart we can't ignore during bear markets is the volatility index (VIX). 
Spoiler alert: It's making some very weird moves right now…
The VIX has closed red eleven out of the past twelve days — down 13% in the past month.
But why should Evolvers care about the VIX?
Because the VIX measures fear in the stock market.
And right now, although there are plenty of bearish headwinds to worry about, the VIX is showing that the fear just isn't there.
This is one of the factors making me think that the market is trying to bottom.
Additionally, a depressed VIX leads to lower implied volatility (IV), which makes buying options contracts more affordable. 
In a wildly volatile market (like this one), you usually need to risk more in upfront premium to execute your options trades.
But right now, a unique scenario is playing out where wild price swings are occurring without a huge spike in the VIX.
I don't know how long this will last, but it would be great if some five-star setups showed up in this environment.
Final Thoughts
As you can see, a perfect storm of factors has led to pretty good conditions for day trading.
If you study hard and apply your game plan effectively, there's a ton of opportunity in this market.
Be careful, be quick, and be disciplined about your entries and exits.