Happy Martin Luther King Jr. Day, Evolvers!
The market is closed, but that's not an excuse to sit on the couch and eat potato chips all day!
I've said it before and I'll say it again…
When the market is on holiday, you should be taking that time to study and prepare for the week ahead.
A day off is a gift, an extra 24 hours to ready yourself for anything the market throws at you this week.
How you spend your time away from your trading desk has a huge influence on how you trade.
And speaking of things you can study when the market's closed…
This Wednesday, January 18 at 8 p.m. Eastern … Tim Sykes and I are co-hosting the Accelerated Cashflow Summit, where we'll finally reveal the secrets of my brand-new trading system. Click here to reserve your spot NOW!
Bottom line: Excellent study habits separate the true winners from the 90% of traders who lose money. 
With that in mind, I'd like to take this opportunity to break down three ETF charts that I'm studying on my day off.
Keep reading and I'll show you…
SPDR S&P 500 ETF Trust (NYSEARCA: SPY)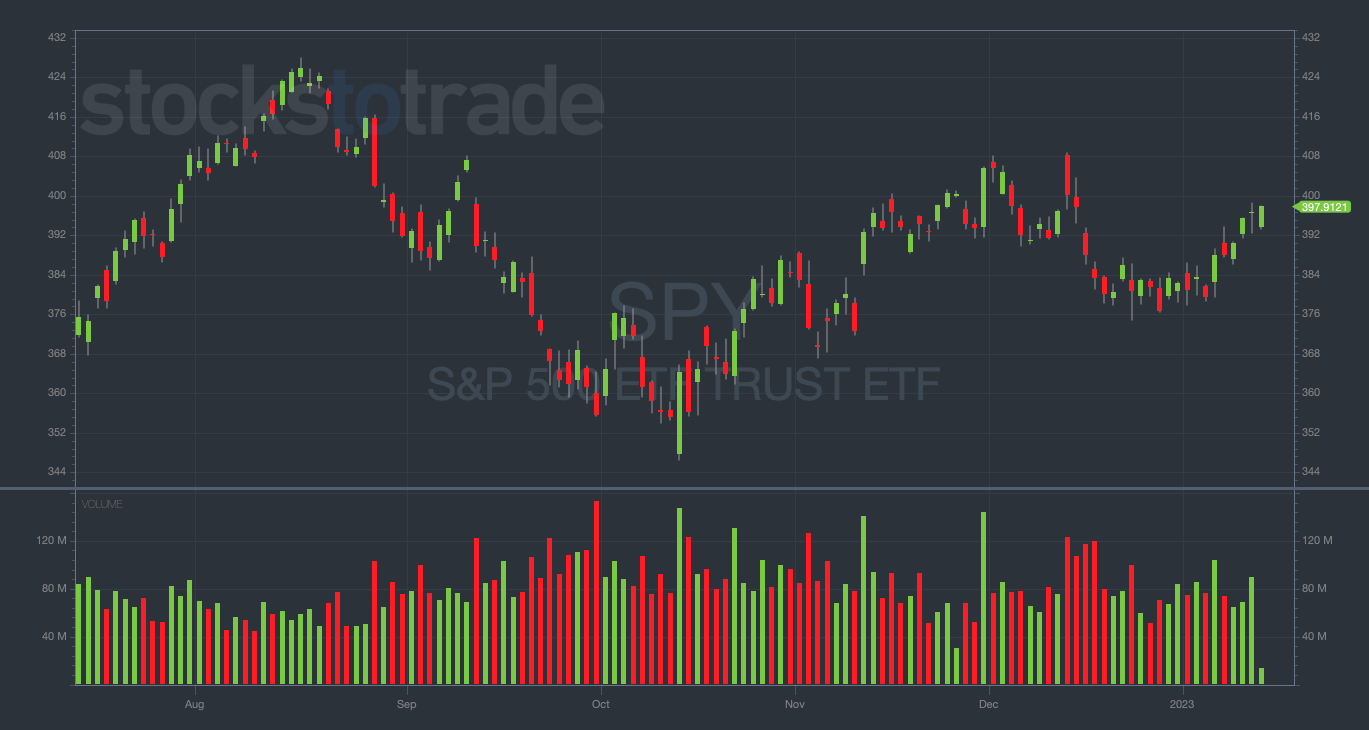 First, let's talk about the mother of all charts — the SPY!
The biggest exchange-traded fund on the planet has been resilient following the consumer price index (CPI) report last Thursday…
But now, we're right in the middle of a resistance zone between $395-$400.
If $400 gets taken out, the SPY could be off to the races in a continuation of the bear market rally. 
After that, the next major resistance is at $408, where the SPY has previously topped out on three separate occasions. 
Now, will a $400 break mean we're on the verge of a new bull market? I'm not convinced…
But it will certainly be a sign of continued strength, and if we get that break, I'll be inclined to keep looking for bullish setups. 
Bottom line: Based on the technicals, we could see more upside on the SPY soon. Trade accordingly!
Invesco DB U.S. Dollar Index Bullish Fund (NYSEARCA: UUP)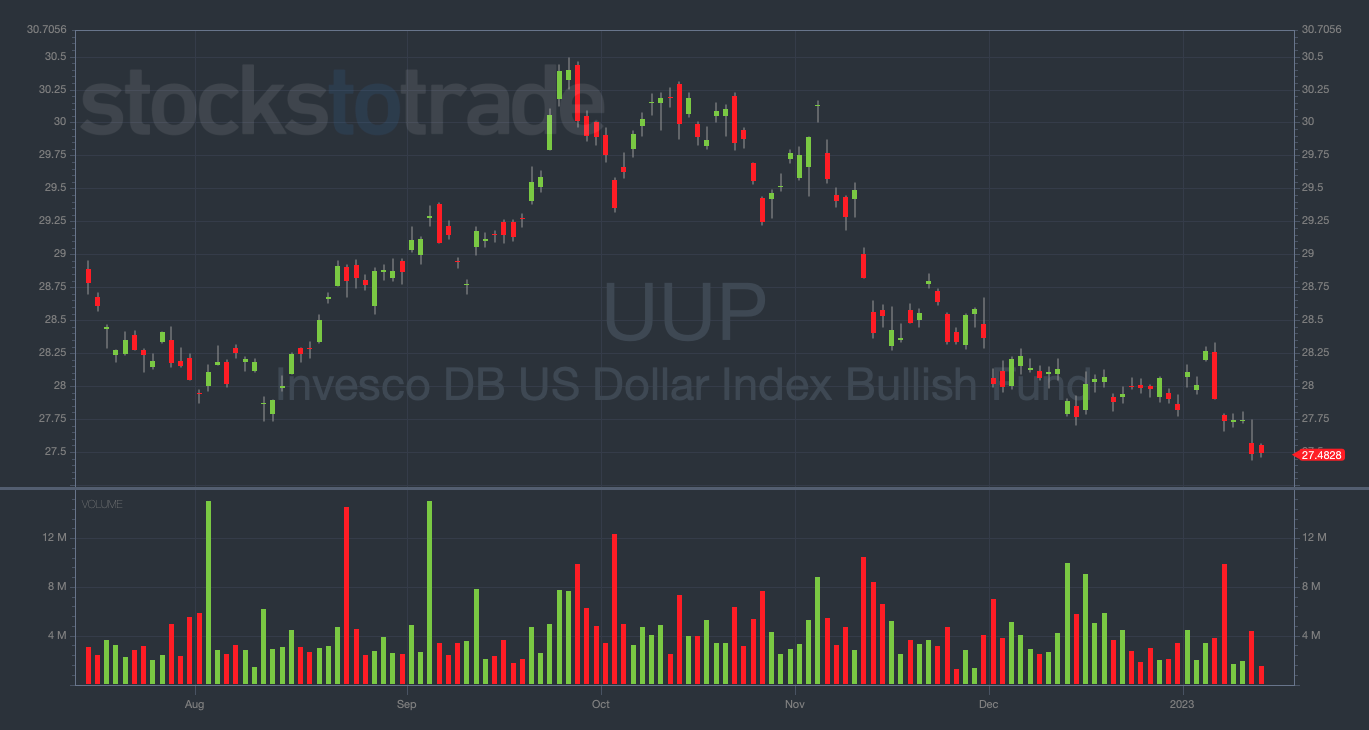 UUP 6-month daily chart — courtesy of StocksToTrade.com
Every trader is familiar with the SPY, but many ignore the importance of UUP, a fund that tracks the U.S. dollar.
Generally, as the dollar goes down … stocks go up (and vice versa).
This makes UUP an important metric for evaluating the health of the markets. 
Even better, UUP's price action is often a leading indicator to the SPY…
What I mean by this is that the moves in UUP can often foreshadow what's about to happen in the broader stock market.
If you see the UUP dumping but the SPY is flat, don't be surprised if the SPY starts ripping shortly thereafter…
And currently, the UUP is in a steady downtrend, which has been helping me to find conviction in some of the bullish trades I've been making. 
The UUP chart is below all notable support. If it keeps losing steam, that'll be a bullish signal for the SPY.
Keep your eye on the dollar to help you find potentially actionable moves in the stock market.
ProShares Bitcoin Strategy ETF (NYSEARCA: BITO)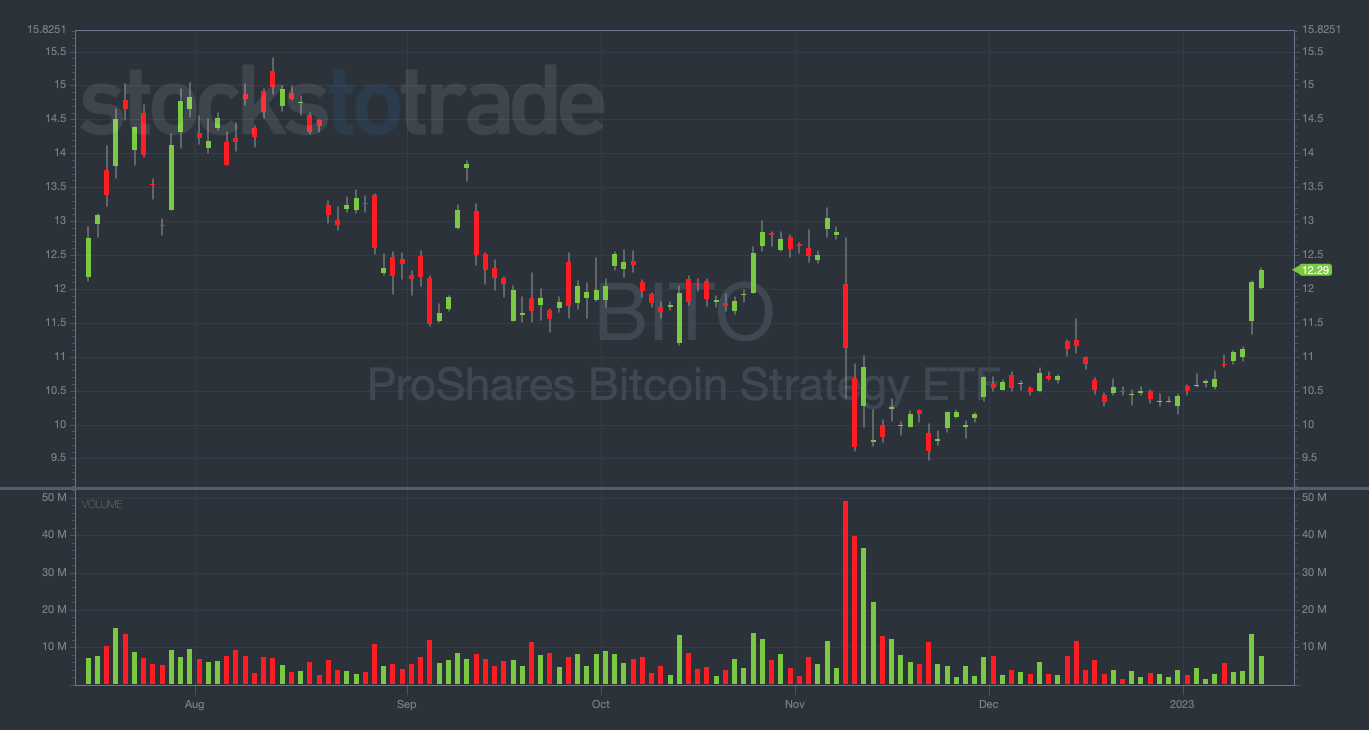 BITO 6-month daily chart — courtesy of StocksToTrade.com
Another critical chart for the markets is BITO. I've been watching it very closely…
BITO is a fund that directly tracks Bitcoin (BTC). I'm holding long-term puts on this because I think crypto could see a major 'black swan' event soon. 
But I've been feeling the pain recently as BITO has been squeezing along with the entire crypto sector.
To put this in perspective, BITO is up more than 12% in the past five days (at the time of writing).
So, what did I do? I hedged by buying calls on two specific crypto stocks (but more on that later in the week)…
My calls hedge helped to dull the pain of my paper put losses, but I may consider reducing my short position if this sector squeezes much higher. 
Final Thoughts
If you aren't watching these charts right now, you're not paying attention!
Stay tuned into these ETFs as we head into this critical week for the markets.
Now, go enjoy the rest of your day off and I'll talk to you tomorrow!