Have you ever missed out on a winning setup because you were too afraid to pull the trigger or hold your position?
If you've been trading for more than five minutes, the answer has to be yes. We've all been there…
You see the pattern forming, but something stops you from finding the conviction to put your money where your mind is.
From my experience, there's one HUGE psychological hurdle traders face on the road to success — the fear of losing. 
Even if you have an incredible win rate, the fear of losing can occasionally pull you out of a winning setup.
Take one of my recent trades as an example. I left a ton of money on the table trading Chevron Corp. (NYSE: CVX) puts at the beginning of the week. I sold my position too early, missing out on $120,000+ in gains. 
Bottom line: If you're trading scared, you're setting yourself up for failure. 
The fear of losing is a common problem. To overcome it, you'll need to change your trading mindset.
So let's discuss three easy steps you can take to help overcome the fear of losing.
Step #1: Plan Your Trades Carefully
As many of you know, I have three young kids. 
Each time my wife was preparing to go into labor, we had to form a pregnancy plan.
We consulted with our doctors about Plan A, Plan B, and even Plan C. 
Life is unpredictable, so we had to be prepared for anything and everything on the most important days of our lives.
[VIDEO] A Rare Live Interview With Two Millionaire Traders...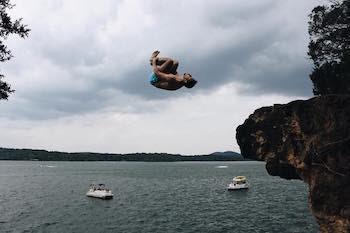 To trade options, you DON'T NEED:

❌  A big account…
❌  To stare at your computer all day every day…
❌  A stockbroker…
Because there's a way to trade stocks (from home) without struggling through the unnecessary risk and hassle most newbies go through… 
To get started…
Click here to watch a rare interview between these two millionaire stock traders
The same goes for trading. A put trade is way less important than the birth of my children, but the concept of planning still applies.
What happens if something unexpected occurs? What's your exit plan if A, B, or C happens?
These are questions you need to ask yourself — both in life and in the markets.
Step #2: Size Down
This one's easy. If you're feeling mentally uncomfortable in a trade … it's probably time to lower the size of your positions.
I notice this myself. If I oversize my positions, it can be really difficult to hold the trade through crazy volatility. 
Position size has a huge effect on trader psychology.
My advice? Size down.
Hit single after single after single. Find consistency. Once you've strung several winning trades together, then you can consider increasing your entry size.
REMEMBER: It's way easier to add to a winner than to trim a loser.
The root causes of oversizing positions are greed and FOMO.
Money, money, money — it's all many traders think about. Avoid this mental trap like the plague.
Worry instead about growing your account consistently. 
It may seem counterintuitive, but sizing down on your positions is often one of the best ways to do this.
Step #3: Find Your Maximum Loss Tolerance
Now that you've realized that trading losses are inevitable — you'll need to determine the maximum amount you're willing to lose on a given trade…
I can't do this part for you. Your maximum loss tolerance will depend entirely on your personality, account size, and overall risk tolerance.
But I can tell you what works for me … At this stage in my trading journey, I try to NEVER risk more than 1% of my account in a day. 
Keep in mind that I have over $3.5 million in trading profits, so my maximum loss tolerance tends to land in the $20,000–$30,000 range.
Note that this is a MAXIMUM number. I rarely lose this much on a single trade. 
Bottom line: I think 1% overall account risk is a decent starting point for most active traders.
That said, if you're trading a small account, you may be forced to risk more than 1% in the early days. 
In my recent small account challenge, I've taken much larger risks relative to the account size for this exact reason. 
The key in these situations is to be incredibly discerning with the trades you put on. 
Then, once you've grown your account to a size you're comfortable with, you can return to a much smaller risk profile. 
Final Thoughts
Many traders are inherently afraid of losing, and not just on a big trade. Smaller plays have these traders shaking in their boots as well. 
This unnecessary fear will hold you back and mess with your head. Worst of all, it could prevent you from nailing massive trades.
The unfortunate truth is that losses are part of the game. They're gonna happen to you sooner or later. And it's a waste of time and energy to worry about the inevitable. 
If your goal is to have a long and successful trading career, you must accept the fact that you'll take some losses along the way.
Don't fear the unavoidable losses. Be prepared for them. 
If you plan accordingly by following the steps I've outlined today — there's nothing to fear.