If you've ever wondered how millionaire traders pick the stocks they trade … listen up.
When I see a stock moving, one of the first things I check is whether the stock's a former runner.

A former runner is a stock that has made significant moves in the past — and it makes a big difference when it comes to determining potential trade setups.

REMEMBER: If a stock has moved big in the past, it's likely to move big again in the future!

When it comes to volume and momentum, a stock that has already proven itself is far more likely to see a bullish move in the near term than a stock that never blasted off in the first place.

My advice? Be prepared by keeping a list of former runners by sector.
That way, once a sector starts moving, you can look at your list and track the potential moves.
I use StocksToTrade to organize my watchlists — it's clean and simple to use. And right now, you have an amazing opportunity to start your 14-day trial of StocksToTrade Premier! Click here to sign up…
Now that you've got your watchlist sorted, let's break down why it's so important for you to pay attention to former runners…
Why Do I Look For Former Runners?
Since November 2021, the stock market has been stuck in a brutal downtrend. The Nasdaq was more than 20% off its highs a week ago, putting the broader technology sector into official bear market territory.
But in the past week, we've seen a major shift in trader sentiment. The SPDR S&P 500 ETF Trust (NYSE: SPY) opened today with a two-day gain of 4.4%, its best 48-hour return since April 2020. Meanwhile, the Invesco QQQ Trust (NASDAQ: QQQ) has jumped 6.8% in the same period. 
[VIDEO] A Rare Live Interview With Two Millionaire Traders...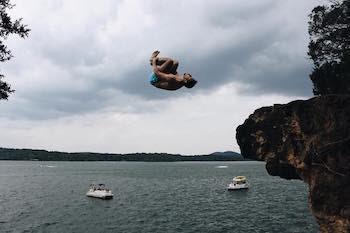 To trade options, you DON'T NEED:

❌  A big account…
❌  To stare at your computer all day every day…
❌  A stockbroker…
Because there's a way to trade stocks (from home) without struggling through the unnecessary risk and hassle most newbies go through… 
To get started…
Click here to watch a rare interview between these two millionaire stock traders
When market momentum shifts from bearish to bullish, former runners often see the biggest percent gains on the way up.
Sound familiar? The current market conditions are leading to this exact situation…
It's a psychological thing. A stock with a history of runs and high volume attracts traders' attention when a catalyst starts driving the stock again.
WARNING: Many traders focus on one-day spikers that are far less likely to continue their moves. This is a mistake!
When it comes to volume and momentum, make sure the stock has proven itself in the past. 
That way you can have increased confidence and conviction when you see a five-star setup forming.
As a significant catalyst develops, the chart pattern of a former runner can become a self-fulfilling prophecy of sorts. The bullish price action tends to repeat. 
3 Former Runners That Are Surging Today
Let's look at three strong examples of former runners making moves today…
Cloudflare Inc. (NASDAQ: NET)
The cybersecurity giant had an incredible run throughout lockdowns — surging from under $20 to over $200 in two years.
But like most other tech stocks, NET has seen sustained selling since November 2021, falling from a high of $211 to a low of $84.
Today, NET was up more than 11% at the time of writing. This surge is worth paying attention to considering the stock's history.
DISCLAIMER: You must know your history if you want to be a consistently winning trader!
Lemonade Inc. (NYSE: LMND)
Another lockdown darling, insurance startup LMND went from $50 to over $160 from October 2020 to February 2021.
Since then, LMND has been steadily declining to under $20, losing more than 75% of its value. Yikes!
But today, the stock's up more than 16% at the time of writing. (Former runners doing what former runners do!)
Workhorse Group Inc. (NASDAQ: WKHS)
A retail trader favorite, electric vehicle startup WKHS was one of the most impressive stocks of last year.
It soared from under $2 to a high of $42 amid the massive sector run we saw in the EV space at the beginning of 2021.
Three weeks later, WKHS crashed back below $20. Today, it's trading for just over $4 — and that's after a 13%+ intraday gain at the time of writing!
While I wouldn't trade this stock yet, WKHS is a notable former runner because it's shown what it can do in the past (and it's trading for 10% of what it's historically traded for). 
Final Thoughts
If you see a stock boosting after a long downtrend, make sure to check if it's a former runner.
I prioritize former runners over other types of stocks because I already know they can provide a lot of great opportunities. They've proven it in the past.
If you focus on big percent gainers without a history of running, you could be wasting your time on one-day spikers that dump quickly.
My advice? Use your time (and energy) on stocks that have proven themselves in the past. Find the former runners.
Are You Missing Out On Epic Trades?
StocksToTrade's Breaking News Chat could be what's missing in your trader toolbox…
You get two financial analysts feeding you stock news and alerts often before anywhere else while joining a community of traders like yourself.
Tim Sykes encourages his students to use Breaking News Chat every day: