Anyone who's been following (but hopefully not chasing) my trade alerts will have noticed I've been focusing on the cannabis sector recently.
But what do we know about overcrowded momentum stocks that are surging to the upside on a single speculative catalyst?
That's right … it's only a matter of time before the chart comes crashing back down to earth.
I made a $20,000 calls trade on Canopy Growth Corporation (NASDAQ: CGC) last week, riding the momentum to the upside.
But this week, the smoke has cleared (so to speak), and weed stocks are getting decimated.
Now, I'm finding opportunities on the short side of the cannabis sector, trying to play both sides of the charts.
With that in mind, keep reading to see my game plan for trading cannabis stocks this week…
What Goes Up, Must Come Down…
Legendary physicist Isaac Newton is best known for his third law of motion, which inspired his famous quotation — "what goes up, must come down."
When Newton first said this in the late 1600s, he obviously wasn't talking about the stock market (which didn't even exist yet)…
But nearly 400 years later, Newton's concept applies perfectly to stocks. In fact, my entire put-trading strategy is based on his idea.
You see, when momentum stocks start raging to the upside … it's only a matter of time before they come crashing back down.
This isn't a possibility, but rather a guarantee. The question isn't if a jacked-up momentum chart will crash, only when it'll happen.
And if you play your cards right, you can take advantage of this fact…
One of the most valuable skills a trader can strive towards is the ability to nail both the upside and the downside of a chart.
Having the ability and foresight to trade puts and calls on the same chart is a skill that could improve your trading exponentially.
Let's look at a recent setup for a great example of this…
MSOS Momentum
Two weeks ago, the Department of Health and Human Services recommended that marijuana be moved from Schedule I (the category reserved for the most dangerous drugs) to Schedule III (a category for certain prescription drugs).
If this reclassification gets finalized, it would be extremely bullish for weed stocks. 
Which is why the AdvisorShares Pure US Cannabis ETF (NYSEARCA: MSOS) nearly doubled from $4.85 to $9 in ten trading days…
But it seems like traders got ahead of themselves…
Although this is positive news for cannabis companies, nothing has actually changed yet. It's still up to the Drug Enforcement Administration (DEA) to make the final decision, which could take months.
This week, that reality started setting in with retail traders as the market began dumping cannabis stocks.
Naturally, when I noticed the bullish momentum dying down, I was on high alert for put-trading opportunities on MSOS.
And sure enough, I found one…
My Recent Trades on Cannabis Stocks
MSOS is a fund that tracks many of the top U.S. cannabis companies, sort of like the SPY for weed stocks.
I've been watching this chart closely over the past few weeks to gauge the momentum in the sector.
Here's what I started to notice on Monday:
Individual cannabis stocks were starting to tank…
MSOS was struggling to stay above a crucial round-number resistance level at $9…
Traders would be more likely to exit speculative positions (such as these) heading into tomorrow's FOMC meeting (risk-off)…
These factors led me to believe that MSOS was in for some near-term downside.
I sent an email about this setup on Monday, floating the idea of buying MSOS 9/22/23 $8.50 or $9 Puts…

Had you bought those puts when I sent the email, you would've been up 100%+ on either position by mid-day on Tuesday.
Short setups don't get much simpler than this!
But if you missed this opportunity, worry not. I recently alerted another short trade on a widely traded cannabis stock…
Aurora Cannabis Inc (NASDAQ: ACB).
On Tuesday, I bought ACB 9/22/23 $1 Puts for $0.16…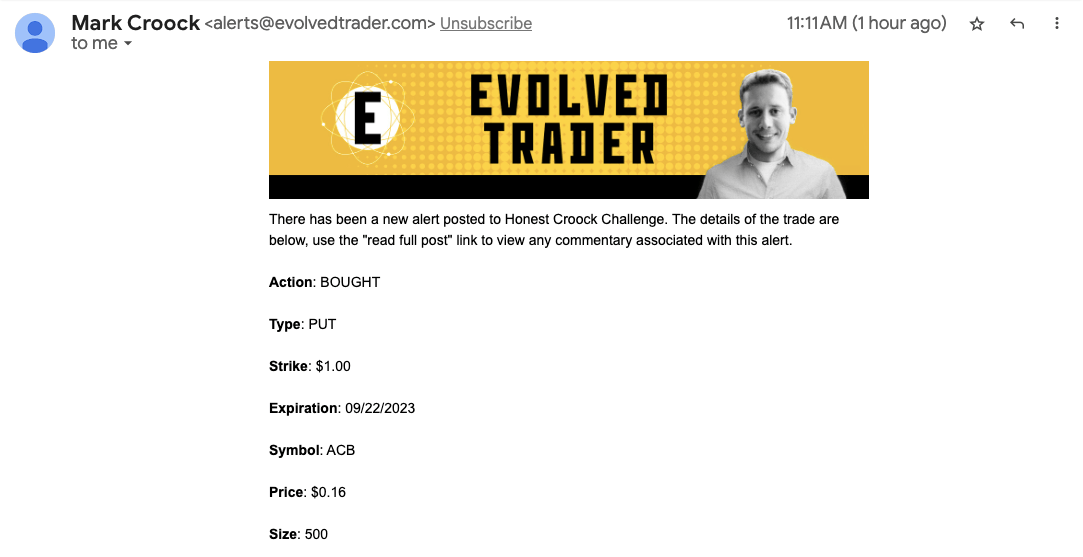 I'm predicting a 10-20% drop into Wednesday morning, targeting the low $0.70s as a sympathy play on the rest of the cannabis sector…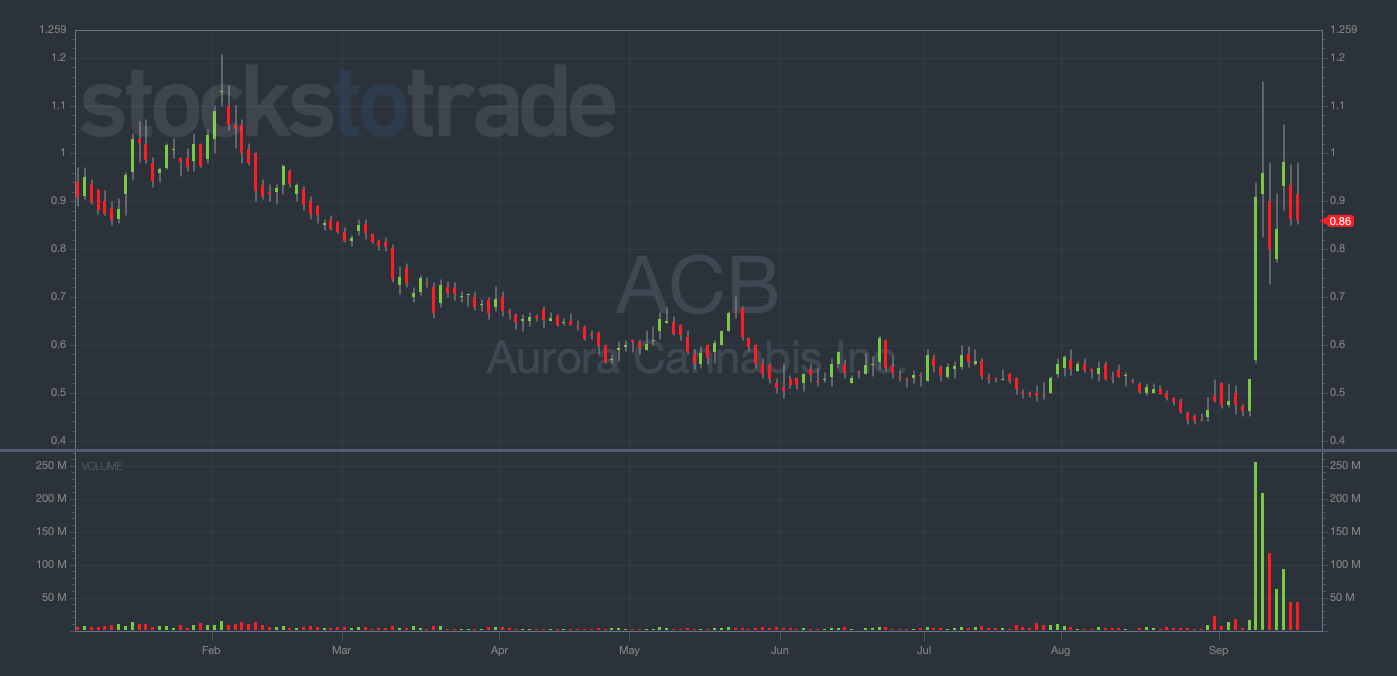 ACB YTD daily chart — courtesy of StocksToTrade.com
WARNING: The Federal Open Market Committee (FOMC) meeting today could cause some crazy moves in the stock market. Stay nimble and trade carefully. 
But please, whatever you do, don't chase my trade alerts!
If you do enter this setup, do so based on your own research and due diligence.
Now, before I go, listen…
Are You Ready To Take The Next Step?
Here's the truth … I wouldn't be a multi-millionaire if I hadn't joined Tim Sykes' Trading Challenge so many years ago.
And I want you armed with all of the tools necessary for success in the stock market.
So, if you're passionate and dedicated, ready to take on anything the market throws at you, then I've got something for you…
My mentor, Tim Sykes, has helped traders learn to succeed for years. More than 30 of them (including me) are now millionaires.
Are you ready to take your trading game to the next level? Do you have what it takes to face the Trading Challenge?
Let's find out…
CLICK HERE TO SIGN UP TODAY FOR ONE OF OUR FREE, LIVE TRAINING CLASSES!
I'm excited to see you there!