Well, Evolvers … 2023 is off to a wild start!
After last week's choppy price action, the S&P 500 ETF Trust (NYSEARCA: SPY) surged into the new week in style, with the index up as much as 1.6% on Monday.
The bears seemed to disappear as tech stocks soared and the SPY cracked the all-important $400 resistance level.
Additionally, the bullish market momentum has brought new life to a sector I've been focusing on recently — crypto stocks.
And while I remain bearish on crypto in the big picture, I have enough experience to know that fighting this uptrend isn't the best strategy.
Instead, I flipped and started buying calls on crypto stocks toward the end of last week. 
And if you're confused by my sudden reversal, let me explain…
I've said it before and I'll say it again … If you wanna succeed as a trader, you MUST be ready to switch your game plan up when the market calls for it. 
Now is not the time to be stubborn or to get married to your positions. 
We're seeing a major pattern disruption to the upside. Don't get caught short when the market is blasting off. 
With that in mind, I'd like to share a few crucial trading lessons I was reminded of over the past few days of rollercoaster price action. 
Keep reading and I'll show you…
Take Your Trades Day by Day
In a market this volatile, I find it's best to take my trading one day at a time.
What I mean is this…
I'm not forming any long-term opinions, convictions, or swing positions right now.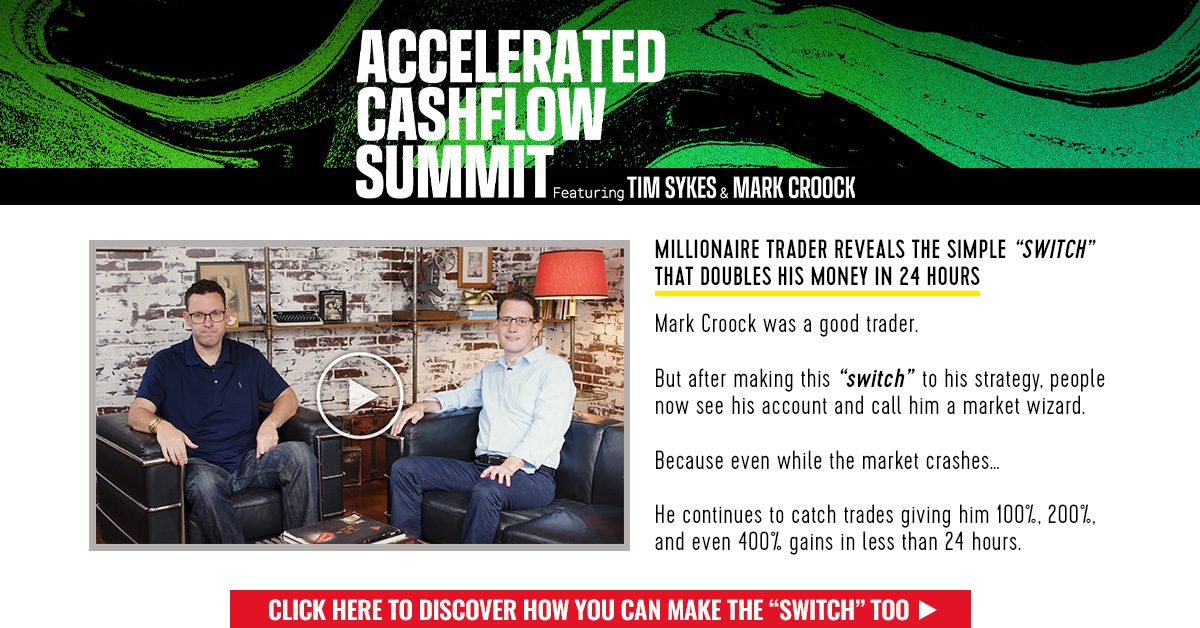 In this environment, the market has a completely different personality every few days.
If you attempt to bet on mid-to-long-term plays in this rollercoaster market, you're setting yourself up for disaster.
But the remedy is simple … take things day by day. Avoid the temptation to buy long-dated contracts. 
Make sure to take profits quickly and cut losers immediately.
You probably shouldn't even hold contracts overnight unless the follow-through into the close is absolutely undeniable.
Of course, for more experienced traders, there are occasional exceptions to these rules…
For example, I'm currently holding 1/27/2023 $6.50 Calls on Riot Blockchain Inc. (NASDAQ: RIOT) … but I definitely won't hold them for more than a few days. (I might even sell them before this e-mail gets sent.)
Now is the time to be nimble and willing to switch your strategy up when the market calls for it.
And that brings me to our next lesson…
Don't Get Married to Your Positions
One of the biggest errors you can make as a trader is getting married to your positions. 
But what do I mean by this?
I've seen it so many times before … a trader develops an opinion about a ticker or a sector, good or bad, and gets stuck in that mindset.
Even when the price action is screaming the opposite at them, they can't admit that they were wrong…
This brings me to the most crucial point … As a trader, making money is far more important than being right.
Take it from me…
Before this massive rally began, I was predicting a big dump in the crypto markets.
And I was positioned for a big crash, having built a sizeable position in March-expiring puts on the ProShares Bitcoin Strategy ETF (NYSEARCA: BITO). 
But once I saw Friday's price action — with the entire crypto sector blasting off simultaneously — I knew I had to adjust my game plan.
So, what did I do? I started buying calls on crypto stocks. (I'll break down these trades in more detail later this week once I've closed all of the positions out).
If I hadn't done this, I would've been forced to stomach some brutal losses last week. 
But here's the lesson I want you to internalize…
Don't be afraid to admit that you're wrong — or that your timing is off — when it comes to a setup you're trading.
When you see the price action move against you on high volume, cut your position and consider taking the other side of the trade. 
If you flip to the other side of the trade in time, what would've been a demoralizing loss could potentially turn into a huge win.
But if you stubbornly hold onto your (wrong) predictions, you'll eventually get smoked. 
Final Thoughts
As you can probably tell, the stock market is nearing a critical inflection point.
The next few weeks should give us a clearer picture of how we can effectively trade this market. 
Don't try to be a hero in this tape. Take your trades day by day, don't get married to your trades, and avoid making any long-term predictions.