Yesterday, I talked about the crazy short squeeze happening in shares of Bed Bath & Beyond Inc. (NASDAQ: BBBY).
I weighed the pros and cons of potentially buying puts and ultimately decided against doing so yesterday.
But now, this story is getting bigger than BBBY…
There's a groundswell happening in former 'meme stocks' that's impossible to ignore.
Tuesday was an undeniably notable day for overextended, short squeeze momentum stocks.
Aside from BBBY … Fubotv Inc. (NYSE: FUBO), Party City Holdco Inc. (NYSE: PRTY), Blue Apron Holdings Inc. (NYSE: APRN), Weber Inc. (NYSE: WEBR), and Express Inc. (NYSE: EXPR) were all surging to unreal highs on Tuesday.
As I mentioned yesterday, the implied volatility (IV) on meme stock options is extremely elevated this week. And that's bad for us options traders.
It doesn't make these plays untradeable … but it means your timing must be perfect. 
Keep reading to hear my thoughts on the meme stock renaissance (and how I may trade it)…
Meme Stock Madness
At this point, it's pretty much undeniable that we're seeing a meme stock renaissance…
FUBO, BBBY, PRTY, APRN, WEBR, and EXPR were all up double-digits on the day as bullish retail traders planted their flags once again after a long period of silence.
Want to be alerted to hot trade ideas before anywhere else?
Breaking News Chat is the alert service that traders can't get enough of. Two former financial analysts scour the Stock Market and news for stocks that could potentially spike and alert the room allowing you the chance to get in on the action.
Check out the alert for BBBY on August 16th: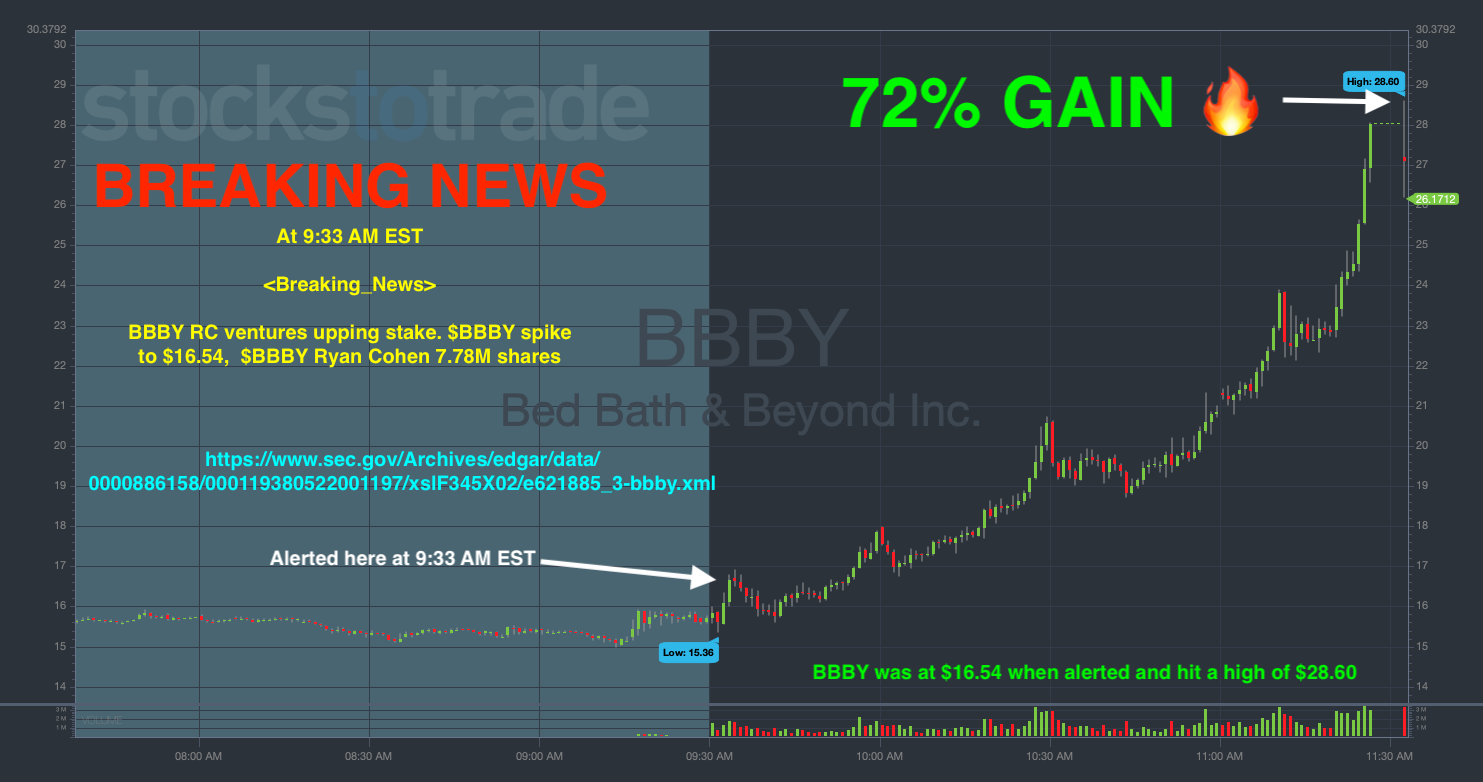 This is a tool you'll want in your trading toolbox. 
This isn't a coincidence. These 'meme stocks' tend to move together.
It's a bull horn from retail traders. They're saying "we haven't gone anywhere!"
Keep shorting their favorite stocks at their lows and you'll eventually get punished with an epic short squeeze. 
We've seen it happen time and time again over the past two years and this week is no different.
I love seeing it. These are classic 'supernova' stocks, one of Tim Sykes' favorite patterns…
And speaking of supernovas … If you wanna find the next INSANE parabolic spiker, look no further…
See the only chart pattern you need to position yourself for profits BEFORE they happen … Sign up for Supernova Alerts NOW!
First, it's a sign that 'unsophisticated' retail traders like you and I can take on the big boys and win.
But even better, these supernova meme stock moves can potentially tee up incredible trade opportunities on the short side…
How I May Play It
My entire strategy revolves around shorting huge, parabolic moves in overextended stocks.
And quite frankly, there's no better example of this than 'meme stocks,' which defy all logic by occasionally shooting to highs that no analyst in their right mind would ever call out.
At the beginning of these moves, this dynamic creates an enormous disconnect between the value of the options contracts and the price action occurring in the common shares.
This is where options traders like you and me can profit on meme stocks.
But for me, the best play is always on the short side.
I have no idea how high any of these stocks will squeeze…
That said, I know that once the momentum stalls and the inevitable downside reversal begins, the carnage will be epic … in the range of a 50%-70% drop in share price.
This is my most significant point today. There's only one guarantee, and that's the crash.
The upside has no guarantee. (Example: If you're buying $30 calls on BBBY at this stage, you're wildly speculating.)
Growing A Small Trading Account? Check this Out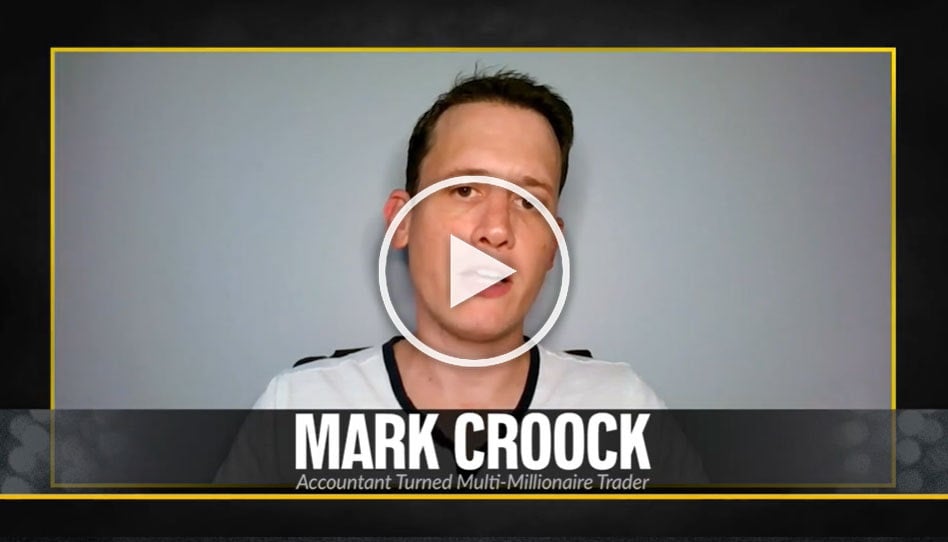 When multi-millionaire trader Mark Croock first started trading, he was an overworked and underpaid accountant…
So he knows what it's like to start small while wanting to massively grow your wealth as quickly as possible.
That's why he just recorded a step-by-step training that reveals what he believes is the best options trading method for someone trading with a small account.
I don't know exactly when it'll happen, but I know that these meme stocks will crash back closer to their monthly lows sooner rather than later.
We saw major weakness in BBBY shares on Tuesday afternoon, but after hours saw the stock recover.
I'm not seeing the major weakness that I'm looking for quite yet. We'll have to wait and see what happens throughout the rest of the week…
Final Thoughts
This is an INSANE week for meme stocks, so I had to write about the potential setups they provide.
That said, any trade on these names is inherently risky. Be extremely cautious. 
The value of meme stock options can change hundreds of % in minutes!
Finally, don't chase my alerts on meme stock trades. If you do enter one of these setups, please base it on your own due diligence.