It's another CRAZY week in the stock market. So insane, in fact, that I actually bought calls on crypto…
But today, I didn't trade anything. I was waiting for a major event this afternoon that had the potential to change my trading for the foreseeable future.
Let's break down why I flipped my trading direction on crypto — and how I'll plan to approach my trades over the next few days.
Why I Bought BITO Calls
This past Monday, January 24, I bought BITO 1/28/2022 $24 calls right before the close. 
For anyone who's been following my trading lately, you'll know that this is a big pivot for me. 
I've been buying puts on BITO consistently for the past several weeks — profiting over $60,000 for my small account challenge.
Update: I started with $10,000 in my small account at the beginning of December. Less than two months later, the account has grown to $155,672!
To put this in perspective, I've made nearly half of my 15x gains on my small account by trading BITO puts. 
But when you're trading such a volatile chart, it's critical to know when it's time to flip to the other side of the options chain.
Many traders stick to one type of contract — puts or calls. This is a mistake.
While it's fine to favor one or the other (like I do), you must be able to trade both calls and puts when the price action shifts directions. 
And speaking of trading versatility, there are few better examples of this than my buddy Tim Bohen. 
[VIDEO] A Rare Live Interview With Two Millionaire Traders...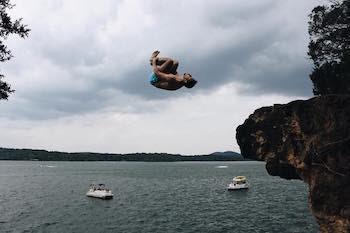 To trade options, you DON'T NEED:

❌  A big account…
❌  To stare at your computer all day every day…
❌  A stockbroker…
Because there's a way to trade stocks (from home) without struggling through the unnecessary risk and hassle most newbies go through… 
To get started…
Click here to watch a rare interview between these two millionaire stock traders
He used to short stocks 95% of the time, but these days he's a brilliant long trader. And now he's got something exciting to share with the world…
Bohen has come up with a brand-new strategy that's averaging 100% peak gains PER DAY!
Don't miss Bohen's event with Sykes TONIGHT, January 26 at 8 p.m. Eastern where he'll reveal how you can use this strategy. Reserve your spot here — it's free when you sign up.
The importance of being able to flip trading directions came up as I was re-examining my BITO trades…
When BITO dumped over 10% on Friday, January 21 — then dropped ANOTHER 10% the following Monday, January 24 — I felt the risk/reward on puts was leaning more toward the risk side. 
Additionally, after hitting a bottom on Monday, the entire crypto market rallied violently into the close. I thought this was a pretty clear bottoming signal.
So what did I do? I bought BITO 1/28/2022 $24 calls for 53 cents right before the close. 
Here's the chart:
I missed the big bounce off of the morning panic bottom — but I felt the calls were so beaten down that the risk/reward was decent to hold into Tuesday.
My idea was to scalp a quick trade. Remember that the calls I bought were extremely cheap — just 53 cents per contract. 
Note: The chart also developed in such a way that I had new key levels to watch. I'm currently keeping my eye on the $24 area for resistance and $21 for support.
If BITO had opened green on Tuesday, I would have been able to close the contracts out for a massive profit.
Unfortunately, BITO was down on Tuesday morning and I was faced with a tough decision. 
I decided to cut my risk and stay on the sidelines. My decision was also influenced by a very important event happening today…
It's All About the Fed
Unless you've been living on Mars, you've probably heard that today is a crucial day for the stock market.
Why? Because the Federal Open Market Committee (FOMC) met today — and it decided to keep interest rates near zero.
This is one of the most important meetings of the year for the U.S. Federal Reserve. 
Heading into this afternoon, the question on every trader's mind was this — would the Fed hike interest rates (which would be terrible for growth stocks) — or leave them near zero (which should be bullish for all risk assets)?
Conclusion
The tone of the FOMC meeting today was relatively neutral. The major headline will be that interest rates aren't moving. 
In theory, this is good for stocks and could lead to settling in the markets. But the market completely unraveled after the decision was announced, so we'll have to wait and see…
The FOMC uncertainty caused me to stay on the sidelines yesterday and today. It was just too risky to try and predict the Fed's decision. 
Now that the Fed's decision is behind us, I'll be watching the broad market price action closely over the next few days to see how traders are reacting to the tone.