You've probably noticed that the market is getting obliterated right now.
Some traders get scared by this, retreating into a frozen state of panic…
But I see it as a major opportunity. And this comes from over a decade of experience. 
At this point, I've traded through more crashes, corrections, and bear markets than I can count…
I understand that I look at the market differently than most people…
And since I have a negative bias, I have a particular knack for assessing these "bad times" in the market — then, creating a killer plan of attack to potentially profit from the madness.
With that in mind, keep reading and I'll show you the big-picture thoughts I'm having about this market correction (and give you some ideas for how to profit off of the downside)….
It's Time to Move On from the Fed
Over the past week, the market has been at the mercy of one man … Federal Reserve Chairman Jerome Powell.
You could even argue that Powell has been the most powerful person in the world for the last few years.
Every word he's uttered has been parsed, studied, and deconstructed by traders in an attempt to understand the inner workings of Fed policy.
But that was before last Wednesday's speech, where Powell confirmed that rates would stay unchanged…
And the way I see it, there are two ways to look at this…
On the one hand, there's nothing the market hates more than uncertainty, and now there's less of it swirling around.
On the other hand, bulls were hoping that Powell would indicate a pause in rate hikes altogether, which he didn't do. 
Rather, the Fed did the opposite, implying that rates would stay higher for longer than previously anticipated.
But here's the thing…
The Fed hasn't been correct about anything since inflation went wild in 2021:
Jerome Powell and the Fed since 2020:

1. Mar 2020: Inflation won't be a problem
2. Jan 2021: Inflation is "transitory"
3. Sept 2021: Interest rates won't rise until 2024
4. Jan 2022: Recession is needed to lower inflation
5. Dec 2022: Disinflation has begun
6. Feb 2023: A "soft…

— Whale (@WhaleChart) September 20, 2023
This tells me that you shouldn't let Fed policy dictate how you trade. 
The market will likely be digesting Powell's comments for a few days, but the initial reaction has been insanely bearish…
The Trend is Your Friend
By the close on Tuesday, the S&P 500 ETF Trust (NYSEARCA: SPY) was down more than 4% in five trading days…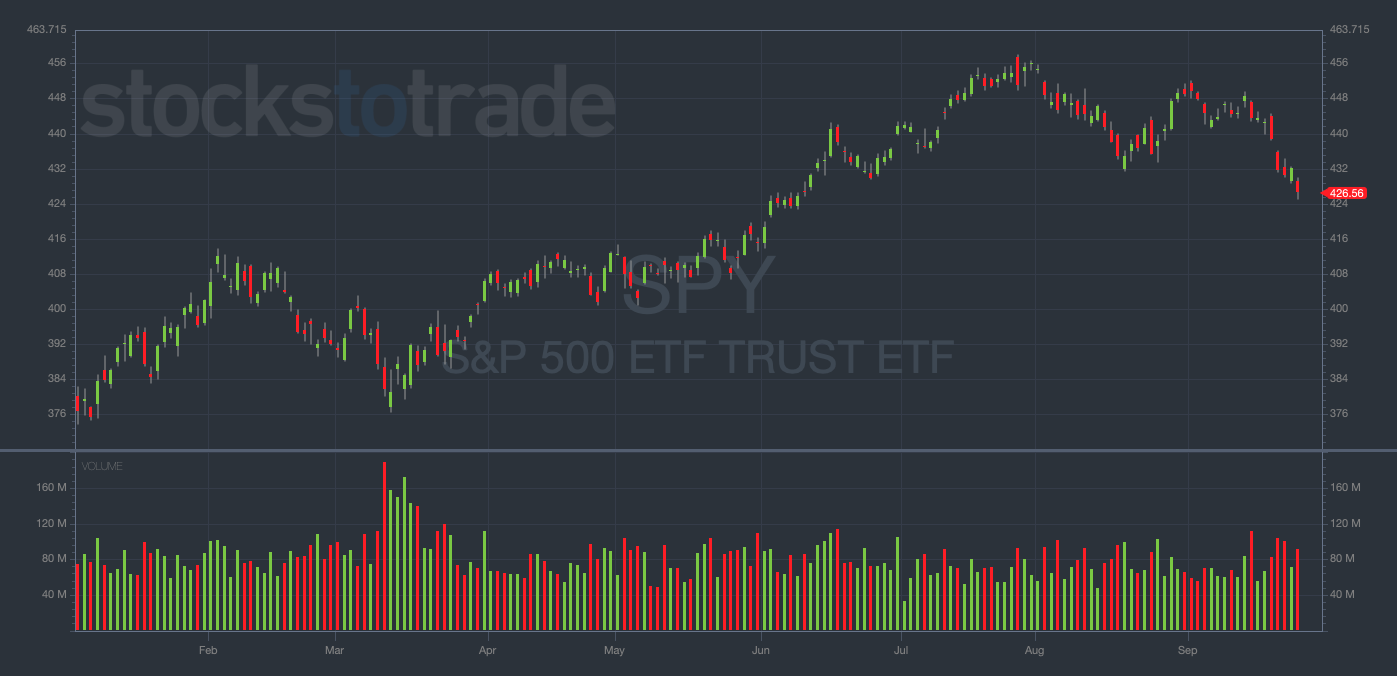 SPY YTD daily chart — courtesy of StocksToTrade.com
Don't ignore this move. While it could be a knee-jerk reaction to the Fed, the multi-day nature of the sell-off leads me to believe there could be further downside coming. 
Plus, the fact that this sell-off is happening immediately after the uncertainty has subsided makes me think the market could be headed much lower in the near term.
Don't try to be a hero and fight the trend. The trend is your friend. 
But you also shouldn't chase the downside at the wrong time. Try to time your put-buying into bullish bounces so that you can get in at a better price.
Now, I believe the overall focus of traders will shift to individual companies… 
You should be watching the big tech companies closely, as any earnings miss from these major players could materially affect the major indexes…
The Major Index Weighting Problem
Think about this…
The seven largest stocks in the SPY are still up more than 50% YTD, while the remaining 493 companies in the index are up a measly 5%.
In other words, the strength of the market is propped up by seven massive corporations:
Apple Inc. (NASDAQ: AAPL)
Microsoft Corp. (NASDAQ: MSFT)
Amazon.com, Inc. (NASDAQ: AMZN)
Nvidia Corp. (NASDAQ: NVDA)
Alphabet Inc. (NASDAQ: GOOG)
Tesla Inc. (NASDAQ: TSLA)
If any of these companies have a materially bad piece of news come out, it could spell trouble for the entire stock market.
But one name, in particular, is sticking out to me currently…
TSLA has been leading the NASDAQ recently, so I think it's an important chart to watch for possible clues as to where the broader market is headed.
Additionally, NVDA is looking like it could be setting up a solid put-buying opportunity of its own…
The NVDA chart is nearing a very important price level at $400. If it loses that level, look out below.
Ideally, I'd like to see one more day of sideways price action in the $420s to confirm this suspicion…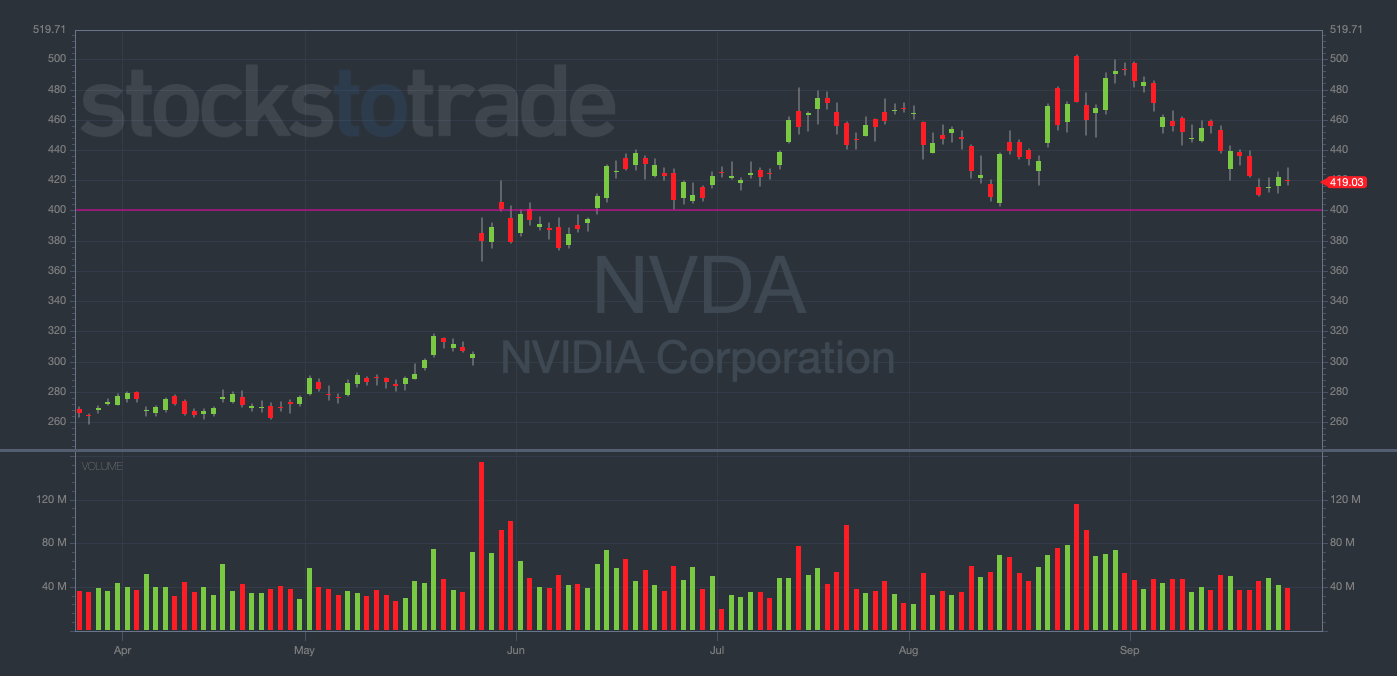 NVDA 6-month daily chart — courtesy of StocksToTrade.com
Now, before we go, I have one question to ask…
Are You Ready To Take The Next Step?
Here's the truth … I wouldn't be a multi-millionaire if I hadn't joined Tim Sykes' Trading Challenge so many years ago.
And I want you armed with all of the tools necessary for success in the stock market.
So, if you're passionate and dedicated, ready to take on anything the market throws at you, then I've got something for you…
My mentor, Tim Sykes, has helped traders learn to succeed for years. More than 30 of them (including me) are now millionaires.
Are you ready to take your trading game to the next level? Do you have what it takes to face the Trading Challenge?
Let's find out…
CLICK HERE TO SIGN UP TODAY FOR ONE OF OUR FREE, LIVE TRAINING CLASSES!
I'm excited to see you there!