Happy Friday, Evolvers!
Today, I'll answer questions about the massive dump in a particular EV manufacturer. (Spoiler alert: This is a crazy move!)
But first, let's talk about the strength of the overall market. Every time it seems like the major indexes are about to take a major dip, they bounce back. 
That said, I think it's only a matter of time before the rug gets pulled on the markets…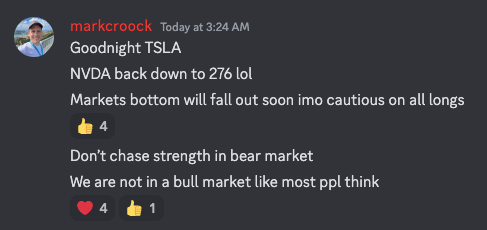 This week, the S&P 500 ETF Trust (NYSEARCA: SPY) showed some signs of exhaustion, especially during yesterday's close. At the time of writing, the index is down 0.56% over the past five days.
Crucially, the index closed Thursday under major resistance at $415. The fact that the SPY can't convincingly crack this level is a bearish indicator to me.
All of this rollercoaster price action makes me feel like we're nearing an important inflection point in the major indexes. 
As the market attempts to surge beyond resistance and fails, the risk of taking the lows out again looms large in the background. 
Be cautious with your long positions and don't chase strength right now. 
But enough small talk. It's Friday, so that means it's time for our Q&A. 
Keep reading and I'll answer your questions…
"What happened to
Tesla Inc. (NASDAQ: TSLA)
?"
Everyone's talking about TSLA right now as the stock is getting destroyed, down more than 10% yesterday.
The company's first-quarter earnings were a huge disappointment – reporting a total gross margin of 19.3%, short of market expectations of 22.4%.
This is happening because TSLA recently lowered the prices of its vehicles in an attempt to increase demand.
But as evidenced by the earnings, weighing the price of the vehicles with the potential demand is a difficult balancing act.
(WARNING: I know several Evolvers who made bets going into this earnings report. But remember that betting on earnings is a guessing game!)
Now, the question is this … does TSLA have much further to drop? Or is this a potential dip-buying opportunity?
Let's put things in perspective … TSLA is down 50% in the past twelve months, but it's still up 50% YTD!
Additionally, now that TSLA has lost multi-month support near the $167 level, there's no real support on the chart until the $115 area.
That said, with how much attention this chart gets, it could really go either way from here.
Ultimately, the near-term fate of the TSLA chart rests on the price action in the overall market…
"I saw your Discord comment about being cautious going long in this bear market. What makes you think the market will go lower?"
Although no one knows where the market is heading, I'm basing my thesis on some basic historical indicators.
(I've said it before and I'll say it again … you must know your history to be a competent trader!)
So, here's the thing … bear markets almost always end with a duo of indicators:
A massive flush to the downside in the overall markets

A huge spike in the

Volatility Index (VIX)

to $45+
Out of all the bear markets in history, only one has ended without these events occurring (the bear market of 1982).
I think it would be foolish to ignore this historical precedent. 
Could this bear market end without a VIX spike to $45+? Sure, anything can happen in the stock market.
But options trading is a game of odds. And based on the history, I think the odds that the market heads lower before bottoming are very high.
Right now, the VIX is at a multi-year low, which can sometimes be a leading indicator that the market is about to tank. 
Plus, aside from the technicals, the fundamentals of the economy still look terrible…
Even with the recent trend of slightly cooler CPI readings, inflation remains far beyond the Fed's target of 2%.
Additionally, mass corporate layoffs, earnings contractions, record-high credit card debt, and multi-year high mortgage rates are pushing headwinds on stocks moving forward.
All this to say … I do think the SPY will eventually breach its lows to the downside.
I don't know when, but I'll be prepared to load up on puts when I see those indicators bubbling up.
Final Thoughts
Have a great weekend, Evolvers!
Be careful going long right now and stay disciplined in your approach.
I'll talk to you all on Monday!