Before anything, I wanna thank each and every one of you who attended the Shadow Trades Summit last night!
And if you missed it, no sweat. We're replaying it all day right here … but this is your LAST CHANCE! Learn the strategy that's made me millions BEFORE it's too late!
As you can imagine, I've received a lot of questions from students at the summit and in my DMs.
If you have questions for me, you can always tweet your questions to @TheHonestCroock. Please, don't be shy. Ask away! 
I love hearing from you all because I tend to learn just as much from you as you (hopefully) learn from me. 
With that in mind, let's get to the Q&A…
Is the bear market over, or is this rally a fakeout? I need to know!
The market is at a crossroads — just like we are as traders.
A small uptrend is forming on the SPDR S&P 500 ETF Trust (NYSEARCA: SPY) and the Invesco QQQ Trust (NASDAQ: QQQ), but it's too early to say if it'll form into a multi-week rally. 
Are You Missing Out On Epic Trades?
StocksToTrade's Breaking News Chat could be what's missing in your trader toolbox…
You get two financial analysts feeding you stock news and alerts often before anywhere else while joining a community of traders like yourself.
Tim Sykes encourages his students to use Breaking News Chat every day: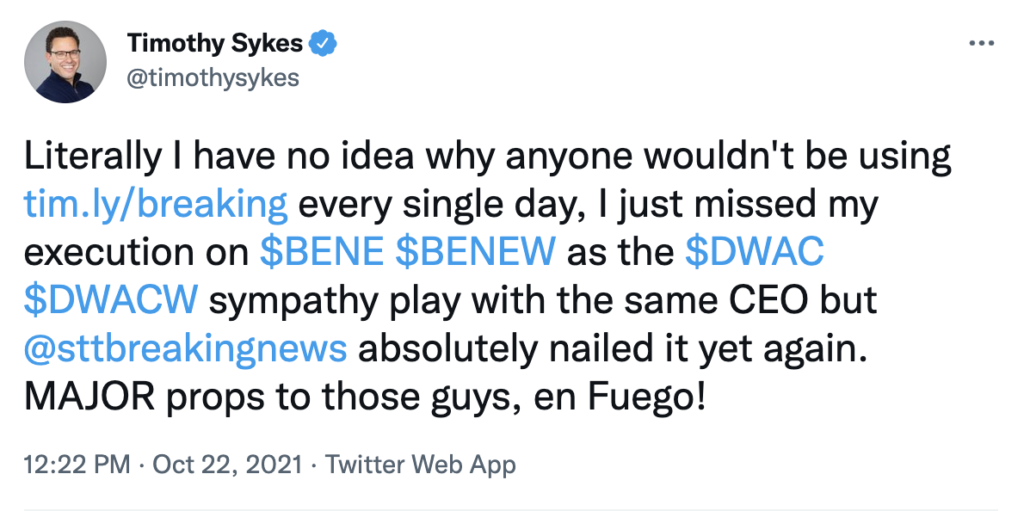 I hope it does. But the major indexes could just as easily get rejected and continue lower. This is a good time to be cautious and wait for a clear trend to emerge. 
After two weeks of a strong relief rally, next week's price action becomes especially important.
Coming off of this rally, the first red week will be crucial. If it erases a large part of the gains from the past two weeks, that'll be an extremely bearish indicator.
But if the first red week brings some healthy consolidation — without a brutal sell-off where we're back near previous lows — I'll be much more inclined to get generally bullish.
One other thing … you don't need to know what's gonna happen next in the markets. In fact, you'll never know what happens next. And anyone who suggests otherwise doesn't know what they're talking about.
My account value is the same as your small-account challenge ($3,000). What advice do you have for growing this number
quickly
?
I think growing a small account boils down to two skills: timing and discipline. 
But specifically, there are three steps I try to take when trading a small account…
Step 1: Cut losses (and book profits) quickly!
You've heard me repeat my mentor Tim Sykes' #1 rule many times before: Always cut losses quickly. This remains as true as ever, but remember that the same goes for booking profits quickly…
It's like we talked about yesterday … timing is everything.
Step #2: Only trade ideal setups
If I had to choose one key to small account trading, it would be narrowing down your setups. Do this and you'll already be ahead of the small account curve.
Remember the 3-item checklist I learned from my buddy Tim Bohen? Ideal setups should contain the following:
Above-average volume
Exaggerated price action
A major news catalyst
Step #3: Be aggressive when trading perfect patterns
If the pattern's perfect — it's time to be aggressive. Five-star setups don't come along every day. 
This is especially important if you're trading a small account. You've gotta take advantage of golden opportunities when they come to you. 
What do you like to do when you're not trading?
When I'm not risking tens of thousands in the options market, I'm usually spending quality time with my wife and three children.
My kids are still young, so my house is pretty crazy most days. Having three small children can be loud and messy — especially when I'm trying to host webinars — but it's also so much fun.
No trading gain can compare to the feeling of watching my children grow into incredible little human beings. 
Parenthood is priceless. It makes you realize what's important in life. Missed gains or bad trades don't matter…
What truly matters is that after a long, hard week in the markets … I get to come home to the most beautiful family on the planet.
Final Thoughts
As always, thanks so much for the insightful questions! 
And remember … today's your last chance to view the Shadow Trades Summit! Don't sleep on this. Shadow trades work in ANY market conditions and they're invisible to 99.9% of traders.
Study hard and have a great weekend!