Happy Friday, Evolvers! 
One particularly volatile 'sector' dominated the week … Of course, I'm talking about meme stocks.
But unfortunately, I didn't trade Bed Bath & Beyond Inc. (NASDAQ: BBBY) effectively at all. 
I lost around $20,000 when I could've potentially profited over six figures had I held onto my original 8/19/2022 $20 put position from Wednesday.
It's always frustrating when I miss a big downside move that fits perfectly into my strategy, but this is an unavoidable reality of being a trader. (More on that later…)
Aside from meme stocks, I'm starting to get more bearish on the major indexes as the Invesco QQQ Trust (NASDAQ: QQQ) puts in its first red week in a month and a half.
I've got a specific way I'm playing this setup, but you'll have to keep reading the Friday Q&A to find out how.
Now, let's answer your questions … shall we?
"What's your game plan for next week after seeing that the QQQ finally had its first red week?"
I'm getting the feeling that this overheated 'bear market rally' needs to take a big breather and I'm betting on that happening next week.
First, look at the big picture. Out of the last seven weeks, six have been green for the QQQ. 
Then, keep your perspective. This relief rally followed six months of unstoppable selling in practically every form of risk asset.
The overall trend is still down and this surprisingly strong bounce hasn't changed that. At least not yet.
So, my plan? I think the risk/reward is pretty good here for buying some puts related to the major indexes.
I'm choosing to play this by buying puts on Apple Inc. (NASDAQ: AAPL), one of the more euphoric-looking charts among the leaders of the index.
I figure if the QQQ is gonna drop next week, AAPL will need to lead the way down. 
I'm also currently holding puts on Amazon.com, Inc. (NASDAQ: AMZN) and Walt Disney Co. (NYSE: DIS) in my larger account for the same reasons. 
"What lessons are you taking away from this week (and the BBBY trade)?"
I've said this many times before, but it always bears repeating … timing is everything!
My poor trade on BBBY came down to mistiming my put-buying. 
I was exactly right about the direction of the stock and only slightly off when calculating when the drop would occur.
Quite frankly, I should've taken my own advice and paid closer attention to StocksToTrade's Breaking News Chat on Thursday. It absolutely nailed this call, check it out…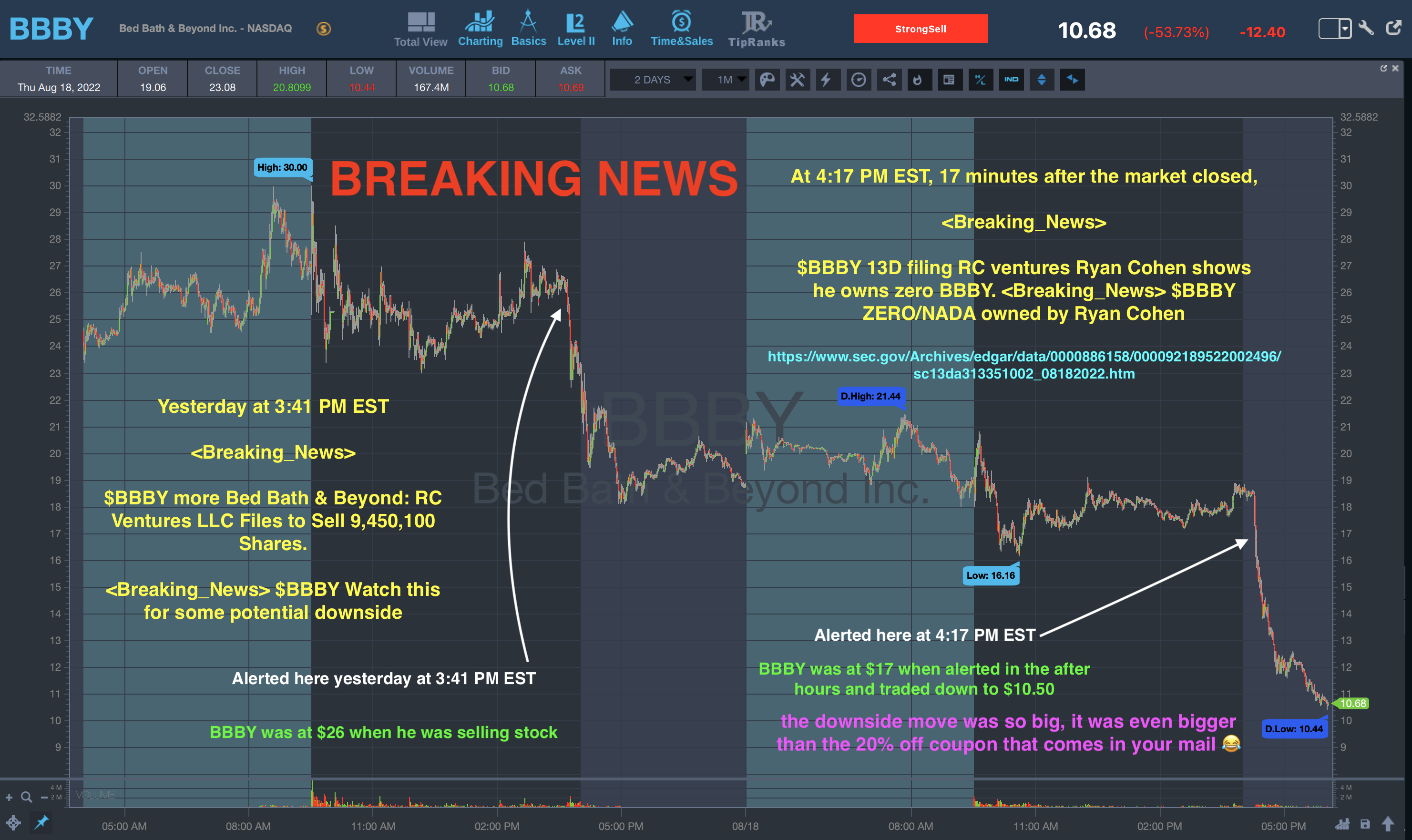 If you wanna gain access to these alerts in real-time, get a 14-day trial of StocksToTrade with the Breaking News Chat add-on by clicking here now!
Here's the real moral of the story…
As an options trader — especially one who deals in weekly contracts — your timing must be dead-on. Not good … but perfect.
It doesn't matter how correct your overall trade thesis is … If you're too early on your entry (or too late on your exit), you might as well be dead wrong.
For me, it was the former with BBBY this week. I bought my puts too early.
Additionally, I probably sized the position too big. 
Timing may be everything, but sizing is still something every trader needs to consider carefully.
If you size too big, it can distort your psychological view of the trade. Instead of being able to stay in a good setup with a reasonable size on, you may find yourself being forced to cut losses before the pattern plays out to your advantage.
Final Thoughts
Timing and sizing are the two most important things to master as an options trader and I sort of blew it in both of those categories this week.
But hey, there's always next week, right?!
Have a great weekend, Evolvers! I'll talk to you all bright and early on Monday morning.