Happy Friday, Evolvers!
We've got a lot to discuss today…
The market is digesting the Fed's recent policy decision, and so far, the reaction is extremely bearish.
The SPDR S&P 500 ETF Trust (NYSEARCA: SPY) dumped more than 1.3% yesterday, closing near its daily lows. 
Perhaps traders are finally realizing that rates being higher for longer is likely to create serious headwinds for speculative momentum stocks.
So, what does all of this mean for your trading? Let's break it down.
(IMPORTANT NOTE: I won't be writing to you on Monday as I'll be observing the Jewish holiday of Yom Kippur with my family…)
But for now, it's time for our Friday Q&A. Keep reading to see my answers to your questions…
"Should I trade differently based on the Fed's decision?"
I've heard a lot of traders talking about crafting positions based on the Fed's decision…
But many of them probably shouldn't, because it's extra risky.
I know my strengths and weaknesses. I'm not an expert on Fed policy, and my trading is more based on momentum than it is on major economic indicators.
That doesn't mean the Fed's decision means nothing to me, it just means I don't generally design my trades solely based on what the Fed does.
But this comes from years of experience discovering what works for me. 
Know this … the best traders are really careful about which trades they choose. They don't clamor into setups they aren't familiar with.
On the other hand, new traders often jump into too many trades. They can't help themselves because they haven't developed discipline.  
But once they're in the trade with their hard-earned money, they become overwhelmed and confused.
And the worst part is, this can cause them to lose a lot of money…
So, please listen…
If you aren't a macroeconomic expert, don't trade just because others are.
Fed decisions can cause massive volatility. This is why knowing your history is so crucial.
Past decisions about interest rates have made the market swing wildly. Simply put, it's hard to guess what will happen next.
If I'm not extremely solid in my conviction, I won't trade just because the market is moving a lot.
Usually, when it comes to these Fed reports, I prefer to wait a few days to gauge the market's reaction before slapping any trades on. 
By next week, we'll see get a better big-picture view of how the market is digesting this news. 
My advice? Wait and see. Don't worry about others. Only trade when you're really sure about it.
"Where can I discuss setup ideas with other like-minded traders?"
In the stock market, it's a huge advantage to have trading friends — peers (or mentors) who can provide unbiased insight and feedback into your performance.
Take me, for example…
If I hadn't met Tim Sykes when I did — and absorbed his wisdom like a sponge — I wouldn't be where I am today (with over $4 million in profits).
I was lucky to discover Sykes' teachings — and even luckier that he took me under his wing. 
But that was more than 12 years ago. These days, we both have too many students to give everyone individual lessons.
That's why it's so important to learn from multiple traders. 
Furthermore, that's why I started my Discord server. I want Evolvers to embrace each others' ideas and share strategies. 
I'd like you to seek not one, but a few trusted confidants in our community — traders whose outlook you admire and agree with. 
(I'm not suggesting that you copy other people's trades or chase my alerts … Don't do either of these things!)
Rather, pick the specific parts of our Discord members' strategies that you identify with and implement them into your trading system. 
I'll be honest, I've been overwhelmed by the sheer amount of setups, knowledge, and wisdom that's being shared. 
I would've killed to have a resource like this back in 2010 when I first started trading. 
With that in mind, let's take a look at some of the priceless insights you're missing if you're not on my Discord server yet…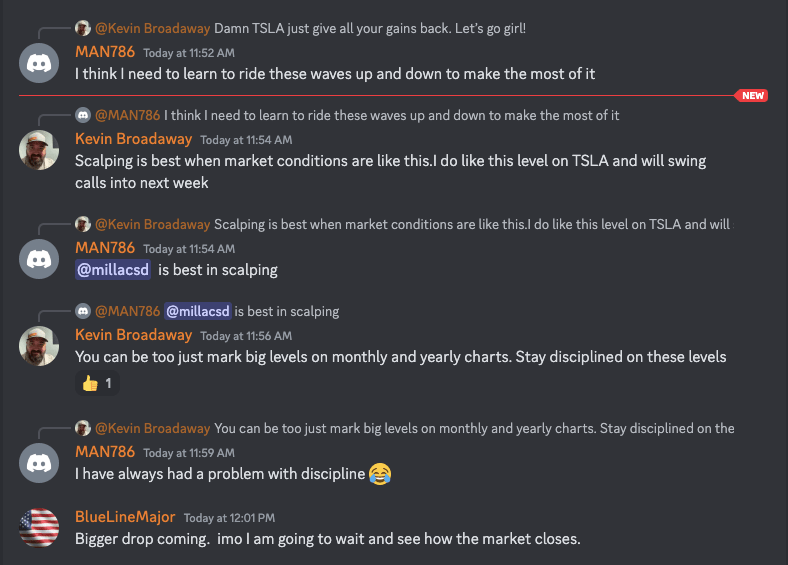 As you can see, we've got a lot of brilliant traders in the Evolved Trader community.
So, what are you waiting for? Get on my Discord server!
Don't be afraid to ask questions or respond to others when you have valuable feedback. That's the entire goal of team trading. 
Have a great weekend, Evolvers.
But first, tell me…
Are You Ready To Take The Next Step?
Here's the truth … I wouldn't be a multi-millionaire if I hadn't joined Tim Sykes' Trading Challenge so many years ago.
And I want you armed with all of the tools necessary for success in the stock market.
So, if you're passionate and dedicated, ready to take on anything the market throws at you, then I've got something for you…
My mentor, Tim Sykes, has helped traders learn to succeed for years. More than 30 of them (including me) are now millionaires.
Are you ready to take your trading game to the next level? Do you have what it takes to face the Trading Challenge?
Let's find out…
CLICK HERE TO SIGN UP TODAY FOR ONE OF OUR FREE, LIVE TRAINING CLASSES!
I'm excited to see you there!