As many of you know, I recently started a small-account challenge with only $3,000.
I'm hoping to repeat the success of my last challenge, where I turned $10,000 into $100,000+ in less than two months.
But to do it again, I've gotta be very cautious at the beginning of the challenge. Slow and steady wins the race…
$3,000 doesn't give me a lot of wiggle room for errors. One bad trade could set me back big time.
It's always important to pick the best setups only. But in a small account challenge, it's absolutely critical … Do or die.
That's why I waited patiently for the opportunity that I found on Monday in Walmart Inc. (NYSE: WMT) call options. 
It was a classic day trade scalp play … I was in and out of the position in exactly 30 minutes for a 46% gain.
Let's break down why I chose to trade this setup and how it paid off for the small account challenge…
My Trade Thesis
My thesis behind this trade was pretty simple…
WMT had been down BIG four days in a row going into Monday. 
Here's the backdrop…
On top of the overall market pressure, big-box retailers have been getting hammered recently due to food shortage fears and inflation weighing on earnings. 
Are You Missing Out On Epic Trades?
StocksToTrade's Breaking News Chat could be what's missing in your trader toolbox…
You get two financial analysts feeding you stock news and alerts often before anywhere else while joining a community of traders like yourself.
Tim Sykes encourages his students to use Breaking News Chat every day: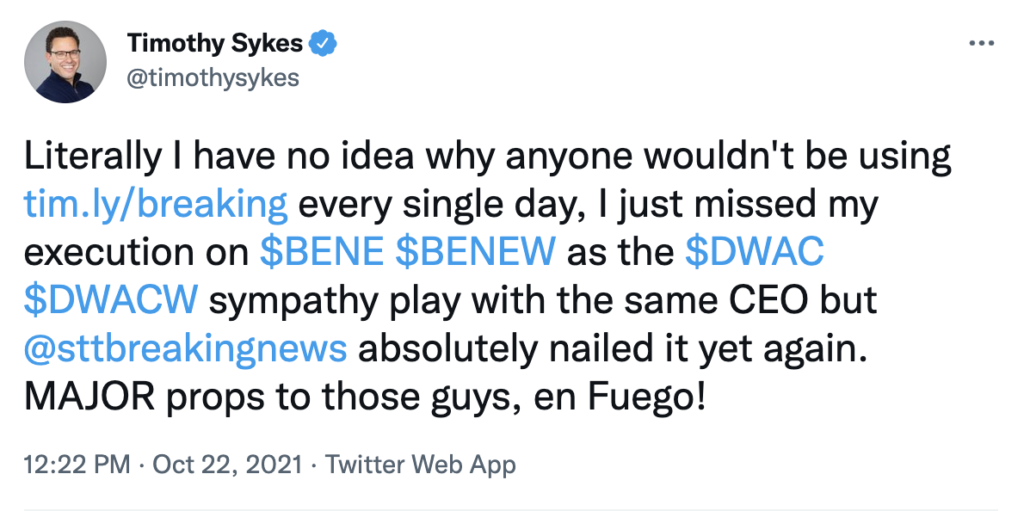 And speaking of earnings … WMT recently reported less-than-expected profits, then dumped more than 11% — its worst day in the markets since 1987. 
That said, massive companies with proven staying power — like WMT — usually see a bounce after such a steep single-week decline. 
But if you know anything about my trading strategy, you'll know I never trade based on a simple hunch. I always need my suspicions confirmed by technical analysis.
So my next move was to study the chart. I use StocksToTrade for all of my charting, and in this crazy market, I've been relying on StocksToTrade's Breaking News Chat to keep me informed. If you'd like to try it out for yourself, click here to start your trial.
Now, to the charts…
Technical Indicators and Key Levels
By mid-Friday, WMT was down more than 20% in less than a week, hitting a low of $117.
But as the late afternoon came around, the stock started to curl upwards. That's when I started watching it for a potential first green day…
And that's exactly what happened on Monday. The stock opened green, and I quickly bought 20 WMT 05/27/2022 $123 Calls for 87 cents. 
For key levels, I was keeping an eye on the $117 support the stock had tested just moments prior…
For resistance, I was targeting the high $123s, where WMT had hit a double top on Wednesday, March 18.
Look at the chart below…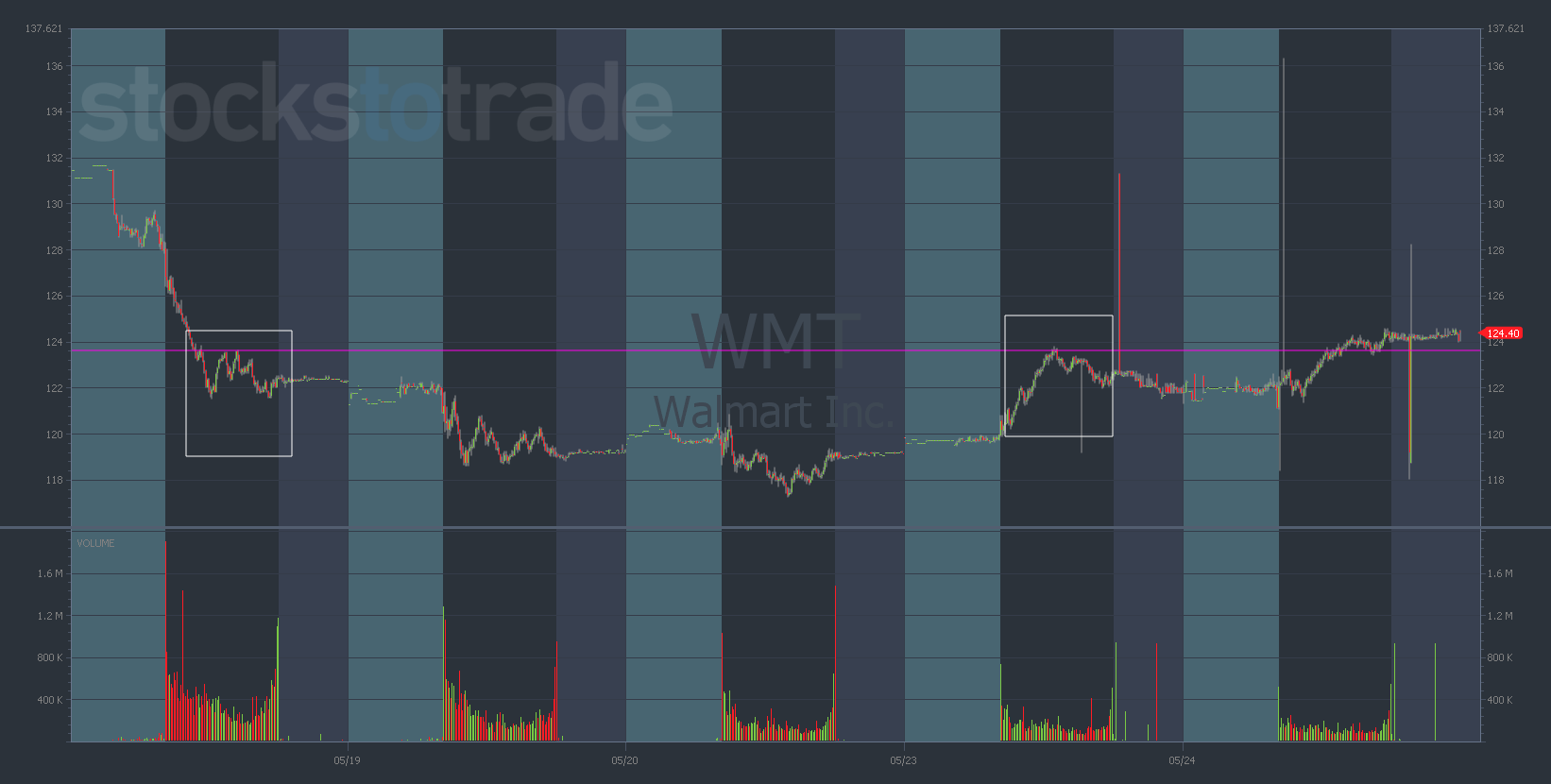 WMT 5-day 5-minute chart — courtesy of StocksToTrade.com
See how the stock struggled to get past the purple line on the 18th, then topped out at the exact same level on Monday?
This is why I chose the $123 strike price, and it paid off…
I sold the $123 calls exactly 30 minutes after buying them for $1.24 — a 46% gain and a $760 profit.
By selecting the most dead-on correct strike price, I gave myself the most possibilities to profit.
And studying the chart's key levels allowed me to select the perfect strike and have a clear target for exiting the trade.
This is just one example of how I use technical indicators to nail trades. 
Soon, I'll be revealing a brand-new strategy that explains exactly how I find my trades. But that's for another day…
Final Thoughts
I've said it before and I'll say it again … Consistently hitting singles is better than occasionally knocking one out of the park. 
This is especially true when you're trading a small account. I'm just trying to build this thing up slow and steady.
Once I get $10,000 or so in there, I'll be able to stretch my wings a bit. Stay tuned.