It's time to conclude our multi-day coverage of the crazy move that's been happening in shares of Bed Bath & Beyond Inc. (NASDAQ: BBBY).
Yesterday, I called out the potential for BBBY to take a massive dip today.
Sure enough, the stock opened down 20%+ today as meme stock traders began to take profits on the most notable short squeeze of the year.
Why did they sell today? Probably because Ryan Cohen — the activist investor who arguably started the historic 2021 GameStop Corp. (NYSE: GME) squeeze by buying a big stake — filed to sell his entire position in BBBY on Wednesday afternoon.
This is a prime example of how trading a short squeeze on the long side can be so dangerous…
When a company's market cap increases by 3-5x in a few days, more often than not, management sells into the rally. You can't blame them for this. It would be naive not to sell some shares following such a boost.
Aside from Cohen's timely sale, I saw certain technical indicators yesterday that were flashing warning signs for the chart, which is exactly why I warned of the stock's impending crash.
Today, we'll break down how all of these factors (and more) affected BBBY stock and led to a rather predictable breakdown.
Who knows, if you pay attention, maybe you can catch the next big short squeeze 'rise and fall' before it's too late.
Taking a Look at the Technicals
I've said it before and I'll say it again … momentum stock charts are extremely predictable, especially on the downside.
Just look at how perfectly textbook the breakdown is on the BBBY daily chart…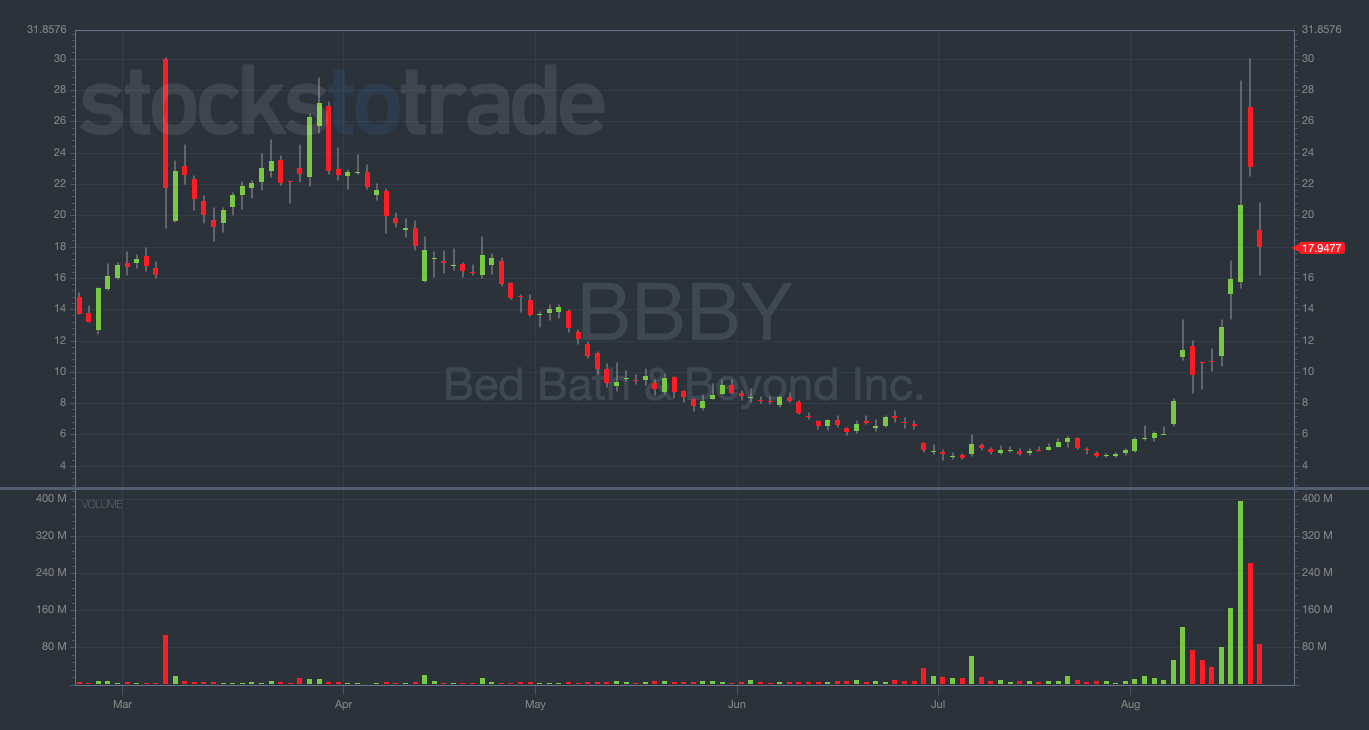 Not only did this dip happen immediately following a euphoric blow-off top candle — with an enormous top wick (signaling intraday selling) and 5x normal volume — the rejection occurred at $30 to the cent!
You can't make this stuff up!
I'm constantly telling you all about the importance of big round number rejections.
In other words, if a momentum stock starts struggling right before (or in this case, exactly at) a big round number like $10, $20, $30, or $100 … it's time to pay attention and get ready to buy some puts.
BBBY is no exception to this rule. As soon as I saw a perfect $30 daily high, I knew that was likely the top for the foreseeable future.
My theory was backed up further when I zoomed out a bit and noticed that BBBY had previously topped out in early March…
Guess where? At exactly $30.
So, in hindsight, $30 wasn't just another round number for BBBY … it was verifiable, long-term resistance.
The Crazy IV on BBBY Contracts
Beyond any of the technical analysis, there's a psychological aspect to meme stocks that you've gotta understand…
Most of these short squeeze moves are built on FOMO.
Once retail traders start to see others bragging about their gains on the hottest stock of the moment, they can't stop themselves from piling into the name.
Want to be alerted to hot trade ideas before anywhere else?
Breaking News Chat is the alert service that traders can't get enough of. Two former financial analysts scour the Stock Market and news for stocks that could potentially spike and alert the room allowing you the chance to get in on the action.
Check out the alert for BBBY on August 16th: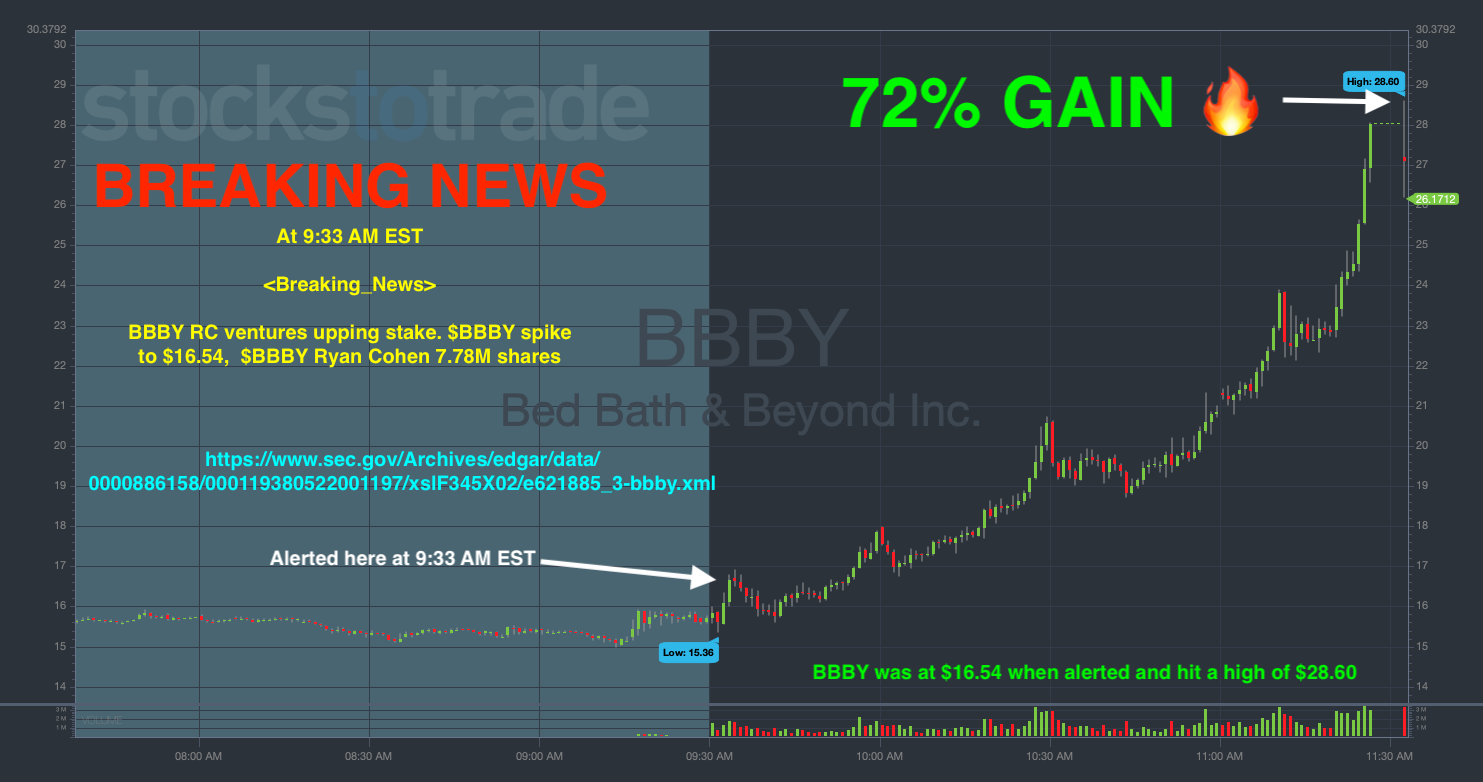 This is a tool you'll want in your trading toolbox. 
If you're early to these long plays, more power to you. But if you're even one day late, the risk/reward becomes terrible.
This can also be true on the short side. 
As I've mentioned multiple times this week, the demand for BBBY options has caused the contracts' implied volatility (IV) to skyrocket.
High IV makes every contract more expensive — calls and puts alike — as market makers attempt to price in a huge move in either direction.
Here's a prime example of exactly why I warn Evolvers about IV…
BBBY shares are down 20% on the day at the time of this writing. So, you'd think the puts would be surging, right?
Wrong!
BBBY 8/19/2022 $20 puts, the shortest-dated contracts available (expiring tomorrow), are only up 14.5% on the day.
So you would've actually made more money by shorting the common shares (with no expiration date) than by buying the closest-dated puts and nailing it.
This is CRAZY and proves that the IV made trading BBBY incredibly difficult in the second half of the week.
Final Thoughts
BBBY looks to be dead for now, but that doesn't mean the general meme stock nuttiness is over just yet.
And if we're entering another period of momentum stocks going wild regularly, we need to brush up on our meme stock trading skills.
So, if you're approaching one of these setups in the near future, remember to consider the IV and trade cautiously.