Let's be real … It's a rough time for anyone just getting into trading.  
I have sympathy for students trying to learn how to trade this brutal bear market. 
It's not easy for me — a multimillionaire trader with 10+ years of experience — to find quality setups in this price action.
I can't even imagine how difficult this environment must be for beginners.
When I first started in Tim Sykes' Trading Challenge, back in 2010, the historic bull market was just beginning. 
Now, more than a decade later, it's finally unwinding…
But don't worry. If you're an Evolver, you're already ahead of the game. Just look at my profit chart. There are no big dips for a reason. 
I've traded bear markets before and made it through all of them unscathed. 
Now, let me tell you how I'm handling this one…
The Major Indexes
As stocks plunge further into bear market territory, I'm focusing on the technical moves in the major indexes. 
I've said it before and I'll say it again — consider the big picture.
I'm currently watching SPY, QQQ, and BTC more closely than any single stock. In other words, I'm zooming out my market outlook. 
Right now, every stock in the market is reacting to moves in the major ETFs — the SPDR S&P 500 ETF Trust (NYSE: SPY) and the Invesco QQQ Trust (NASDAQ: QQQ).
Are You Missing Out On Epic Trades?
StocksToTrade's Breaking News Chat could be what's missing in your trader toolbox…
You get two financial analysts feeding you stock news and alerts often before anywhere else while joining a community of traders like yourself.
Tim Sykes encourages his students to use Breaking News Chat every day: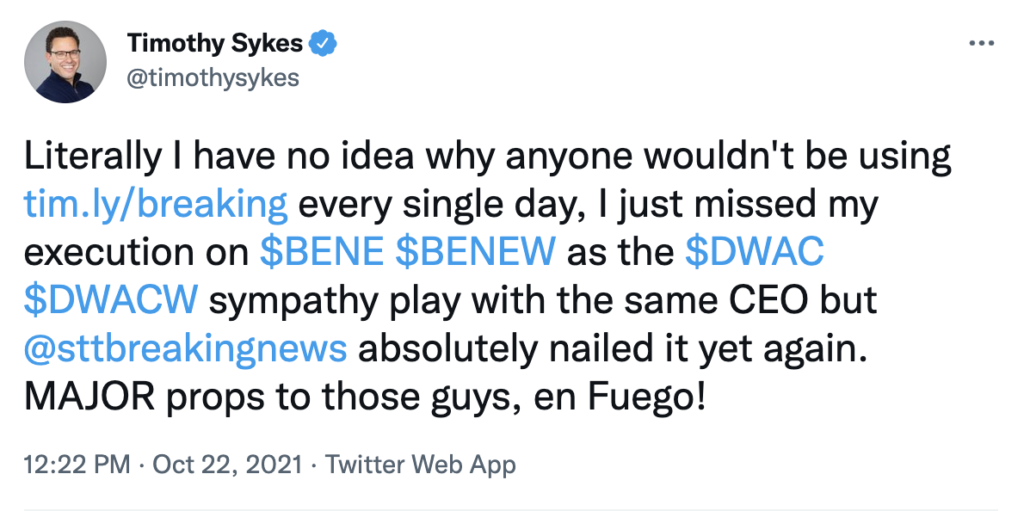 At this moment in time, SPY and QQQ are more important to track than any individual stock.
You could argue that this is always true. But when the indexes are in a full-on bear market, they're even more important to pay attention to. 
In short, keep SPY and QQQ near the top of your watchlist this week. Set alerts near key price levels, then trade your other setups accordingly.
What levels am I watching on the major indexes?
On the SPY chart, I'm watching $400 resistance and $385 support.
On the QQQ chart, I'm watching the low $300s for resistance and $285 for support. 
I use StocksToTrade to build my watchlists and set my alerts — it's my favorite software, period.
But StocksToTrade goes far beyond watchlists and alerts. It can be a powerful tool to help you get up-to-date news, which is critical for any trader in a bear market. Check out StocksToTrade Breaking News Chat right here.
Bitcoin and Crypto Stocks
Let's move on to the other big player in risk assets other than the stock market indexes — bitcoin (BTC).
Right now, the cryptocurrency market has a lot in common with the stock market … both are getting completed decimated.
A lot of students have been asking if I plan to trade the downside in crypto. I don't like buying puts when things are this beaten down, but the market isn't showing any signs of reversing to the upside anytime soon.
So let's break it down. I see two possible scenarios playing out…
BTC smashes through $30,000 — sparking a 'bear market rally.'

BTC fails to break through $30,000 — causing a big flush back into further downside.
How will I look to trade the crypto volatility? 
Again, I don't like to buy puts when prices are this low. 
But if the right setup emerges, my move would be to trade options on crypto stocks. Some traders don't even know about the 'options' they have for trading crypto, excuse the pun…
Here are a few of the crypto stocks I've traded options on in the past:
ProShares Bitcoin Strategy ETF (NYSEARCA: BITO)
Marathon Digital Holdings Inc. (NASDAQ: MARA)
MicroStrategy Incorporated (NASDAQ: MSTR)
Coinbase Global Inc. (NASDAQ: COIN)
If BTC doesn't get above $30,000 soon, I might get inclined to buy puts on one (or more) of these names. 
But If BTC can stage a rally and get above $30,000, I'll continue to stay on the sidelines with crypto stocks. For now…
Final Thoughts
The market's not looking too hot these days. I recommend you zoom out. 
The moves in the major indexes could affect every single stock you're tracking. Keep an eye on the key levels I mentioned earlier. 
This is a time to watch the market and wait for perfect setups. Zoom out, look at the big picture, and don't force it.