This is an exceptional week, Evolvers…
And no, not just because of the Fed meeting…
The Fed meets every month. 
On the other hand, Tim Sykes rarely unveils a brand-new trading strategy.
But luckily for us, he's about to do just that…
Sykes is seeing an incredible opportunity lurking beneath the markets. 
This Thursday, December 15 … Sykes will reveal a little-seen stock market anomaly that could potentially bring you up to 4x returns in less than 24 hours … click here to sign up BEFORE it's too late!
If you haven't attended a Tim Sykes briefing before, you might wonder why I'm so excited about this one.
The answer is simple…
Sykes taught me everything I know about trading. (If it wasn't for him, I wouldn't be writing this today.)
His lessons have made me millions of dollars. But not just me…
Sykes has helped guide 20+ traders toward the millionaire milestone. You can't argue with that track record.
And even better, the current market is set up perfectly for a very unique strategy that Sykes has been anxiously awaiting to deploy…
Bottom line: I don't want any Evolvers missing this presentation!
Keep reading and I'll tell you why…
Sykes' Lessons Could Potentially Change Your Life
The best part about Sykes' lessons is that they can potentially apply to any kind of trading… 
Penny stocks, large caps, options, crypto … there's a Sykes pattern for every sector on the planet.
That's because Sykes has spent 20+ years making sure that the patterns he teaches apply to all aspects of the stock market. 
This doesn't mean you should start trading stocks or sectors you're unfamiliar with just because a Sykes pattern appears.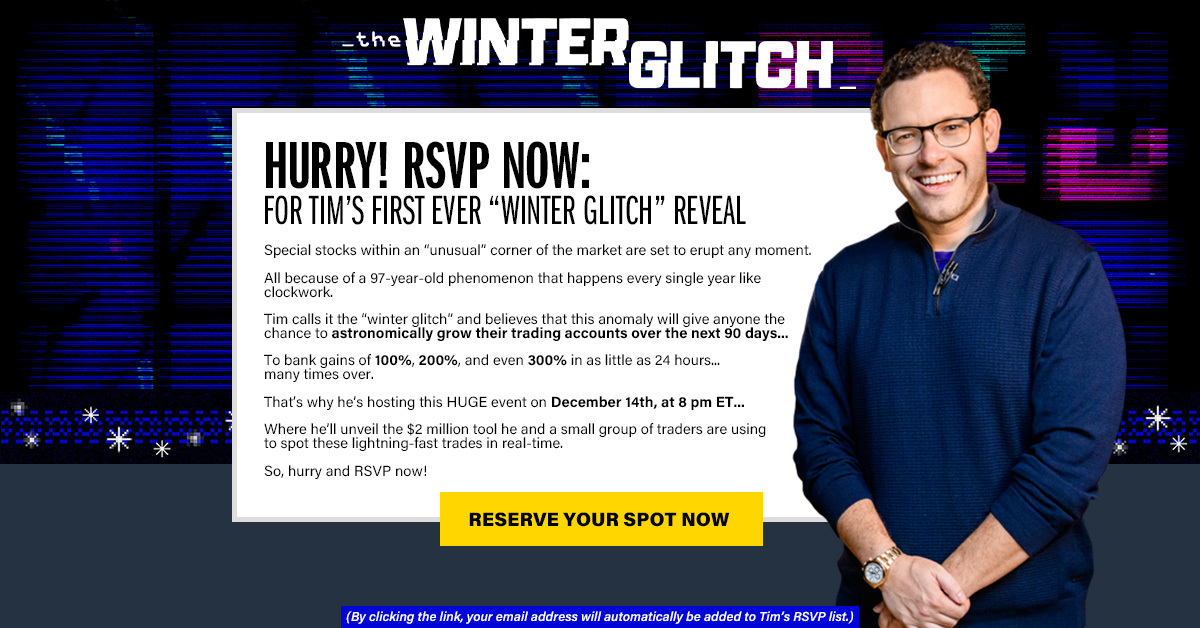 One of the most important pieces of advice I received from Sykes was this — figure out a strategy that works for YOU and stick to it. 
What separates Sykes' top students (like me) from the rest is our ability to use his lessons in our strategies, regardless of what asset or market we're trading. 
For example, I'm an options trader, but Sykes doesn't trade options. 
Sure, I had to self-teach some of the specifics … but I never would've had major success without the help of Sykes' teachings. 
I was able to apply his patterns to the options market just as easily as I was able to apply them to penny stocks and OTCs. 
Bottom line: The patterns that Sykes teaches apply to pretty much anything with a chart attached. 
A
Very Rare
Phenomenon
Now, you might be asking…
Why is Sykes hosting the briefing this week?
As usual, there are a number of reasons for bringing this to your attention…
Currently, a large swath of catalysts is coinciding with an extremely scarce, once-in-a-lifetime trading opportunity.
It all has to do with the time of year, the historic bear market we've experienced, and a certain class of assets that have the ability to outperform…
On Thursday, Sykes will show you…
The mysterious chart that reveals why the next 90 days could trigger some of the biggest gains in the last decade…
How this "Winter Glitch" has taken place every year since 1985…
Why a select group of stocks outperformed the overall market by 1,000% during this end-of-year phenomenon…
And how YOU can identify a "winter glitch" trade and potentially cash out with spectacular returns by next week…
Here's the deal, Evolvers…
When Sykes hosts an event … I'm the first one in line.
That's because I've made millions of dollars by sticking to Sykes' rules. 
Back when I was first starting as a Sykes student, I was the guy transcribing every single webinar he did, taking meticulous notes about all of the angles that he discussed.
And now, I think many of you have the tenacity and drive to learn from Sykes the same way I did.
Final Thoughts
I would give you some more hints about this new strategy, but I can't!
It's so secret that Sykes won't even tell me about it!
So, if you wanna get all the juicy details, there's only one thing left to do … click here to reserve your spot to the "Winter Glitch"!