I've said this before, but it deserves repeating: Trading hot sectors will grow your small account more than any other catalyst.
But you must be ready to adapt if you want to stay current with which sectors are hot — or not.
As we've seen over the past several months, market conditions are constantly changing, and pattern disruptions are a regular occurrence. 
One week, a sector is ripping. The next week, it's dumping…
For newbie traders, these constantly shifting tides can be difficult to catch a wave on, so to speak.
WARNING: Trader sentiment can flip in an instant. And anyone slow to the trigger is left holding the bag.
This is because the current market is largely news-driven. One major headline can shake the foundations of a stock — or the entire sector it's a part of.
This week, I'm seeing some big shifts in trader sentiment relating to two red-hot sectors — crypto and meme stocks. 
Let's break down why these sectors are shifting (and how I plan on trading them this week). 
Crypto Comeback
Crypto is one of the most volatile sectors to ever exist among risk assets — and recent history has been no different.
As the broader market began to break down in November 2021, crypto followed suit…
Bitcoin (BTC) went from a high of $67,000 to a low of $35,000 in less than two months, taking a lot of momentum (and retail trader funds) with it.
But remember, this market is news-driven. And The Russia-Ukraine conflict has given crypto a new catalyst to run with.
Watch This Exclusive Crypto Webinar NOW!
(With millionaire trader Matt Monaco)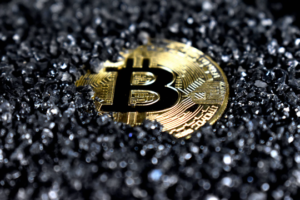 If you want to see how a millionaire trader is dealing with the crypto boom…
Then you need to see this webinar.
As the Russian ruble freefalls, traders seem to be realigning themselves with the need for a decentralized digital currency. 
Additionally, crypto has seen another major catalyst gain steam over the past few months — non-fungible tokens (NFTs).
When NFTs first gained popularity, they were met with some initial skepticism from many traders I know — including my mentor Tim Sykes. 
But after obsessively studying NFTs obsessively for the past few months, Sykes had a HUGE change of heart. He's realized that NFTs are the most exciting sector in the entire market right now…
That's why you should register for Sykes' NFT Trading Summit on Wednesday, March 30 at 8 pm ET. He'll break down how a 25-year-old trader made over $1 million in 10 hours from NFTs — and MUCH more. Truly incredible!
Now that you're registered, let's talk about current crypto setups. Right now, I'm on the sidelines.
I tried to play calls on Marathon Digital Holdings Inc. (NASDAQ: MARA) last week, but my timing was off. 
Now I think the opportunity for buying calls on crypto stocks has passed. The crypto charts are overextended, but I'd like to see them squeeze even higher before considering buying puts. 
At this point, it looks like BTC is heading back toward $50,000…
Since this is a HUGE key price level of psychological resistance, I'll patiently wait to see if the chart loses steam around that area.
Meanwhile, there's another hot sector regaining steam, which I think has some more immediate trading setups around the corner…
The Return of Meme Stocks
Ah … meme stocks. It's been a while!
For nine months, GameStop Corp. (NYSE: GME) and AMC Entertainment Holdings Inc. (NYSE: AMC) have been stuck in seemingly never-ending downtrends. 
We can pinpoint where this bearishness began, immediately following the June 2021 short squeeze in AMC. 
Since then, meme stocks have been getting DESTROYED. The tone among retail traders on message boards has changed from overwhelming optimism to outright depression.
These hold-and-hopers didn't cut their losses when they had the opportunity, and they've been paying the price for the better part of a year now. 
But last week, a major headline changed the meme stock game (excuse the pun).
First, GME Chair Ryan Cohen announced he was buying an additional 100,000 GME shares
Additionally, GME said it's launching an ethereum (ETH)-based 'NFT Marketplace' with Loopring (LRC) integration. Crypto + GME = a retail trader's fantasy!
The combination of these stories created a 'perfect storm' of sorts, sending GME on a rip-roaring momentum surge from $80 to low-$150s. 
Welcome back, meme stocks!
Now, if you know anything about my trading mindset, you'll know what my plan is — patiently wait for the perfect moment to buy puts on GME and/or AMC.
After studying meme stocks for two years now, I know one thing for certain — they always CRASH HARD.
I expect this impressive run in meme stocks to be nothing more than a relief rally. And the big drop will likely occur this week — sooner rather than later.
Stay tuned to my alerts (and these updates) as I consider the best way to approach buying puts on meme stocks this week.
Final Thoughts
Focusing on hot sectors has made me a millionaire.
So when I see two of the most volatile, highly traded sectors gaining serious momentum — I'm on high alert. (YOU should be too!)
Be patient, follow the news, and trade your plan.