There's one thing you must know about me — I'm always looking for potentially incredible short setups.
There's an old saying in the stock market: "Charts take the stairs up and the elevator down."
I've mentioned this a few times before … I find it easier (and more rewarding) to catch the elevator down as opposed to walking the slow staircase up.
Now, let's look at the big picture…
Since the major indexes went on a run that started last Friday, several charts I'm watching have become notably overextended.
Today, the indexes are red — meaning the broad market relief rally may be losing steam. And some of these stocks could be left vulnerable to some immediate downside.
Here are three stocks in hot sectors that I think might be overdue for big pullbacks…
Cleveland-Cliffs Inc. (NYSE: CLF)
CLF is a steel and iron ore company that soared 44% in March, mainly due to the Russia-Ukraine conflict.
Russia and Ukraine are both major exporters of steel and iron ore. The current war between the two nations is causing a global supply constraint on these commodities.
That said, this chart is way too overextended for me to ignore. Additionally, there's little technical support on the chart. Take a look…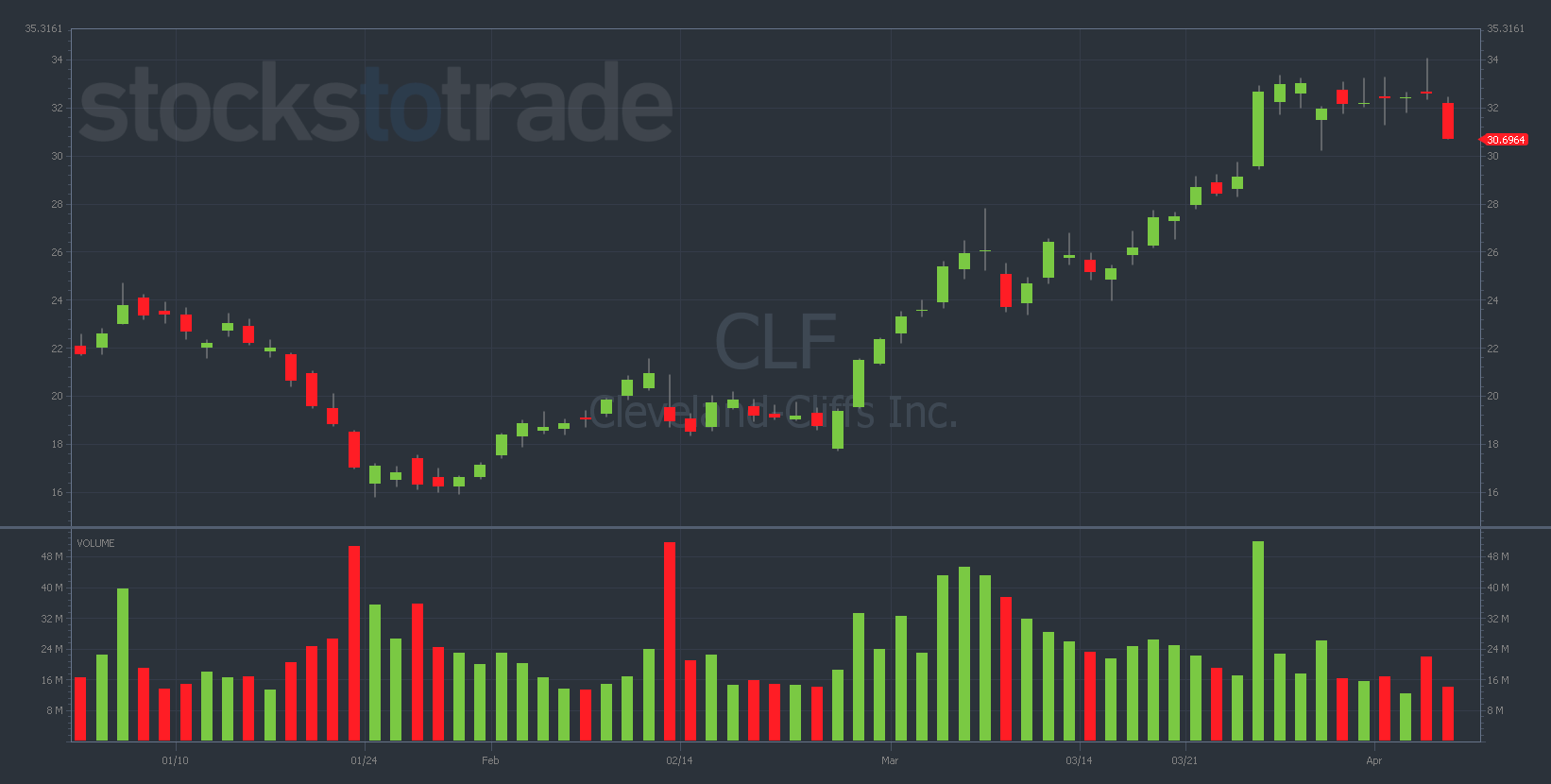 CLF is in a full-on momentum surge — and those usually end in pain for overly optimistic bulls. 
Today, we're finally seeing a first red day as CLF is down 3.5% at the time of writing. And I think it could potentially drop a lot more. The question is when…
I'm watching the previous double-top level at $26.50 for potential support. If CLF dips to these levels, that's 15% more downside remaining!
Before that, watch for round-number resistance at $30. 
And speaking of steel, there's another company in the sector that I think could be ripe for a pullback…
United States Steel Corp. (NYSE: X)
My thoughts on X are basically the same as my thoughts on CLF.
X is a massive steel producer that's benefitted from the global supply constraint.
But unlike CLF, the X chart has been marginally red three days in a row now. See below…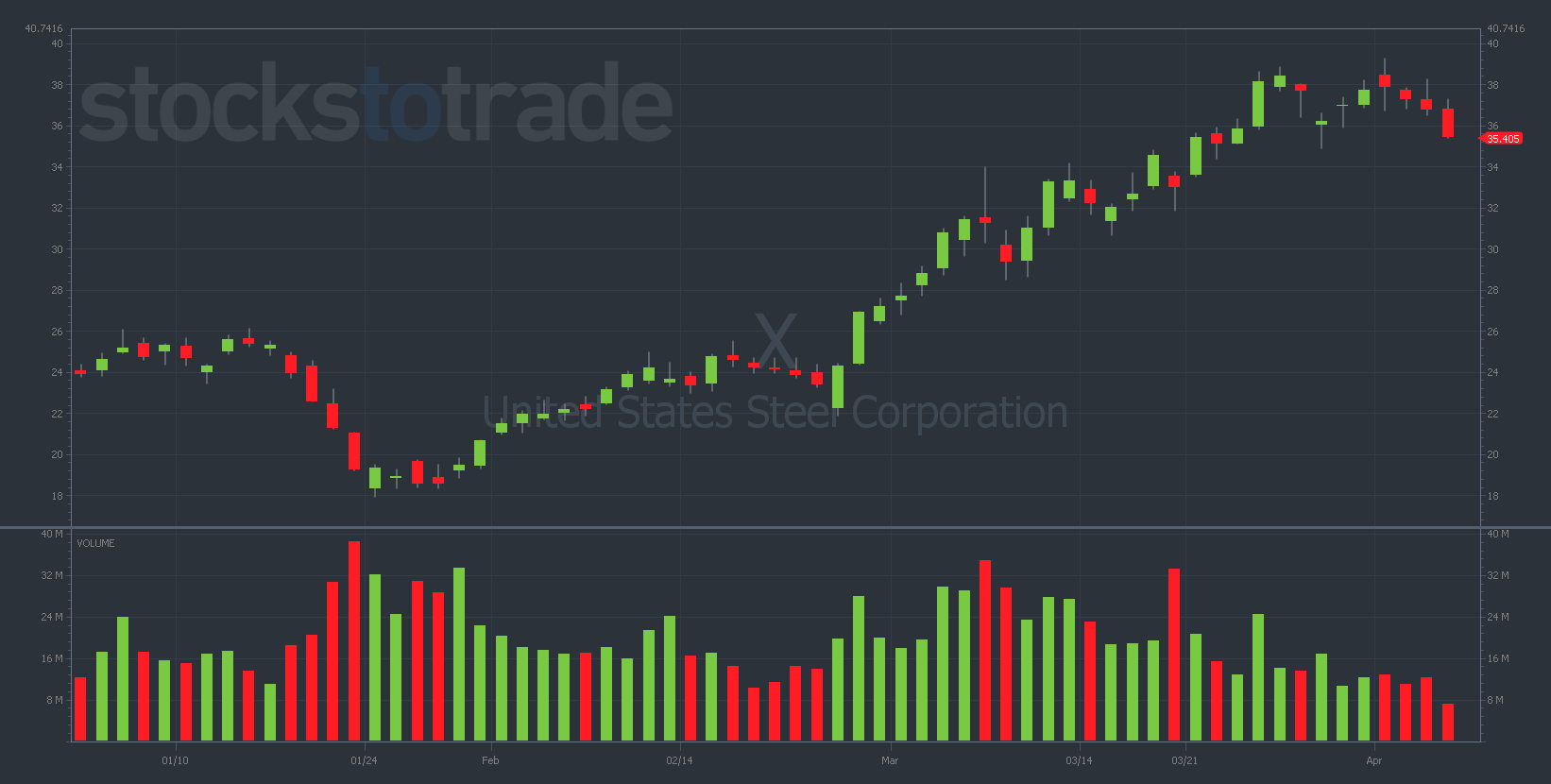 Regardless, it's still overextended at $36 — with little to no support before $30.
Both of these plays are news-driven. So if you consider a trade on either CLF or X, be sure to pay close attention to the headlines.
Bottom line: A further escalation of the Russia-Ukraine conflict could add fire to the rally, while any signs of a peace deal should send this duo spiraling downward into oblivion. 
Tilray Brands Inc. (NASDAQ: TLRY)
Cannabis producer TLRY is in an interesting spot currently…
This stock tends to go on wild runs whenever cannabis legislation is in the news.
Well, guess what? The U.S. House of Representatives recently passed the Marijuana Opportunity Reinvestment and Expungement (MORE) Act.
If turned into law, the MORE act would federally legalize marijuana and cannabis products, while allowing states to decide whether they want to make it legal. 
As you can imagine, retail bulls have gone nuts on TLRY following the news. The stock surged as much as 80% in 15 trading days after hitting a bottom on March 15. Here's the chart…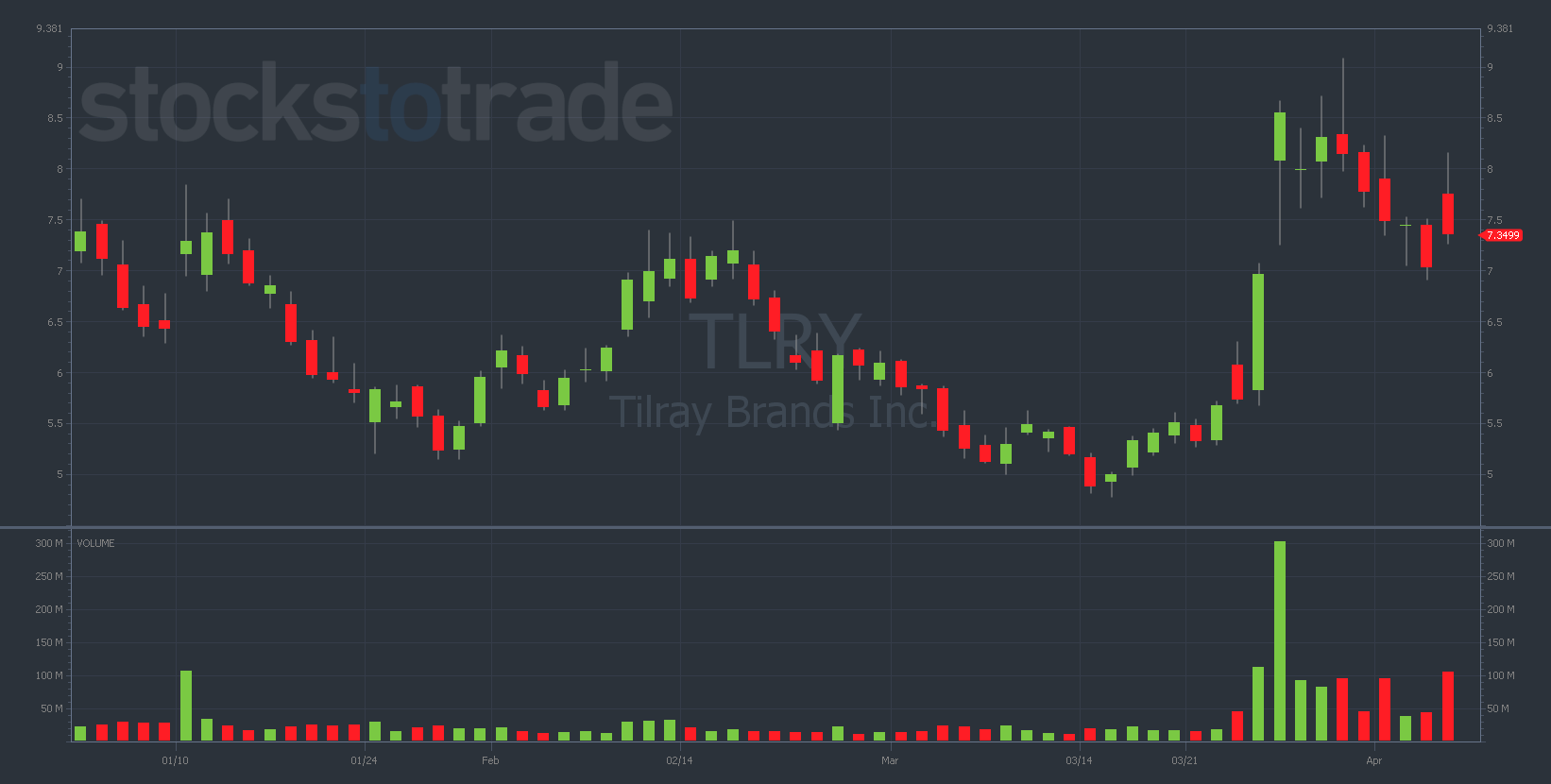 But the prospects of this bill actually becoming law seem to be pretty slim, which would make all of the recent TLRY gains for naught.
Major news organizations have written articles (like this one) this week casting doubt on the MORE Act's chances in the Senate. 
It needs 60 votes to pass — and cannabis reform has little Republican support. 
I think TLRY could see plenty more downside in the near term as traders lose faith in the bill actually becoming law. 
The $7.50 level seems to be sticky support for TLRY. If the chart loses $7.50, I think the odds of further selling are increased.
Final Thoughts
While I likely won't trade any of these tickers, I still think they're good examples of overextension amid a slowing bull rally.
Plus, you shouldn't be chasing my alerts anyway. 
One of these stocks might be perfect for your specific strategy even if they don't end up working with mine.
REMEMBER: Always do what works for you. Don't sweat what any other traders are doing — focus on your strategy.
Shalom from Israel!