I wrote yesterday about a tough loss I took on Shopify Inc. (NYSE: SHOP)…
I'm feeling the pain — but this isn't necessarily a bad thing (more on that later)…
If you've ever felt adrift after a subpar trade, listen…
While it might sound somewhat dramatic, I've seen plenty of traders turn a small loss into something that they can't come back from. 
CAUTION: Don't let this happen to you!
This market is tough. If you're feeling the pain like I am, it's time to get your pencils out and pay attention!
Keep reading and I'll show you five ways to productively bounce back from losses…
Step #1: Feel the Pain
I've been trading for over 10 years. It's been a long and difficult journey, to say the least…
I've experienced disappointing weeks and faced tough losses before, but I always manage to recover.
(This week has been one of those times as I made a very disappointing series of trades on SHOP.)
But I think one of the primary reasons I've been successful in the markets for so long is that I'm willing to feel the pain of losing.
Instead of ignoring or avoiding the unpleasant feeling, I fully immerse myself in it.
I don't fear losses, I confront them directly and learn important lessons from them.
What matters is how you react to your losses, and a significant part of it relates to your mindset as a trader…
Step #2: Nurture Your Confidence
To achieve consistency in your trading, having the right mindset is crucial…
And confidence is one of the most important aspects of a strong mindset.
Confidence helps you stay focused on what truly matters and make appropriate decisions in the moment.
It gives you a solid foundation for trading ideas to flourish and enables you to act quickly when the opportunity arises.
Furthermore, confidence helps you to bounce back after a demoralizing loss…
However, confidence can be fragile…
A series of losses, like the one I just experienced, can chip slowly away at it.
And if you don't take care of it, your confidence can disappear.
So, what should you do in such situations? Consider my next tip…
Step #3: Keep the Big Picture in Mind
Besides taking a break and resting your mind, always remember why you started your trading journey.
Why did you start trading in the first place? There must be a reason why you endure the pain…
Don't forget about the big picture. Having a broader perspective is important…
A few mistakes, even significant ones, should not and will not alter your long-term path.
Want to be alerted to hot trade ideas before anywhere else?
Breaking News Chat is the alert service that traders can't get enough of. Two former financial analysts scour the Stock Market and news for stocks that could potentially spike and alert the room allowing you the chance to get in on the action.
Check out the alert for MBOT on May 22nd: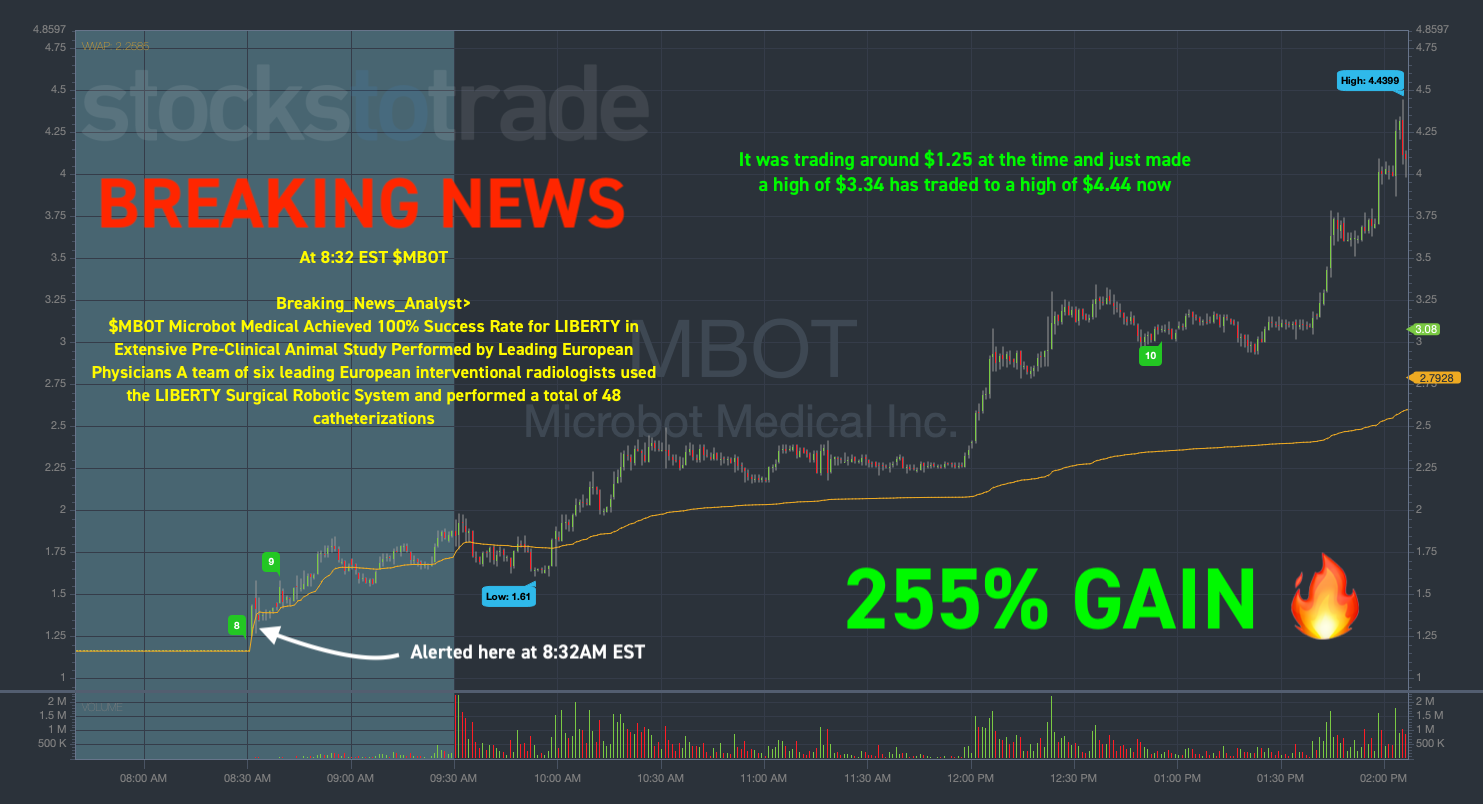 This is a tool you'll want in your trading toolbox. 
Keep the big picture in mind throughout your journey and accept that the road won't be straight.
There will be ups and downs, and you'll inevitably make mistakes along the way.
When you make mistakes or take losses, find ways to remind yourself of what truly matters — your ultimate goals.
Step #4: Go Back to What You Know
What do you do when you're feeling confused and unsure of what to do next?
Go back to the basics … there's a reason you've made it this far. 
Whether it's focusing on certain types of trades or specific strategies that have worked for you in the past, identify what has brought you success.
Once you determine what has been effective, stick with it.
When your results aren't as stellar as you'd hope, that's not the time to get fancy and experiment. 
You want to rebuild your confidence based on a proven foundation.
To do that, eliminate all unnecessary elements and keep your game plan simple.
There will be moments when you're tempted to deviate from your tried-and-true setups, but maintaining a straightforward approach can help you stay on track.
Step #5: Take a Break
If none of the above strategies work, consider taking a short break from trading!
Sometimes, you may need to step away from your trading activities for a short period.
Don't forget what you've learned or fall behind. Just give your mind a short vacation from the markets.
Your brain is essential for trading, right? Well, then you must respect its functions and needs. And rest is one of those needs.
Oftentimes, after a disappointing loss, I'll step away from the markets for a few days and go over my trading journal.
By doing so, I come back with a fresh mindset, ready to bounce back in style.
So, don't think you can't take a break when you're not performing your best.
The stock market will still be there when you come back. I promise!
Final Thoughts
I've made over $4 million trading stocks and options, but that doesn't mean I don't take losses.
(Example: -65% on SHOP!)
And one day, this will happen to you.
My advice? Acknowledge and understand the pain. 
Don't avoid or shy away from how terrible the loss makes you feel. Instead, embrace the discomfort!
Identify the reasons behind your losses and then work relentlessly to ensure you never will trade that way again.