It's time to draw a line in the sand — I'm betting that the recent crypto relief rally is nearing its top.
Cryptocurrency stocks have had an INSANE week riding the coattails of Bitcoin (BTC) and Ethereum's (ETH) near-term strength. 
That said, remember the big picture…
In the grand scheme of things, it's still been a brutally bearish year for crypto. 
But over the past week, the sector's been experiencing a relief rally. Now, I'm simply waiting for some clear topping signals before it inevitably comes crashing back to earth.
My top potential target for puts — Marathon Digital Holdings Inc. (NASDAQ: MARA) — is up 76% in the past five days (at the time of this writing)!
But as Evolvers should know by now … what goes up must come down. And I think I've proven that I'm pretty good at nailing the downside on crypto stocks. 
Keep reading and I'll show you why I think crypto stocks are overdue for a pullback. 
Why I Think Crypto is Overextended
To me, it's not a matter of if crypto stocks will tank, it's a matter of when…
There's rarely much rhyme or reason to what's going on with cryptocurrency and its related stocks like Coinbase Global Inc. (NASDAQ: COIN), Marathon Digital Holdings Inc. (NASDAQ: MARA), and Riot Blockchain Inc. (NASDAQ: RIOT).
Growing A Small Trading Account? Check this Out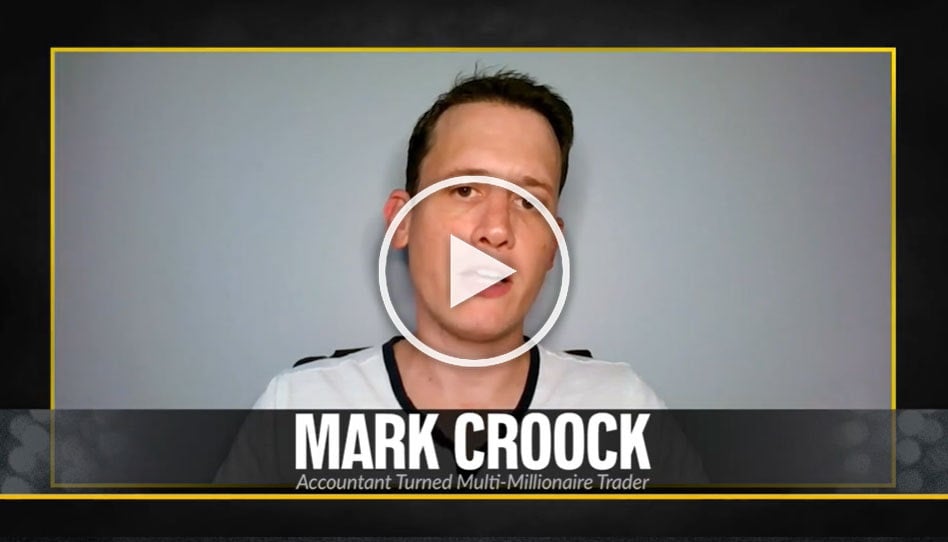 When multi-millionaire trader Mark Croock first started trading, he was an overworked and underpaid accountant…
So he knows what it's like to start small while wanting to massively grow your wealth as quickly as possible.
That's why he just recorded a step-by-step training that reveals what he believes is the best options trading method for someone trading with a small account.
These speculative tickers rally based on hope, exuberance, and FOMO. Then they crater back to earth in predictable cycles (just like every other momentum stock).
We're in the middle of one of these predictable cycles as we speak…
So far, July has been unbelievably bullish for crypto stocks. But these near-term momentum rallies almost always end in a huge crash.
As longtime Evolvers know, I can't ignore overextended momentum charts like MARA. These plays are my bread and butter when I can catch the downside with perfect timing.
I'm rooting for a super squeeze to $15+ on MARA. If it boosted to that level, I'd have even more confidence in a near-term drop 10-20%.
For now, I'm on the sidelines. I'm not making a MARA puts trade … yet. 
Let's challenge my idea: Could these charts continue to rip higher? Sure. But the risk/reward here is much better going short than going long.
Plus, all it takes is one big negative catalyst to send crypto stocks into a bearish tailspin. 
In this crazy news-driven market, a variety of factors could send crypto cratering next. But for now, I'm watching the technicals on the chart…
Taking a Look at the MARA Chart
I only have to take one look at the MARA chart to see that it's super overextended this week. See for yourself…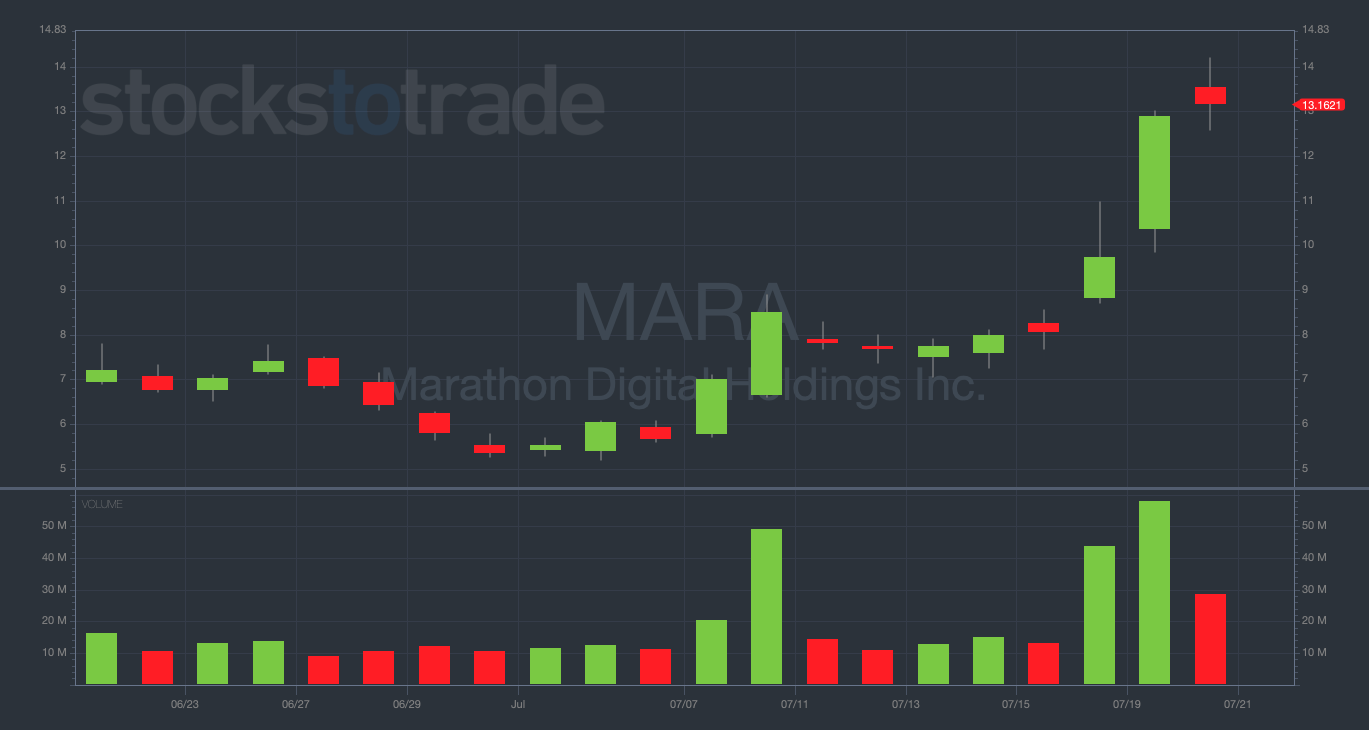 In the chart above, you're looking at textbook overextension.
After so much selling throughout the first half of the year, traders use hard bottoms as pivots for these sorts of relief rallies.
This leads to the situation you're looking at in the MARA chart, where the rally has simply come too far too fast.
Traders get overexuberant on the upside, afraid of missing the bottom. But I think if they haven't sold yet, they're gonna be disappointed very soon.
The $14-15 area seems like a prime topping zone for MARA. $15 is a solid psychological resistance level to watch for a potential reversal.
Final Thoughts
There's no way to know for sure, but I think this could be the beginning of a major downside move in crypto stocks.
The sector is overextended, and MARA's my top target for puts as I'm expecting a 10-20% move to the downside in the near term.
Don't chase my trades, but keep your eyes on this potential upcoming correction in the crypto space. 
Look out below.