As the crypto market is heading into a bearish tailspin, I've officially nailed a juicy put trade on the ProShares Bitcoin Strategy ETF (NYSEARCA: BITO). 
In fact, it's now my biggest trade of all time. All told, I turned just under $50,000 into $230,000+ on this play, edging out my previous biggest trade from 2021.
Give MAJOR props to @thehonestcroock who now locked in $284,000 in trading profits today on his $BITO $SPY puts, huge congratulations to all his https://t.co/a3dSVG2iCc students too, it pays to learn from transparent millionaire traders, not those too cowardly to show ALL trades! pic.twitter.com/Y3blFky3hw

— Timothy Sykes (@timothysykes) June 13, 2022
We went over the setup briefly in yesterday's trade breakdown. But now that the trade is in the books, I'd like to go into further detail.
After all, it seems like I've been doing nothing but talk about losses over the past few months. It feels AMAZING to nail this trade so perfectly.
Allow me to bask in my hard-earned glory and show you the power of options trading…
I bought BITO 6/17/2022 $17 Puts for $0.47 on Friday, and sold them for $2.50 on Monday — a gain of 530%!
I bet no one can show me a stock that moves 530% from Friday to Monday. This is just one of the many reasons why I love trading put options.
I want nothing more than for you all to start nailing trades just like this one. Let me show you how…
Why I Bought BITO Puts
Instead of focusing on BITO individually, I was primarily watching the Bitcoin (BTC) chart. 
Specifically, I was tracking the critical support level at $30,000. As I was watching the charts on Friday — the chart started cracking toward $29,000…
This is how technical analysis works. You need to identify the key support and resistance levels in a chart — especially when the overall markets are coming down. 
[VIDEO] A Rare Live Interview With Two Millionaire Traders...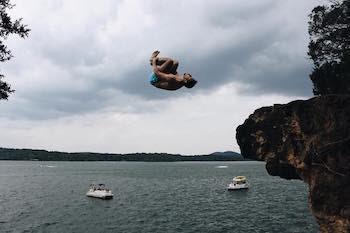 To trade options, you DON'T NEED:

❌  A big account…
❌  To stare at your computer all day every day…
❌  A stockbroker…
Because there's a way to trade stocks (from home) without struggling through the unnecessary risk and hassle most newbies go through… 
To get started…
Click here to watch a rare interview between these two millionaire stock traders
When you get a key break lower following sideways price action, it can crush the bulls' morale. This is exactly what happened on Friday, leaving BTC and BITO on the verge of a significant breakdown.
On Monday, BTC dropped all the way to a low of $20,834. This is right around where I sold my puts. 
Pay close attention to the price action as BTC gets dangerously close to $20,000. It's no surprise that there was a modest bounce there on Monday. 
If the bounce forms into an uptrend, maybe BTC can creep back up to the mid-$20,000s. 
But I think a lot will depend on what the overall markets do. When the key level broke at $30,000, the BTC short setup got considerably more compelling to me. 
And that's where it's good to be short, near the key level. Especially on a very momentum-driven play like BTC.
Had you been short at $30,000, you could've caught a solid 20%+ drop over the weekend…
I don't want to chase this trade now that BTC's down quite a bit. But you can see that the momentum has fractured, and more short setups could appear soon. 
How to Trade Options on Crypto
Why did I choose BITO as my vehicle for trading options on this setup?
The main reason is that BITO tracks BTC's price moves directly. Crypto stocks like MARA and RIOT get pretty darn close, but because I wanted the closest parallel possible to the BTC chart for this trade — I chose BITO. 
Look at the BITO daily chart. Notice that it held support just under $18 for several weeks…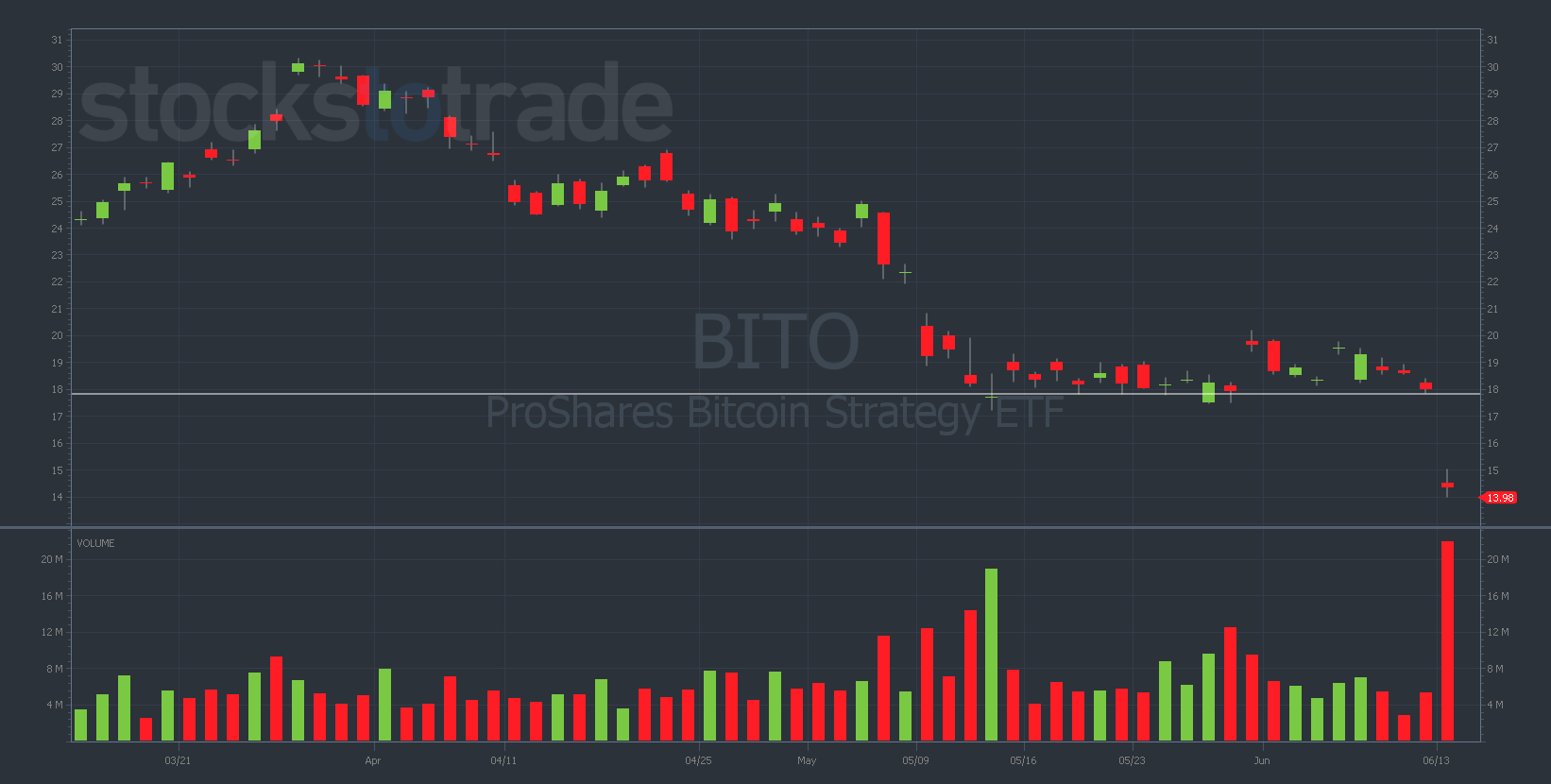 So naturally, I had the short-term $17 puts because I knew if $18 cracked on high volume, a huge flush would likely follow. But there were some other considerations as well…
The BITO options trade thinly. They move quickly, too, when they get too much volume (and too many people start chasing). 
I have to emphasize this again: Don't chase alerts!
Disclaimer: My trade alerts are for educational purposes only. You should never blindly chase them. 
If you're going to take a position, wait for an ideal entry (and choose a different strike or expiration date if necessary).
I know a lot of people look to enter certain strikes because the volume's pushing up. This can work, but it can also be dangerous.
The BITO options, which are less liquid, are more sensitive to volume.
Now, BITO's trying to put in a bottom. We might see a reversal and maybe a first green day tomorrow.
That said, I think BITO's a good way to potentially play any future BTC short setup using options.
Final Thoughts
Once again, we have a solid short play based on important levels in the chart. Always look for those key levels. 
When $30,000 broke on BTC, that's when we got the big drop to $20,000. This wasn't a coincidence.
As I said yesterday, I suspect that crypto could unwind even more. But for me, this was a one-and-done, near-term trade. And a nearly perfect one at that. 
This solid setup in BITO was an example of three key lessons we've covered before: 
So, next time you're approaching a potentially juicy setup, keep these critical steps in mind. 
They could mean the difference between nailing a six-figure trade — like I just did — and unnecessarily leaving money on the table.