The volatility in the market is getting insane. One minute it looks like the coast is clear, the next it looks like we are going to fall off a cliff. 
I'm glad I'm trading options and not stocks. Imagine being long Teladoc Health Inc.
(NYSE: TDOC) stock yesterday and waking up to see your account today? Ouch. 
It reminds me of a question I received from a friend not too long ago…
"How did you learn how to trade options from Tim Sykes  — when Tim Sykes doesn't trade options?"
The answer is simple. 
The best part about Sykes' strategies is that they can work for any kind of trading (penny stocks, large caps, options, crypto, etc.) 
Sykes works very hard to make sure that the ideas he teaches apply to all aspects of the stock market. (That includes the options market.)
Now, this doesn't mean you should start trading stocks or sectors you're not familiar with just because a pattern that you recognize appears before your eyes.
What separates Sykes' top students (like me) from the rest is our ability to use his lessons in our strategies, regardless of what asset or market we're trading. 
Bottom line: The patterns Sykes teaches apply to pretty much anything with a chart attached. 
If you think you can only use Sykes' patterns on penny stocks, because that's what he's known for, you're mistaken. Even worse, you're blocking yourself off from a world of possibilities.
With that in mind, I'd like to take you on a trip down memory lane today. I'll tell you exactly how I used Tim Sykes' lessons to become a multi-millionaire options trader…
Learning Sykes' 7-Step Framework
I wasn't always an options trader…
In the beginning, when I first joined Sykes' Trading Challenge, I focused on trading penny stocks.
This is how I drilled Sykes' 7-step framework into my brain — by initially applying it to the market it was made for.
Are You Missing Out On Epic Trades?
StocksToTrade's Breaking News Chat could be what's missing in your trader toolbox…
You get two financial analysts feeding you stock news and alerts often before anywhere else while joining a community of traders like yourself.
Tim Sykes encourages his students to use Breaking News Chat every day: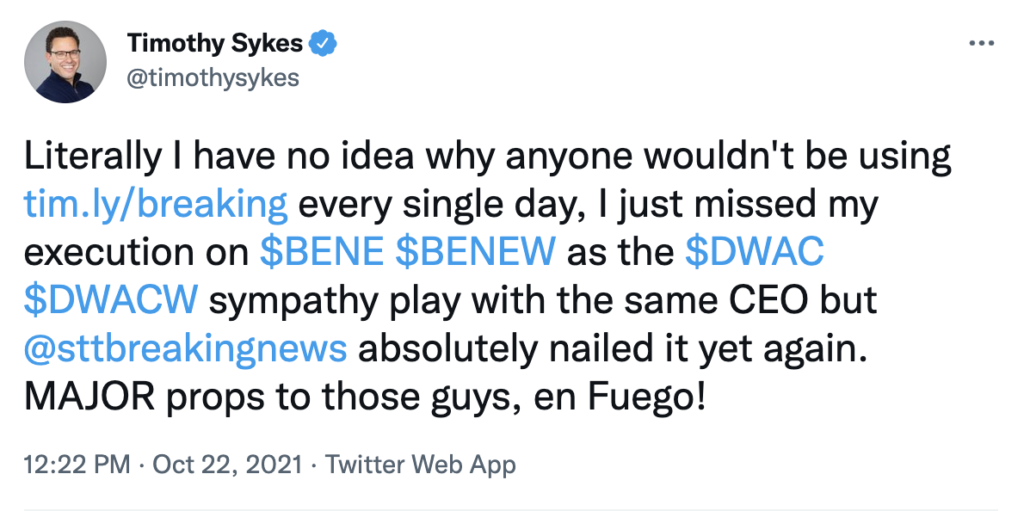 (I also watched every single video in Sykes' library THREE times. After that, I transcribed every webinar he posted. I guess you could say I was hooked.)
After that, Sykes taught me the two patterns that changed my life…
The First Green Day Pattern
First green day patterns often emerge after stocks have been in steady downtrends (or after they've hit blow-off tops). 
If you see a daily chart with a long string of red candles in a row, it might be worth putting that chart on watch for a potential first green day soon.
Sykes brilliantly identified that first green days can have EXPLOSIVE price action to the upside. It doesn't happen every time, but it's pretty darn consistent.
The First Red Day Pattern
As a negative-biased trader, the first red day pattern was the one that truly spoke to me. 
I'm sure you know by now, but this pattern is simply the opposite of the first green day.
After a momentum runner has experienced a long string of green closes, the first red day is usually right around the corner.
The first red day is one of the best bearish indicators out there because it gives you confirmation that the chart is starting to crack. 
Applying Sykes' Patterns to the Options Market
I had a serious 'aha' moment when I first discovered the options market. 
I couldn't believe the gains that were possible using the leverage provided with options. 
(And I knew that Sykes' pattern would apply to options trading if I got a grasp of the market…)
Let's break down the three main reasons why I fell in love with options trading…
Defined risk.

I have a negative bias, but I don't like the risk associated with shorting common shares. Put options allow me to bet

against

stocks

without risking more than I'm willing to lose.

Massive upside.

The percent moves in momentum stocks can be parabolic, which makes the gains on my options trades even CRAZIER!

Trade variety.

If you trade stocks, you have two choices: long or short. But with options, the trade possibilities are endless. I can design any kind of bet I want based on the specific options contracts I include in a position.
Once I discovered options … I started studying HARD.
As I got more comfortable with options, I started implementing Sykes' patterns into my put trading strategy (based on shorting breakouts in overextended stocks).
[VIDEO] A Rare Live Interview With Two Millionaire Traders...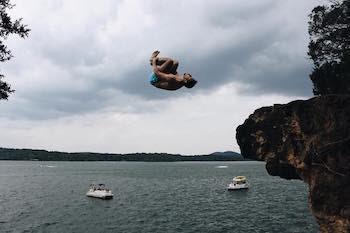 To trade options, you DON'T NEED:

❌  A big account…
❌  To stare at your computer all day every day…
❌  A stockbroker…
Because there's a way to trade stocks (from home) without struggling through the unnecessary risk and hassle most newbies go through… 
To get started…
Click here to watch a rare interview between these two millionaire stock traders
Uncoincidentally, that's when my gains started piling up. 
Once I was trading the options market, armed with Sykes' lessons … there was no stopping me!
You may be wondering exactly how I used the patterns. While I've traded Sykes' patterns in many ways over the years, two simple examples stick out…
The first green day can be an incredible call-buying opportunity.

While common-share traders are trying to eke out 10% or 20% gains, I can make 10-20x that if I nail a call trade on the same setup.
On the other hand, the first red day is my favorite time to buy puts.

I've used this strategy over and over again,

making millions

in the process.
Final Thoughts
As you can see, it doesn't matter what market you're trading — Sykes' strategies have the potential to work in any of them.
But that doesn't mean any random 'first red day' trade will work. You have to be disciplined and practice identifying five-star setups.
I find that my best trades are based on Sykes' patterns. This isn't a coincidence. 
It doesn't matter whether you trade stocks or options — Sykes' patterns have the potential for success. 
After that, the execution is up to YOU.