Every trader on the planet has heard of Jim Cramer…
The boisterous CNBC host has been a staple in the financial news media for more than two decades.
But for a guy who's made a career off of making stock calls, his predictions are astoundingly terrible…
From urging his audience to keep their money in insolvent banks to heaping lavish praise on fraudsters like Elizabeth Holmes and Sam Bankman-Fried, Cramer has an infamous resume of appalling market commentary.
Epic call jumbo even better than your "bull market" declaration a few weeks ago 😂 😂 😂 https://t.co/a1nSP7o5YR

— Mark Croock (@thehonestcroock) March 10, 2023
In fact, there's an argument to be made for doing exactly the opposite of what Cramer suggests…
(This doesn't mean you can build an entire strategy by simply inversing Cramer's calls. You've still gotta do your own due diligence and choose setups that fit your game plan.)
That said, the more I hear of Cramer's calls … the more I see the markets doing the opposite! And this week is no exception…
At the beginning of the week, Cramer said to sell a sector that's since blasted off to lead the entire market higher. Had you done the opposite, you could've made a small fortune.
With that in mind, keep reading and I'll explain how the Inverse Jim Cramer Indicator works and why I've been considering it in my trading…
A Few of Cramer's Worst Calls
It would be impossible to list all of Cramer's worst calls as he makes hundreds of predictions per month.
But here's a list of some particularly horrible Cramer suggestions that stick out to me:
The sad part is that I could go on much longer. At this point, the extent of Cramer's bad calls can't be exaggerated.
It's hard to ignore that you could've inversed all of Cramer's aforementioned calls and made a killing.
On paper, you'd be one of the best traders on the planet!
And it looks like the Inverse Jim Cramer Indicator may be spilling over into this week…
How to Inverse Cramer's Calls
Considering all of this, I can't help but think to do the opposite of what Cramer suggests.
And had you done so this week, you (again) could've made some incredible trades.
On top of telling viewers to buy SVB before its epic downfall last week, Cramer also suggested selling this week's hottest sector in the market…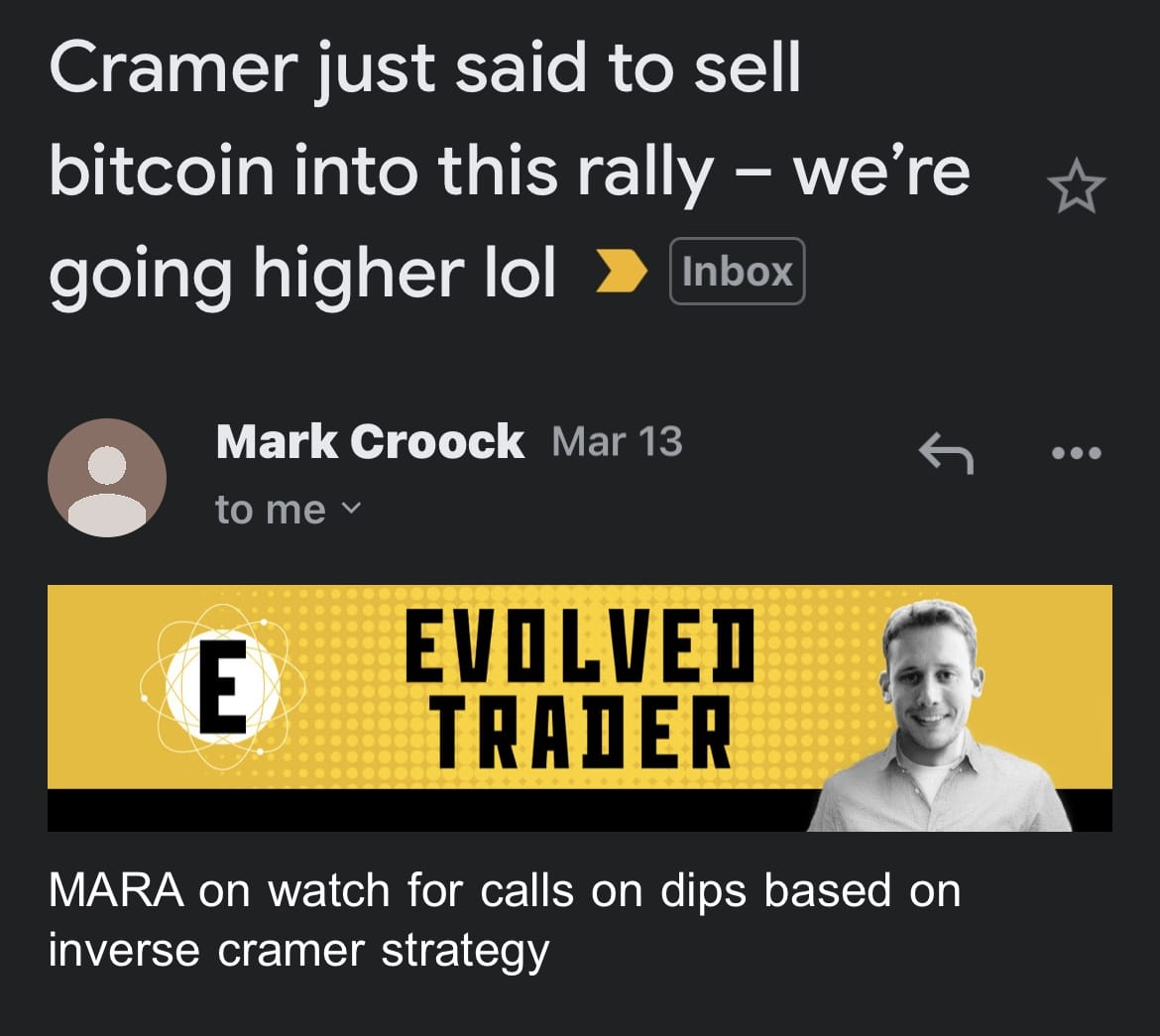 Sure enough, as Cramer tells you to sell crypto … the entire sector has been surging to the upside.
In the email pictured above, I said I was watching Marathon Digital Holdings Inc. (NASDAQ: MARA) based on the Inverse Jim Cramer Indicator…
And I should've put my money where my mouth was as MARA is up 30%+ in the past two days!
Had I bought MARA calls on Monday, doing a simple reverse of what Cramer suggested, I probably would've been up 100%+ on that position yesterday.
Final Thoughts
All this to say, I think the Inverse Jim Cramer Indicator can be a legitimately actionable strategy if used correctly.
Now, that doesn't mean you can simply stop studying and reverse all of Cramer's moves…
There's an art to picking the best setups only, regardless of how battle-tested your strategy may look or seem. It's not that 100% of Cramer's predictions are wrong, but a huge portion of them are…
That said, I'm listening to Cramer's words for good opportunities to inverse his ideas. And I suggest you do the same.