Happy Friday, Evolvers!
If you missed banking on my trade alerts this week … this needs your attention!
Today, I'll break down exactly how I identified the setups in two incredibly juicy earnings winners from this past week…
Then, I'll show you why I can't take my eyes off two commodity charts that could give us hints as to where the major indexes are headed.
Wanna see how I found these five-star setups? Listen up…
It's Friday, so that means it's time for our Q&A. 
Keep reading and I'll answer your questions…
"How did you identify the recent call setups in
Carvana Co. (NYSE: CVNA)
and
Shopify Inc. (NYSE: SHOP)
?"
I traded these setups for one reason … they were massive earnings winners.
For options traders, earnings season can provide many crazy trading opportunities due to increased liquidity in the market.
Not only does earnings season bring more liquidity — it breeds volatility. The swings based on earnings reports can be massive, making the options' volatility even more exaggerated.
Liquidity, volume, and volatility are three critical factors I look for in any options trade. The fact that earnings season naturally delivers all three is hard for me to ignore.
That said, I almost never make 'sports bets' prior to earnings reports. If you do this, it's a 50/50 coin flip. It's gambling, not trading…
I'm not interested in predicting whether a company had a strong or weak quarter … I'm focused on trading the reaction to the numbers after the print.
This is precisely what I did with SHOP and CVNA. I waited for the reports to be released. 
Then, once I saw how impressive their numbers were, and noticed the market reacting with initial enthusiasm, I pulled the trigger on calls…
Furthermore, I kept these plays on a short leash. Remember that volatility is elevated around earnings plays, so you must take profits and cut losses quickly.
But it seems like a lot of Evolvers truly crushed these plays…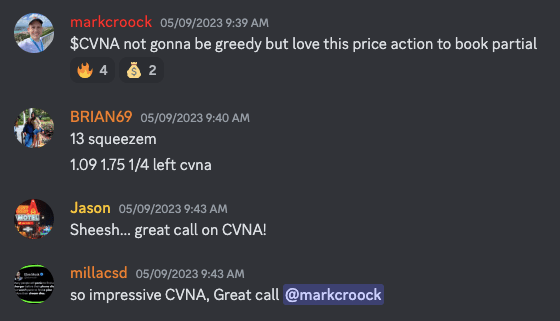 Congrats to anyone who banked! Keep an eye on future earnings movers for similar setups in the future.
"What are the top charts or setups you're watching for next week?"
If you've been watching my weekly webinars, you've probably noticed that I've been tracking the U.S. dollar closely over the past few months.
Why am I watching the dollar? It's simple…
With the Fed raising rates over the last year or so, the U.S. dollar has become considerably stronger.
And this, in turn, affects the equity markets because the stronger the U.S. dollar gets, the weaker the stock market becomes.
So, right now, as the Invesco DB U.S. Dollar Index Bullish Fund (NYSEARCA: UUP) has formed a base and looks to move higher … I'm thinking this could be an initial topping signal for the major indexes.
But beyond its effects on the overall markets, the U.S. dollar is also causing big moves in two other commodities — gold and silver.
On Thursday, the iShares Silver Trust (NYSEARCA: SLV) fell off a cliff, dropping 4.6% on the day.
This is SLV's biggest single-day decline since the fund started surging in March, running from $18 to nearly $24 in less than two months.
Gold, on the other hand, hasn't crashed in sympathy with silver yet…
The SPDR Gold Trust (NYSEARCA: GLD) was down less than 1% on Thursday, leading me to believe the fund could see further downside in the coming days as it potentially catches up to its silver counterpart on the downside…

So, to answer your question, I'm keeping a close eye on the UUP, SLV, and GLD charts heading into next week. And I suggest you do the same.
Final Thoughts
Have a great weekend, Evolvers!
Study hard, get some rest, and focus on your plans for next week.
Then, take a look at the aforementioned charts over the weekend to potentially give yourself a leg up on the markets come Monday.