Unless you've been living under a rock for the past year … you've probably heard about
non-fungible tokens (NFTs)
. 
These highly speculative digital assets became a global phenomenon in 2021 as crypto traders scalped JPEGs of monkeys out of their mom's basement — and into the presidential suite.
All jokes aside, some traders truly changed their lives in this sector… like the Tim Sykes student who made $1 million in 10 hours trading NFTs!
Speaking of that, Sykes is hosting an NFT Trading Summit TOMORROW, March 30, at 8 p.m. ET. Learn how his student pulled off those INSANE gains, his three-step NFT strategy — and MUCH MORE!
Now that you're signed up, let's go over how (and why) NFTs have turned into such a major force in the markets…
What Is an NFT?
NFTs are pieces of digital content that are linked to the blockchain via cryptocurrency. 
The blockchain is the digital ledger underpinning cryptocurrencies, like bitcoin (BTC) and ethereum (ETH). 
BTC and ETH are fungible, meaning they can be replaced or exchanged with another one of the same value.
In contrast, NFTs are unique and unable to be mutually interchanged. No two NFTs are the same, which is precisely why they hold value as digital assets.
But there's something else to consider about the NFT craze…
Why NFTs Are Like Collectibles
In parallel with the NFT craze, the collectibles industry has been on fire for the past year.
My dad and I are huge basketball fans. For his birthday last year, I bought him a rare basketball card with both Larry Bird and Magic Johnson on it for $3,000.
Watch This Exclusive Crypto Webinar NOW!
(With millionaire trader Matt Monaco)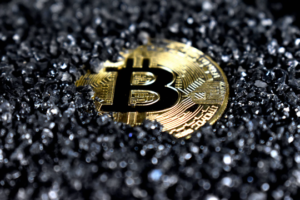 If you want to see how a millionaire trader is dealing with the crypto boom…
Then you need to see this webinar.
A few months after I bought it, the price went up to $20,000! Shocking, right?
Well, I checked the price recently, and it's worth $70,000!
So … what does this have to do with NFTs? 
Well, I think of NFT technology as a way to collect things on the blockchain. 
In other words, it allows you to transform digital works of art and other collectibles into one-of-a-kind assets that can be verified.
Some people miss the similarities between physical collectibles and non-fungible digital assets. Don't make this mistake — they're very similar.
Now, let's talk about what's causing the crazy speculation in the NFT sector…
Similarities to the Dot-Com Bubble
To me, it's obvious that we're in an NFT bubble. Market mania is absolutely nuts and this can't sustain. 
Let's look at a few examples…
An NFT of a collage by the artist Beeple — titled 'The First 5,000 Days' — sold for $69 million…
An NFT of a particularly rare 'cryptopunk' — low-resolution, pixelated images of digital characters — sold for $7.58 million…
An NFT of the source code for the World Wide Web — written by Tim Berners-Lee — sold for $5.4 million…
Even an NFT for a meme — the Nyan Cat GIF — sold for nearly $500,000…
Bottom line: It only takes one look to realize that these prices are utterly ridiculous.
If you honestly believe that a pixelated JPEG is worth as much as an oceanfront mansion … I've got a bridge to sell you.
That said, there probably will be some real world-changing ideas or use cases for NFTs that provide incredible value. 
But right now, it seems like everyone's jumping on the bandwagon so they can try to make a quick buck.
It reminds me of the dot-com hype that happened from 1995 to 2001. This was when the stock market went bonkers over highly speculative internet-related companies. 
Tons of companies were adding ".com" to the ends of their names to attract investors. 
I'm noticing a similar trend now with companies creating NFT marketplaces in an attempt to catch the wave.
Example: DatChat, Inc. (NASDAQ: DATS) went on an 80%+ run after announcing it was creating an NFT monetization platform.
When the bubble burst, most of those companies disappeared. A few, however, not only made it through — they rose to new highs. Amazon.com Inc. (NASDAQ: AMZN) and Microsoft Corp. (NASDAQ: MSFT) are two examples that come to mind.
I think something similar could happen with NFTs. There will be a bunch of companies and projects that go bust. 
But after the bubble bursts and the dust settles, there could be a few solid ideas still standing.
Final Thoughts
The NFT sector just seems to be getting hotter and hotter. And as traders, we MUST pay attention to what happens in hot sectors. 
Cryptocurrency is already one of the hottest sectors on the planet and NFTs are adding fuel to the fire.
Is the hype — or even the idea — sustainable? I don't know. But that's beside the point if your goal is to trade…
I trade a ton of stocks that are wildly overvalued, so I don't write a sector off just because it's in a bubble.
To experienced traders, it doesn't matter that we're in a bubble — what matters is how you take advantage of the price action. 
Regardless, it'll be interesting to see how — or if — this technology changes the world moving forward.