It always feels great to nail a trade dead-on, and that's exactly what happened with my over-the-weekend puts play on the ProShares Bitcoin Strategy ETF (NYSEARCA: BITO).
It feels even sweeter this time following my missed opportunity to buy puts on Alibaba Group Holding Ltd (NYSE: BABA) last week.
This play reminded me of how important it is to keep your head in the game no matter how rough your past few trades have been. 
During my webinar last Thursday, I was regretting not pulling the trigger on BABA. It was really getting to me.
But I came back to the market on Friday prepared and ready for anything. My head was back in the game.
The market was rolling over following the horrible inflation numbers. Naturally, I was scanning my watchlist looking for the perfect puts play — trying to get back to the basics.
I was thinking to myself … What had worked for me in the past during market slumps such as this one?
You guessed it … my old friend BITO. 
Let's go into further detail on my thought process leading into this trade and how you might be able to approach similar setups yourself…
What's Worked Before Can Work Again
Why did I choose BITO as my vehicle for trading options on this setup?
BITO is the perfect way to trade options on Bitcoin (BTC). It almost perfectly tracks the moves in the underlying coin, but unlike BTC itself, BITO is optionable.
Let me explain…
I have a long history with BITO. I've traded this fund several times in the past — almost always by buying puts — and had plenty of success doing so.
Back in the second week of January, when $45,000 broke on BTC, it was followed by another drop to $40,000. And I profited nearly $40,000 trading the $29 puts on BITO that week. 
This time, I'm betting that the break at $30,000 will be followed by another drop to $25,000.
BITO tracks BTC's price moves directly. Crypto stocks like MARA and RIOT get pretty darn close, but because I wanted the closest parallel possible to the BTC chart for this trade — I chose BITO. 
For these reasons, If I think BTC (or the crypto market at large) is gonna tank, I'm almost always buying puts on BITO. And Friday was no different…
The Market Backdrop
The end of last week was a hugely bearish day for the overall markets. 
The consumer price index (CPI) — a key inflation metric — came in showing an 8.6% rise in May (its highest level since 1986).
Nearly every major way to measure inflation — the prices of food, gas, shelter, apparel, etc. — showed extremely high levels flashing major warning signs for the economy.
This is especially bad news for stocks as it suggests the Fed will continue to hike interest rates, and potentially sooner than expected.
And recently, when stocks have tanked … crypto has tanked even harder. The narrative that BTC is an inflation hedge is an absolute joke at this point. 
With red-hot inflation numbers, the crypto market continues to make lower lows. In my opinion, this completely disproves the idea that crypto is a solid 'safe haven' in a mega-inflationary environment.
Taking a Look at the Chart
If we look at the technicals, it would be difficult to draw a worse 3-month daily chart for BITO if challenged to do so. Take a look at this ugly masterpiece…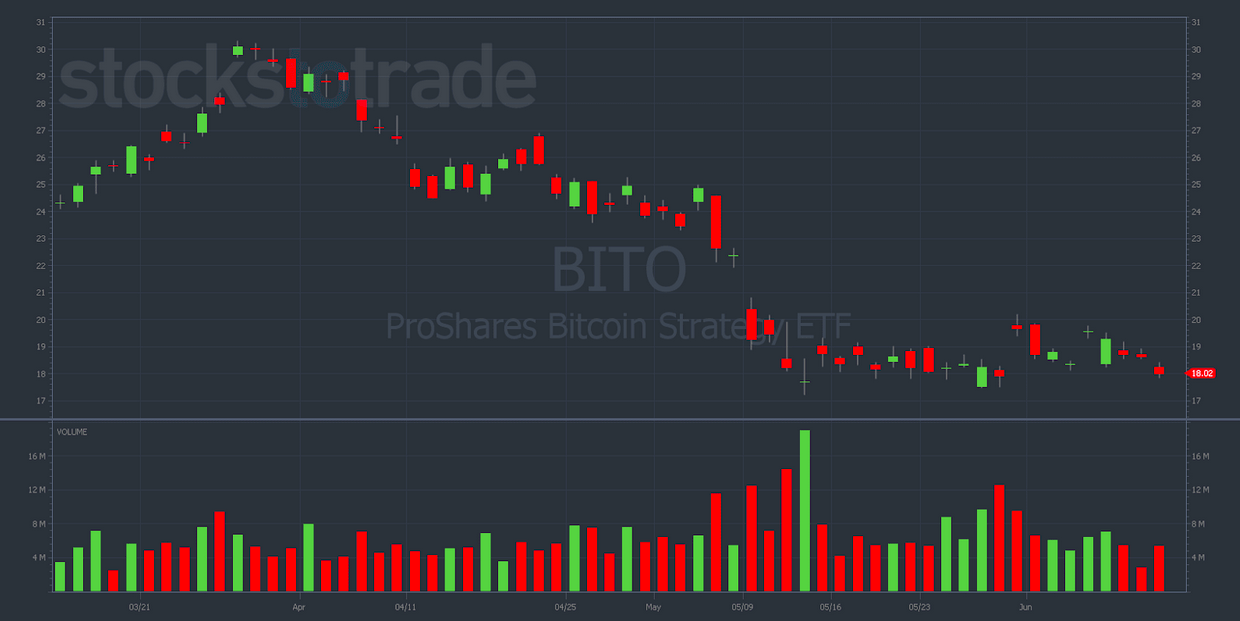 As you can see, every time BITO has attempted to rally in 2022 it's gotten completely destroyed.
So, first I was just betting on a continuation of recent history.
Then, when BITO lost the all-important $18 heading into the close on Friday, I knew it was time to pull the trigger. 
I wasn't gonna let what happened with BABA happen again.
So I bought 20 BITO 6/17/2022 $17 Puts for $0.47. Keep in mind this is in my small account. 
Holding contracts over the weekend can be dicey, but I was willing to take that risk this time. I just didn't see any positive news for crypto on the immediate horizon.
It turns out I was right as BTC and BITO were down almost 8% over the weekend. 
Final Thoughts
At the time of this writing it's Sunday evening, so I'm obviously still holding the puts. 
I'm planning on selling my contracts for a juicy profit on Monday, hopefully immediately following nice morning flush.
Don't chase this trade, the best downside on BITO has already come and gone. I had to be really quick with this one on Friday afternoon.
But remember that BITO is a great way to trade crypto weakness for the near future. Put it on your watchlist, because I think crypto could unwind even more in the coming weeks and months. 
On the other hand, delusional crypto bulls worldwide are still calling for "BTC to $100,000!" My point? Don't be like these guys. Never fall in love with a stock, a commodity, or a chart. 
As a trader, you should always be nimble and prepared to take any side of the trade that the price action calls for.