Happy 'Friday the 13th', Evolvers!
The markets were resilient this week as the bulls seemingly took control and the S&P 500 ETF Trust (NYSEARCA: SPY) gained just shy of 4% in five days.
Yesterday, the consumer price index (CPI) report (a key measure of inflation in the U.S. economy) came in at 6.5%, which is exactly what analysts were expecting.
In other words, inflation is coming down quickly … but not any faster than expected.
This seems to be setting up some bullish momentum across the markets, which is putting pressure on my largest position…
As I've mentioned before, I'm holding a very large position in March-expiring ProShares Bitcoin Strategy ETF (NYSEARCA: BITO) puts.
And as crypto has been surging this week, my puts have been taking a beating, so I hedged with some short-term calls on Coinbase Global Inc. (NASDAQ: COIN) and Marathon Digital Holdings Inc. (NASDAQ: MARA).
Aside from managing my crypto positions, I'm watching Rivian Inc. (NASDAQ: RIVN). I traded calls on this stock last week and now that it's forming another solid base, I'm considering a repeat play. 
But for now, it's time for our Friday Q&A! Keep reading to see my answers to your questions…
"I know I shouldn't trade every day, but I can't seem to stop myself from making plays. How have you been so patient over so many years in the markets?"
If there's one lesson I've learned over my long career that trumps all the others, it's this…
Whatever you do — don't force trades!
But first, let me tell you that I know exactly what you're going through. 
I've had to slowly build my patience and discipline. They came with experience.
Even now, I still make regrettable trades. But I'm definitely better at choosing setups than I was when I first started trading.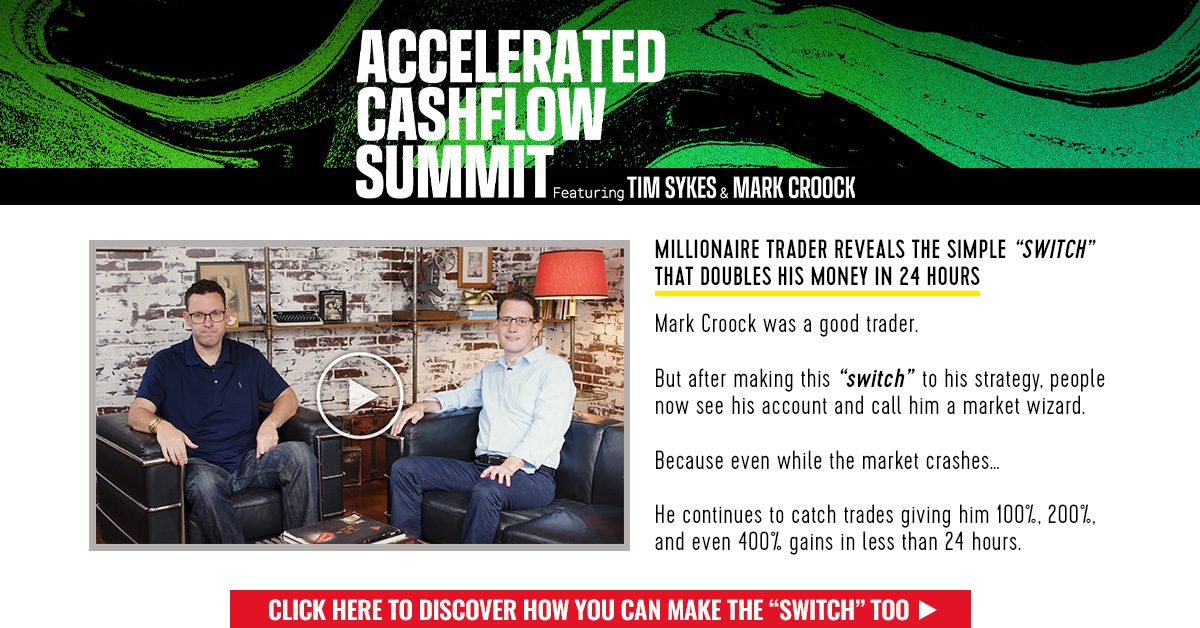 Here's the truth…
There's nothing fun or exciting about sitting on the sidelines.
That said, true trader discipline requires you to do so much of the time.
You've gotta be like a zen master … sitting on your hands until the perfect opportunity comes along. (And those perfect opportunities don't come along every day.)
You might be wondering … how exactly can YOU find those elusive five-star setups?
Go back to 'The 3-Item Checklist' … if the setup you're considering doesn't check all the boxes, don't trade it!
If I wasn't so discerning with my setups, I never would've made it this far in the stock market…
Had I forced trades too often along the way, I wouldn't be teaching today. I'd be part of the 90% of traders who FAIL.
But luckily, I met Tim Sykes and his guidance changed my life. And speaking of Sykes…
Next Wednesday, January 18 at 8 p.m. Eastern … Sykes and I are co-hosting the Accelerated Cashflow Summit…
If you're struggling to find five-star setups, look no further…
We'll break down everything you need to know about the brand-new trading system that completely transformed my performance. Click here to reserve your spot NOW!
"Why do you prefer to buy puts over calls?"
If you're in the lobby (or the top floor) of a 30-story building, with the choice of taking the stairs or the elevator all the way back up (or down) … I'd bet you'd choose the elevator every time.
Well, this is exactly why I prefer to buy puts over calls.
I've said it before and I'll say it again … Stocks take the stairs up and the elevator down.
If you can time shorting the top of a momentum chart, you can make HUGE gains much faster than if you go long on a swing trade.
Let's say Stock XYZ spends six months gaining 70%, then loses 50% of its value in five trading days. (These are exactly the kinds of massive breakdowns I look to take advantage of.)
If you had bought calls near the bottom, it would've taken you six months to make your maximum gains. 
But with puts, the pricing relationship is completely different. The contracts can increase 10-20x in a huge crash. 
(This is also better than a common-share short position, which is stuck tracking the borrowed stock to the cent.)
If XYZ lost 50% in five trading days while you were holding puts, you would make a fortune in much less time than anyone swinging calls. 
I don't know of many other trading instruments that can consistently deliver such massive returns. That's why I trade the way I do and why I love to trade puts.
Final Thoughts
Have a great weekend, Evolvers!
Let's see if this bullish momentum can continue into next week…
Enjoy your time off, study hard, and I'll talk to you all on Monday!