Every great trader should start the week with a solid game plan. 
What stocks are you watching? What price levels are important? What major news events are taking place?
These are questions you should be asking yourself every Monday morning to prepare yourself for the trading week ahead.
In a volatile bear market (like this one), you've gotta be ready for anything the price action throws at you. 
And this is a particularly crucial week for the broader market. After seven red weeks in a row, the major indexes have finally shown signs of life.
That's why this week is so important. If the selling continues, then the bear market will look intact. 
But if we see further upside over the next few days, it'll be looking more and more like a near-term bottom is in.
Anyway, let's get down to business. Here's my game plan for the week — four stocks I'm watching and how I plan on approaching the setups.
United States Oil ETF (NYSEARCA: USO)
This is my top watch for the week, a massively overextended chart that's getting dangerously close to a major psychological resistance level at $100.
Oil has been the hottest sector for months now. As tech has been taken to the woodshed, energy has ramped into nearly supernova territory.
But what goes up must come down. And just like I perfectly predicted the energy sector reversal back in March, I think we're getting close to another one now.
Are You Missing Out On Epic Trades?
StocksToTrade's Breaking News Chat could be what's missing in your trader toolbox…
You get two financial analysts feeding you stock news and alerts often before anywhere else while joining a community of traders like yourself.
Tim Sykes encourages his students to use Breaking News Chat every day: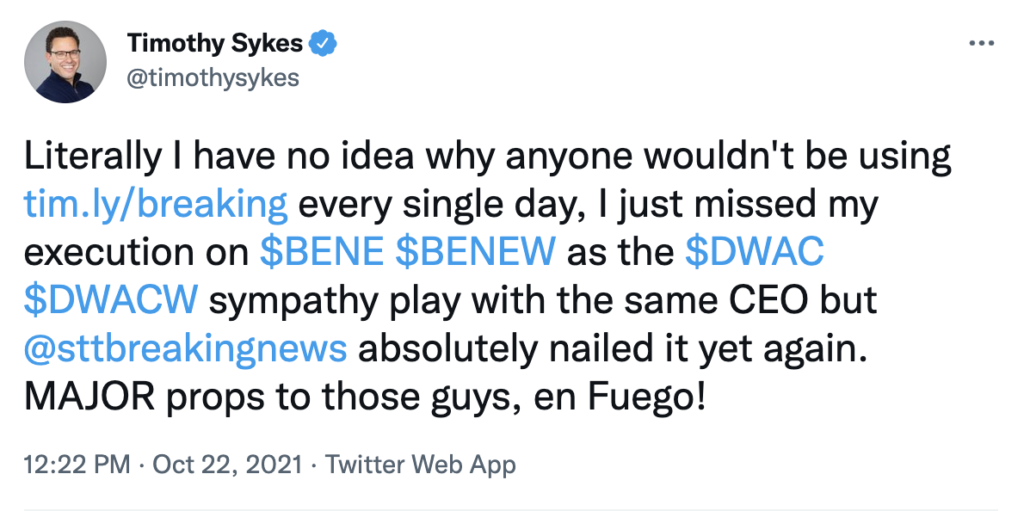 Why? Because the $100 is looming large over the price action…
If the buyers suddenly fall off a cliff right near $100, it'll be time to get aggressive on the short side. 
There's almost no better opportunity among bearish setups, as these initial cracks in momentum often lead to HUGE flushes.
ProShares Bitcoin Strategy ETF (NYSEARCA: BITO)
This play was a huge bummer for me. I was dead-on right about my trade thesis — predicting that BITO would rip higher — but sold my call options too early.
Just days later, BITO was trading 10% higher. Another valuable lesson for everyone to remember — trust your gut.
Sometimes you've gotta have the conviction to hold a risky position in a difficult bear market when your instincts are telling you it's the right thing to do.
Had I been thinking this way last week, I could've had a solid win on BITO calls. Instead, I'm sitting here regretting a small loss. 
I don't plan on trading BITO calls again. On the contrary, if Bitcoin (BTC) runs to $35,000+, I may consider flipping and buying some puts.
After all, my biggest trade of all time was based around a big crypto reversal. It would be foolish to ignore a potential repeat. 
Affirm Holdings Inc. (NASDAQ: AFRM)
This was the best play from last week. A huge earnings winner with volume, volatility, and a catalyst. 
I'm absolutely beside myself for not buying calls, but I can't do anything about it now. 
In this bear market, it's extremely notable that AFRM is up 85%+ over the past three weeks. 
If it can hold the $23.80 level, where it hit a double bottom on Wednesday and Thursday of last week, AFRM could head back towards $30 and possibly even higher. 
On the other hand, if AFRM loses $23.80, the odds of it heading higher in the near term get reduced significantly. 
Amazon.com, Inc. (NASDAQ: AMZN)
Today's the day of AMZN's highly-publicized 20-to-1 stock split. Be very wary of bull traps today, Evolvers. 
As I mentioned last week, I think the run-up to the split was the time for buying calls. Now that the split has happened, the odds are much better on the short side.
Recent history has shown us that the momentum around stock splits tends to die out once they actually take place. They're usually 'buy the rumor, sell the news' events…
Remember what happened to Apple Inc. (NASDAQ: AAPL) and Tesla Inc. (NASDAQ: TSLA) after their big stock splits last year? They got destroyed. 
I'll be watching AMZN for potential put-buying opportunities this week. I also think the split could have a positive effect on AMZN's options liquidity, so pay close attention to the volume on the options chain this week.
Final Thoughts
I can't tell you how to make your game plan, or which stocks are right for you to trade. Only you can do that.
But take some inspiration from my game plan and my watchlist. When you build your own, apply the same concepts and ask yourself the same questions. 
Best of luck in the markets this week! Be disciplined and study hard!