Happy Friday, Evolvers!
Today, I'll answer a question about my recent Tesla Inc. (NASDAQ: TSLA) calls play and go over how I chose the strike price and expiration date for this trade.
But first, let's talk about the status of the overall market, which continues to surprise to the upside…
As I mentioned earlier in the week, a fantastic earnings report from Microsoft Corp. (NASDAQ: MSFT) — the second-most valuable company in the world — sent the major indexes soaring on Wednesday.
Then, the strength continued into Thursday, with the SPDR S&P 500 ETF Trust (NYSEARCA: SPY) up 1.97% at the time of writing.
NOTE: MSFT makes up more than 6% of the entire SPY index, which is why a single earnings report from the company can boost the entire stock market.
I know I've been warning you about the end of the bear market rally. But it looks like that's been delayed by strong corporate earnings and insatiably bullish market sentiment.
The timing of my prediction was slightly off, but I care far more about making money than I do about being right. This mindset allows me to quickly adapt my game plan to whatever the market throws at me. 
That's why, recently, I've been stressing the importance of flexibility. You can't be a perma-bull or perma-bear … you must be willing to flip your script and scalp in either direction on your charts.
But now, it's time for our Friday Q&A. Keep reading and I'll answer the question everyone was asking me yesterday…
"What made you pull the trigger on TSLA calls? And why did you choose this week's expiration date instead of next week's?"
Once again, I'm simply following the first green day chart pattern on this trade…
If you're forgetting how the first green day works, allow me to refresh your memory…
After a stock has been green (or red) for several days (or weeks) in a row, the risk/reward is best trading in the opposite direction of the trend.
But this is only true if you time the reversal perfectly … which is where the first green day pattern comes into play.
The first green day (after several red daily closes in a row) can cause huge surges to the upside as shorts cover and bulls rally.
Now, back to yesterday's trade…
TSLA has been tanking, down 16% in the past month following the company's recent disappointing sales figures…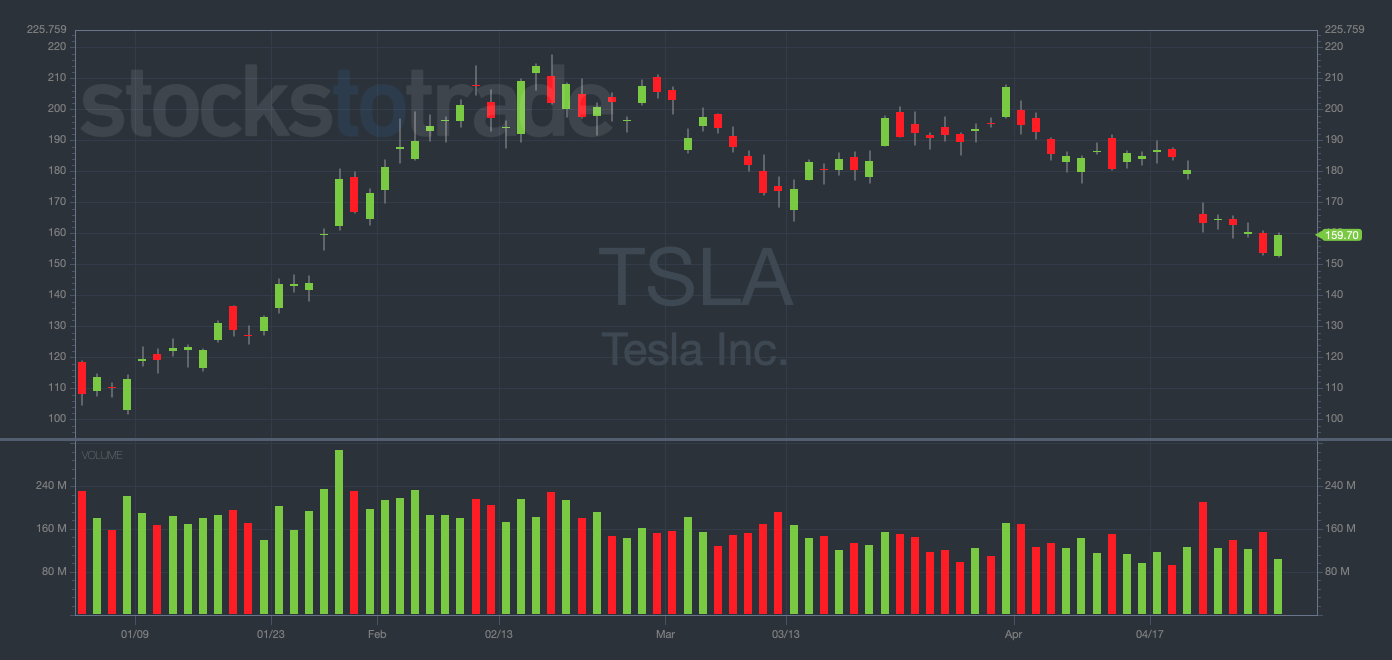 TSLA YTD daily chart — courtesy of StocksToTrade.com
But yesterday, TSLA was strong at the open after a long string of red days. I immediately identified the first green day setup and knew I wanted to buy calls…
I had seen the chart flattening out and forming a near-term bottom around $153. This gave me decent upside if TSLA was to make a move back toward the $162 area…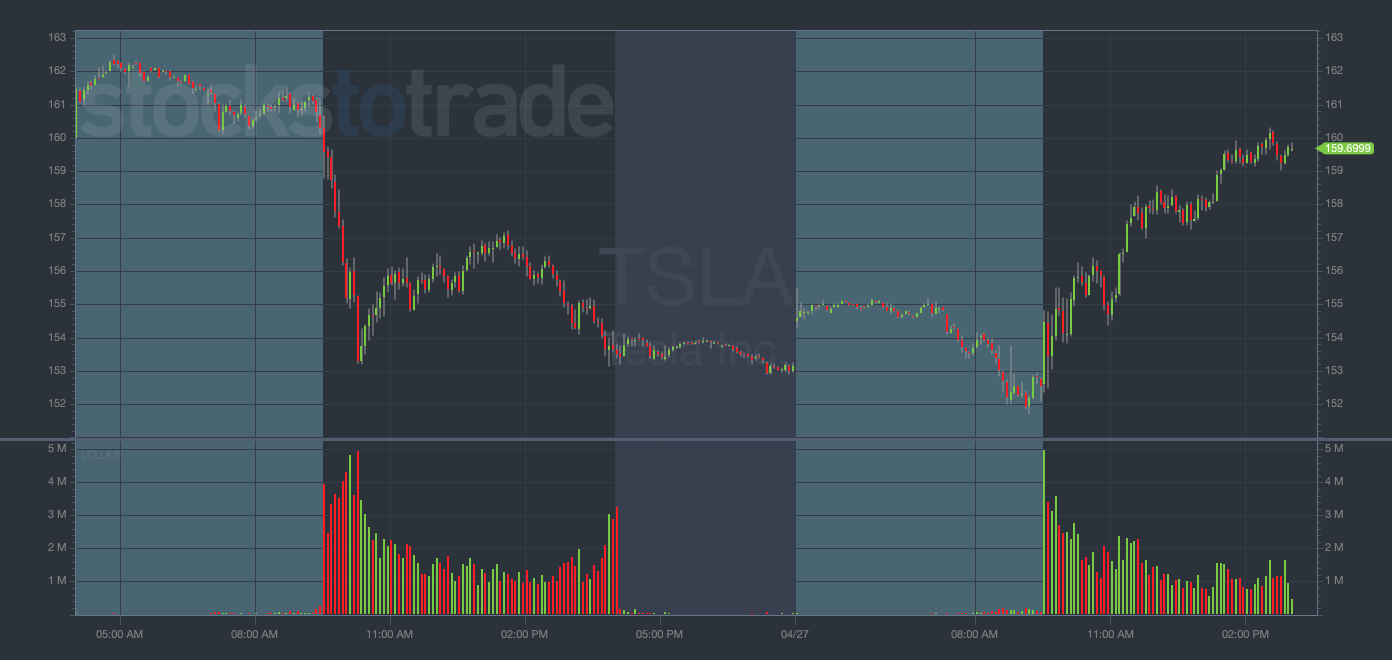 TSLA 2-day 5-minute chart — courtesy of StocksToTrade.com
Then, I had to decide what strike and expiration date I wanted to buy. 
I thought that if this move was to happen, it would happen quickly. So, I decided to take on some serious risk by buying TSLA 4/28/2023 $160 Calls, expiring the following day.
I chose the closer expiration because the premiums were cheaper and I was confident in the move happening immediately.
In other words, if I'm right and TSLA makes a big move into Friday, I'll profit much more on this week's expiration than next week's.
That said, I'm aware of the outsized risk I'm taking and wouldn't do so if I didn't have supreme confidence in the trade (and my timing).
At the time of writing, TSLA has already surged well beyond where I bought my calls. I already sold half of my position and I'm holding the rest for a possible continuation into Friday.
The lesson? Don't sleep on first green days … they're some of the best opportunities to scalp calls.
Tune in next week for a full breakdown of my entire TSLA trade.
Final Thoughts
Have a great weekend, Evolvers!
Take some time over the next few days to build next week's watchlist, analyze your charts, and reflect in your trading journal.
This market is a doozy. We must be prepared for anything right now!