We've talked before about many of the things every trader should do. For example:
But what about the things traders shouldn't do? 
Throughout my 10+ years as a professional trader, I've found that avoiding costly mistakes is just as important as mastering valuable skills. 
If you're not careful, one critical error could lead to a huge loss, erasing weeks (or even months) of hard-earned gains. 
I wish I knew to steer clear of these traps when I was first starting out. I might've become a multi-millionaire sooner. 
So what are the most common mistakes I see traders making? And how can you make sure to avoid them?
I've come up with six.
Keep reading and I'll show you…
Common Mistake #1: Chasing Trade Alerts
Never chase my (or anyone else's) trade alerts. 
That doesn't mean you can't use them as learning tools. But you should always do your due diligence and enter a trade because YOU truly have conviction in the play.
I work hard to help Evolved Trader subscribers make the most of my trade alerts…
I like sending alerts because it adds a different dynamic to my trading. Sometimes I'll send out an alert before I even enter the trade. I do this to allow everyone more time to research and set their entries if the trade suits them.
Are You Missing Out On Epic Trades?
StocksToTrade's Breaking News Chat could be what's missing in your trader toolbox…
You get two financial analysts feeding you stock news and alerts often before anywhere else while joining a community of traders like yourself.
Tim Sykes encourages his students to use Breaking News Chat every day: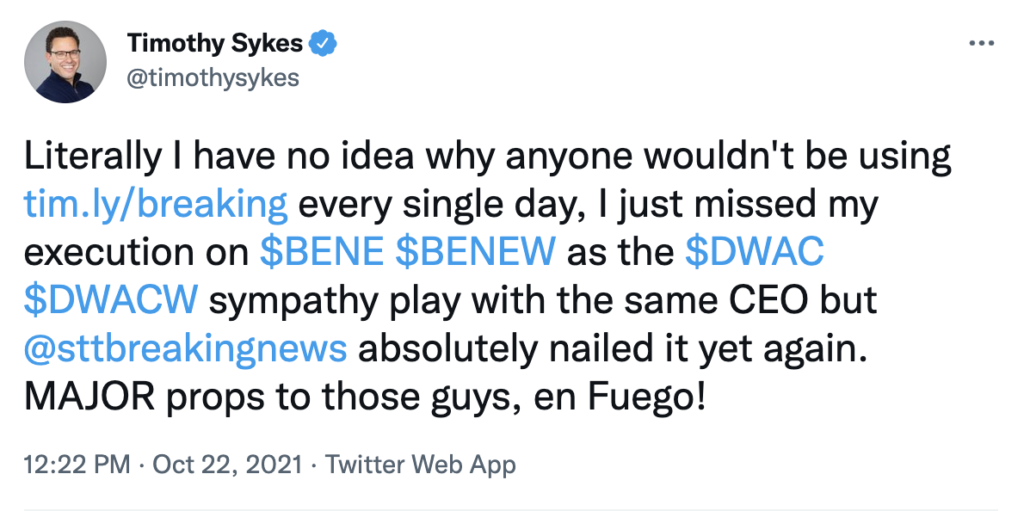 That said, you should NEVER solely rely on any alert service. There's no way you'll ever become a self-sufficient trader doing that. 
So how can you use my alerts? 
I think they can be a great tool. My goal is to help you understand how I choose my trades while potentially making real profits.
You can be tipped off to tickers that may be interesting trade setups. Then, after doing your own research, you can decide if the play is right for you.
Common Mistake #2: Trying to 'Call the Bottom'
This one can be paired with 'going long before the first green day' — they're related.
Let's say a stock has been completely destroyed over a short period. Maybe over a single day, maybe over days or weeks…
It's at this point where some traders try to be a hero and call a bottom before it's actually formed. They think 'this is too cheap' and buy calls. 
I've seen and heard this kinda thing over and over again throughout this year. Some dinosaur value investor will go on CNBC and say 'the bottom is in, Jim!' 
Then just days later, the indexes will be making new lows.
Don't be like these guys. Instead, wait for clear bottoming signals — like a steady channel of sideways trading or a bounce off of a key support level — before you even think about going long.
I've tried to be the hero before when I attempted (and failed) to call the bottom on Meta Platforms, Inc. (NASDAQ: FB) earlier this year. I was quickly reminded of how costly this mistake can be. 
I made a similar error back in August 2021 when I was trading Moderna, Inc. (NASDAQ: MRNA) calls. I didn't wait for the first green day and a potentially massive win turned into an annoying small loss. 
Common Mistake #3: Risking More Than You're Willing to Lose
Quite literally, the costliest mistake you can make — ESPECIALLY as an options trader — is risking more than you're willing to lose.
I was reminded of this back in late March when I broke my rules, risked too much, and lost $60,000 on AMC Entertainment Holdings Inc. (NYSE: AMC) puts.
Every great trader has to figure out how to strike the delicate balance between risk and reward.
This is a personal decision. It comes down to your personality, risk tolerance, and how much disposable income you're willing to lose in the stock market.
But if you go over your boundaries and break your rules, it can ruin you.
It's easy to fall into this trap. You only think about the gains. You feel invincible. You know this is gonna be the trade that shoots your account into the stratosphere…
But what if it isn't? What if the trade goes south and your contracts are down 90%+ the next day? 
This is why I advocate for hitting singles, especially when you're first starting out. 
String a bunch of small wins together. It'll help build your confidence while simultaneously fine-tuning your trading strategy.
And the best part? By sizing small, you'll never lose more than you're willing to.
To Be Continued…
I've got more to say on this topic. I can't stress these things enough. 
So tomorrow, I'll finish the list and give you three more trading traps to avoid.
In the meantime, think about if you've been making any of these mistakes in your trading…